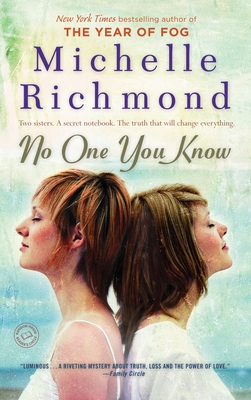 No One You Know (Random House Reader's Circle) (Paperback)
Bantam, 9780385340144, 331pp.
Publication Date: May 19, 2009
Description
All her life Ellie Enderlin had been known as Lila's sister--until the day Lila, a top math student at Stanford, was murdered, and the shape of their family changed forever. Twenty years later, Ellie is a professional coffee buyer who has never put down roots. When, in a chance meeting, she comes into possession of the notebook that Lila carried everywhere, Ellie returns home to finally discover the truth about her sister's death--a search that will lead her to Lila's secret lover, to the motives and fate of a man who profited from their family's grief, and ultimately to the deepest secrets even sisters keep from each other. From the bestselling author of The Year of Fog ("Highly recommended for fans of] authors like Jodi Picoult and Jacquelyn Mitchard."--Library Journal starred review]), this is a riveting family drama about loss, love, and the way hope redefines our lives--a novel at once heartbreaking, provocative, and impossible to put down.
About the Author
Michelle Richmond is the author of The Year of Fog, Dream of the Blue Room, and the award-winning story collection The Girl in the Fall-Away Dress. A native of Mobile, Alabama, Michelle lives with her husband and son in San Francisco, where she is at work on her next novel. From the Hardcover edition.
Praise For No One You Know (Random House Reader's Circle)…
"Michelle Richmond's encore to The Year of Fog is an equally addictive read."—Denver Post

"Richmond sets out to create not a straight-up thriller, but a novel that explores love, family, work, guilt and the responsibility of the writer to his or her subject, all within the framework of a murder mystery." —San Francisco Chronicle

"Michelle Richmond never strikes a false note in No One You Know.... It's an intelligent, emotionally convincing tale about a family tragedy and the process of storytelling."—Boston Globe

"As complex and beautiful as a mathematical proof, this gripping, thought-provoking novel will keep you thinking long after the last page has been turned."—Family Circle

"Beautifully written"—Seattle Times

"Gripping"—People

"Heartrending and immediately readable"—San Francisco Examiner

"Another enjoyable blend of mystery and domestic fiction…. Quietly captivating."—Publishers Weekly

"Richmond has a knack for creating accessible, grippingly authentic characters….No One You Know a tautly drawn tale."—East Bay Express

"Richmond turns a family crisis into heartbreaking and compelling reading…. Riveting." —Booklist, starred review

"Intelligent, emotionally convincing…Michelle Richmond never strikes a false note in No One You Know."—Boston Globe

"Richmond's fiction is made rich by the relationships between her characters and the carefully researched nuances of their lives."—Birmingham magazine
Advertisement