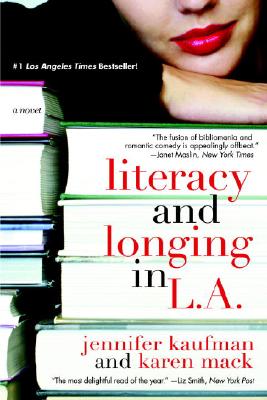 Literacy and Longing in L.A. (Paperback)
Delta, 9780385340182, 325pp.
Publication Date: May 29, 2007
* Individual store prices may vary.
or
Not Currently Available for Direct Purchase
Description
Some women shop. Some eat. Dora cures the blues by bingeing on books--reading one after another, from Flaubert to bodice rippers, for hours and days on end. In this wickedly funny and sexy literary debut, we meet the beguiling, beautiful Dora, whose unique voice combines a wry wit and vulnerability as she navigates the road between reality and fiction.
Dora, named after Eudora Welty, is an indiscriminate book junkie whose life has fallen apart--her career, her marriage, and finally her self-esteem. All she has left is her love of literature, and the book benders she relied on as a child. Ever since her larger-than-life father wandered away and her book-loving, alcoholic mother was left with two young daughters, Dora and her sister, Virginia, have clung to each other, enduring a childhood filled with literary pilgrimages instead of summer vacations. Somewhere along the way Virginia made the leap into the real world. But Dora isn't quite there yet. Now she's coping with a painful separation from her husband, scraping the bottom of a dwindling inheritance, and attracted to a seductive book-seller who seems to embody all that literature has to offer--intelligent ideas, romance, and an escape from her problems.
Joining Dora in her odyssey is an elderly society hair-brusher, a heartbroken young girl, a hilarious off-the-wall female teamster, and Dora's mother, now on the wagon, trying to make amends. Along the way Dora faces some powerful choices. Between two irresistible men. Between idleness and work. And most of all between the joy of well-chosen words and the untidiness of real people and real life.
From the Hardcover edition.
About the Author
Karen Mack, a former attorney, is a Golden Globe Award-winning film and television producer. Jennifer Kaufman was a staff writer at the Los Angeles Times and is a two-time winner of the national Penney-Missouri Journalism Award. Their debut novel, Literacy and Longing in L.A., was a #1 Los Angeles Times bestseller and also won the 2006 Southern California Booksellers Association Award for Fiction. From the Hardcover edition.
Praise For Literacy and Longing in L.A.…
"A book with the word "Literacy" in the title? A book with a lot of astute and telling quotes used as a plot device?... Literacy and Longing in L.A. turns out to be the most delightful read of the year…. An absolute romp dotted with the kind of wise sayings you never want to forget."—Liz Smith

"Kaufman and Mack cultivate a bright, breezy tone.... This is chick fiction in its purest form, so humor is always plentiful."—The Miami Herald

"Jennifer Kaufman and Karen Mack have a lot of nerve! How dare they come up with the brilliant idea to write a novel about a woman who tells her life story through her obsession with books! And how dare they execute it so beautifully?!...The book is sharp, seamless and very, very funny. I wish I had written it."—Sara Nelson, author of So Many Books, So Little Time

"A poignant and witty tale of life, love and letters in Los Angles…[a] brilliant debut novel."—Karen Quinn, author of The Ivy Chronicles

"A wonderful story that completely won me over—insecure bookish Dora will appeal to anyone who has ever found solace or inspiration in reading. This is chick lit for bookworms, at times breezy, sexy, profound..."—Denise Hamilton, author of Prisoner of Memory

"A delightfully stylish romp through life and love in Southern California in which our heroine offers irrefutable proof that literacy and L.A. are not mutually exclusive." —Judith Ryan Hendricks, author of The Baker's Apprentice

"I'm absolutely crazy about Literacy and Longing in L.A., which deftly serves up all the best elements of so-called 'chick lit,' lovingly larded with light-hearted, quick-witted, absolutely astonishing learning!"—Carolyn See, author of Making a Literary Life

"Funny and charming…. What a pleasing combination: books and romance."—Fort Worth Star-Telegram

"Funny and charming.... A bit of "chick lit" for women who actually love to read."—Arizona Republic


Advertisement