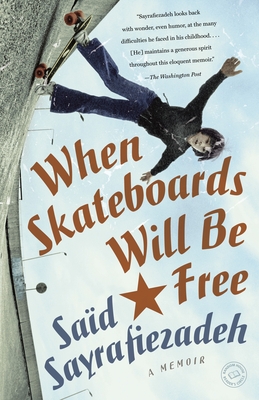 When Skateboards Will Be Free (Paperback)
Dial Press, 9780385340694, 306pp.
Publication Date: March 30, 2010
Description
"The revolution is not only inevitable, it is imminent. It is not only imminent, it is quite imminent. And when the time comes, my father will lead it." With a profound gift for capturing the absurd in life, and a deadpan wisdom that comes from surviving a surreal childhood in the Socialist Workers Party, Said Sayrafiezadeh has crafted an unsentimental, funny, heartbreaking memoir. Said's Iranian-born father and American Jewish mother had one thing in common: their unshakable conviction that the workers' revolution was coming. Separated since their son was nine months old, they each pursued a dream of the perfect socialist society. Pinballing with his mother between makeshift Pittsburgh apartments, falling asleep at party meetings, longing for the luxuries he's taught to despise, Said waits for the revolution that never, ever arrives. "Soon," his mother assures him, while his long-absent father quixotically runs as a socialist candidate for president in an Iran about to fall under the ayatollahs. Then comes the hostage crisis. The uproar that follows is the first time Said hears the word "Iran" in school. There he is suddenly forced to confront the combustible stew of his identity: as an American, an Iranian, a Jew, a socialist... and a middle-school kid who loves football and video games. Poised perfectly between tragedy and farce, here is a story by a brilliant young writer struggling to break away from the powerful mythologies of his upbringing and create a life--and a voice--of his own. Said Sayrafiezadeh's memoir is unforgettable. From the Hardcover edition.
About the Author
Said Sayrafiezadeh's writing has appeared in Granta, the Paris Review, and Open City. He lives in New York. From the Hardcover edition.
Praise For When Skateboards Will Be Free…
"[Saïd Sayrafiezadeh is a name] that you may want to remember…if this exacting and finely made first book is any indication…[He] writes with extraordinary power and restraint…[His] prose has some of [Isaac Bashevis] Singer's wistful comedy, and good deal of that writer's curiosity about the places where desire, self-sacrifice and societal obligation intersect and collide."—New York Times

"[Sayrafiezadeh] writes with grace and clarity about growing up juggling deprivation and desire."—Time

"Sayrafiezadeh looks back with wonder, even humor, at the many difficulties he faced in his childhood…[He] maintains a generous spirit throughout this eloquent memoir."—Washington Post

"A memoir is a bold thing to write so young, but the author pulls it off with pathos and humor, proving some histories are best written early."—GQ

"[A] wry, lovely memoir."—O: The Oprah Magazine

"Once I began When Skateboards Will Be Free, I couldn't put it down but to sleep. So rending a memoir, it reaches the reader's innermost consciousness. Its language has the fierceness and humor of a Charles Dickens story about childhood." —Paula Fox, author of Desperate Characters and Borrowed Finery

"Said Sayrafiezadeh has a wry, deadpan sense of humor, an exceptionally open heart, and the wisdom of a true outsider. When Skateboards Will Be Free shows us exactly how he came into possession of these rare qualities. This is a fantastic, beautifully written memoir." —Scott Smith, author of A Simple Plan and The Ruins

"When Skateboards Will Be Free is a brave, honest and elegant book. It felt like the story was being whispered in my ear. I haven't read a memoir in quite a while that has so skillfully made sense of an American childhood." —Colum McCann, author of Zoli

"Sad, angry, hilarious, heartbreaking, and brave—When Skateboards Will Be Free does everything a fine memoir should, and more. That Said Sayrafiezadeh survived his childhood in one piece would be triumph enough, but this beautiful book expands that personal triumph into art. It belongs on the shelf next to the best modern memoirs." —Dani Shapiro author of Black and White and Family History

"Sayrafiezadeh's memoir is lucid, heartbreaking, finally uplifting. This is a jail-break of a book. I loved it." —Thomas Beller, author of The Sleep-Over Artist and How To Be a Man

"Do not pity Sayrafiezadeh his childhood of deprivation—wonder at his ability to transform poverty into comedy and genuine suffering into joy." —Sean Wilsey, author of Oh the Glory of It All

"This is a remarkable memoir of a fragmented childhood." —Dalia Sofer, author of The Septembers of Shiraz

"When Skateboards Will Be Free is fraught and funny and haunting. Sayrafiezadeh never flinches, but neither does he stint on compassion. A wonderful recounting of a childhood, this book is also a powerful exploration of how belief binds families, and tears them apart." —Sam Lipsyte, author of Home Land

" Haunting ... A memoir full of surprises."—Booklist


Advertisement