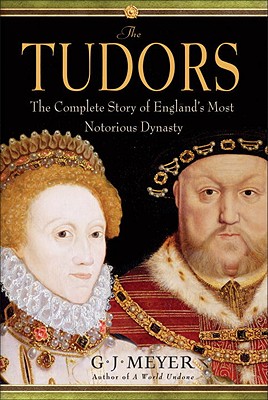 The Tudors: The Complete Story of England's Most Notorious Dynasty (Hardcover)
The Complete Story of England's Most Notorious Dynasty
Delacorte Press, 9780385340762, 640pp.
Publication Date: February 23, 2010
* Individual store prices may vary.
or
Not Currently Available for Direct Purchase
Description
For the first time in decades, here, in a single volume, is a fresh look at the fabled Tudor dynasty, comprising some of the most enigmatic figures ever to rule a country. Acclaimed historian G. J. Meyer reveals the flesh-and-bone reality in all its wild excess.

In 1485, young Henry Tudor, whose claim to the throne was so weak as to be almost laughable, crossed the English Channel from France at the head of a ragtag little army and took the crown from the family that had ruled England for almost four hundred years. Half a century later his son, Henry VIII, desperate to rid himself of his first wife in order to marry a second, launched a reign of terror aimed at taking powers no previous monarch had even dreamed of possessing. In the process he plunged his kingdom into generations of division and disorder, creating a legacy of blood and betrayal that would blight the lives of his children and the destiny of his country.

The boy king Edward VI, a fervent believer in reforming the English church, died before bringing to fruition his dream of a second English Reformation. Mary I, the disgraced daughter of Catherine of Aragon, tried and failed to reestablish the Catholic Church and produce an heir. And finally came Elizabeth I, who devoted her life to creating an image of herself as Gloriana the Virgin Queen but, behind that mask, sacrificed all chance of personal happiness in order to survive. 
 
The Tudors weaves together all the sinners and saints, the tragedies and triumphs, the high dreams and dark crimes, that reveal the Tudor era to be, in its enthralling, notorious truth, as momentous and as fascinating as the fictions audiences have come to love.
About the Author
G. J. Meyer is a former Woodrow Wilson Fellow with an M.A. in English literature from the University of Minnesota, a onetime journalist, and holder of Harvard University's Neiman Fellowship in Journalism. He has taught at colleges and universities in Des Moines, St. Louis, and New York. His books include A World Undone: The Story of the Great War, Executive Blues, and "The Memphis Murders," winner of an Edgar Award for nonfiction from the Mystery Writers of America. He lives in Goring-on-Thames, England.
Praise For The Tudors: The Complete Story of England's Most Notorious Dynasty…
"[A] sweeping history of the gloriously infamous Tudor era. Unlike the somewhat ponderous British biographies of the Henrys, Elizabeths and Boleyns that seem to pop up perennially, Meyer displays some flashy, fresh irreverence…Meyer cut[s] to the quick of the action…Energetic and comprehensive."—Kirkus Reviews

"History buffs will savor Meyer's cheeky, nuanced, and authoritative perspective on an entire dynasty, and his study brims with enriching background discussions, ranging from class structure and the medieval Catholic Church to the Tudor connection to Spanish royalty."—Publishers Weekly, starred review

"Historian/journalist Meyer does an excellent job of recreating the Tudor epoch, both in his dramatic narrative and in the alternating "background" chapters that illuminate 16th-century culture, politics, etc...Meyer's book is a rich and vibrant tapestry depicting England's most notorious—and most remembered—monarchs."—The Newark Star-Ledger

Advertisement