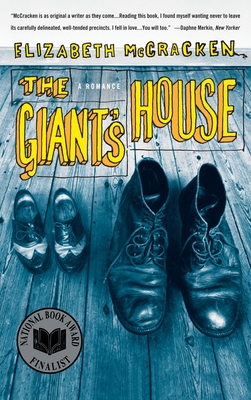 The Giant's House (Paperback)
A Romance
Dial Press Trade Paperback, 9780385340892, 272pp.
Publication Date: October 30, 2007
Other Editions of This Title:
Paperback (7/1/1997)
Paperback (7/3/2006)
* Individual store prices may vary.
Description
"McCracken mixes the proper amount of lunacy with exactly the right amount of sorrow. The blend is reminiscent of such late-20th-century treasures as The Accidental Tourist, The World According to Garp, or A Confederacy of Dunces."—Denver Post

The year is 1950, and in a small town on Cape Cod twenty-six-year-old librarian Peggy Cort feels like love and life have stood her up. Until the day James Carlson Sweatt– the "over-tall" eleven-year-old boy who's the talk of the town–walks into her library and changes her life forever. Two misfits whose lonely paths cross at the circulation desk, Peggy and James are odd candidates for friendship, but nevertheless they soon find their lives entwined in ways that neither one could have predicted. In James, Peggy discovers the one person who's ever really understood her, and as he grows– six foot five at age twelve, then seven feet, then eight–so does her heart and their most singular romance.

Praise for The Giant's House

"Remarkable . . . McCracken has wit and subtlety to burn, as well as an uncanny ability to tap into the sadness that runs through the center of her characters' worlds. This book is so lovely that, when you're reading, you'll want to sleep with it under your pillow."—Salon

A true marvel . . . thoroughly enjoyable from its unlikely beginning to its bittersweet end. . . McCracken knows all kinds of subtle, enticing secrets of the heart and conveys them in silky, transparent language."—San Francisco Chronicle 

"Lovely . . . a tribute to the quiet passion of people trapped in isolation."—Los Angeles Times 

"Fascinating . . . The reader finds herself entangled, body and soul, in this tender and endlessly strange novel, which is in all senses a hymn to human growth gone haywire and to a love so big it can't hold its own magnificent limbs upright."—Elle

"Such is the incantatory power of McCracken's eccentric tale that by its close we are completely in the grip of its strangely conceived ardor. . . . McCracken is as original a writer as they come. . . . I fell in love."—Daphne Merkin, The New Yorker
About the Author
Elizabeth McCracken is the recipient of the Harold Vursell Award from the American Academy of Arts and Letters and the PEN/Winship Award. She has received grants from the Guggenheim Foundation, and Michener foundation, the Fine Arts Center in Provincetown, and the National Endowment for the Arts. She was also honored as one of Granta's 20 Best Writers Under 40.
Praise For The Giant's House: A Romance…
"McCracken mixes the proper amount of lunacy with exactly the right amount of sorrow. The blend is reminiscent of such late-20th-century treasures as The Accidental Tourist, The World According to Garp, or A Confederacy of Dunces."—Denver Post

"Remarkable . . . McCracken has wit and subtlety to burn, as well as an uncanny ability to tap into the sadness that runs through the center of her characters' worlds. This book is so lovely that, when you're reading, you'll want to sleep with it under your pillow."—Salon

A true marvel . . . thoroughly enjoyable from its unlikely beginning to its bittersweet end. . . McCracken knows all kinds of subtle, enticing secrets of the heart and conveys them in silky, transparent language."—San Francisco Chronicle

"Lovely . . . a tribute to the quiet passion of people trapped in isolation."—Los Angeles Times

"Fascinating . . . The reader finds herself entangled, body and soul, in this tender and endlessly strange novel, which is in all senses a hymn to human growth gone haywire and to a love so big it can't hold its own magnificent limbs upright."—Elle

"Such is the incantatory power of McCracken's eccentric tale that by its close we are completely in the grip of its strangely conceived ardor. . . . McCracken is as original a writer as they come. . . . I fell in love."—Daphne Merkin, The New Yorker

"McCracken is a true romantic, not the sloppy, gushy kind who lie to themselves, but the robust, ferocious romantic who sees reality with all its chinks, twitches, and zits, and finds it beautiful."—Katherine Dunn, author of Geek Love

"Highly recommended . . . eloquent and hauntingly beautiful . . . This is a terrific novel, and McCracken is definitely a writer to watch."—Library Journal