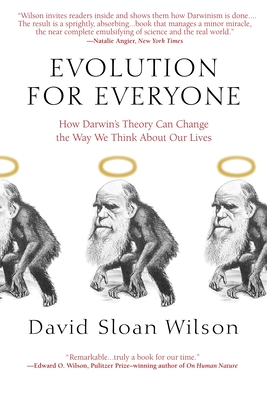 Evolution for Everyone
How Darwin's Theory Can Change the Way We Think About Our Lives
Paperback

* Individual store prices may vary.
Other Editions of This Title:
Digital Audiobook (3/29/2021)
Description
With stories that entertain as much as they inform, renowned evolutionist David Sloan Wilson outlines the basic principles of evolution and shows how, when properly understood, they can illuminate the length and breadth of creation, from the origin of life to the nature of religion. 

What is the biological reason for gossip? For laughter? For the creation of art? Why do dogs have curly tails? What can microbes tell us about morality?

These and many other questions are tackled by Wilson in this witty and groundbreaking new book. Now everyone can move beyond the sterile debates about creationism and intelligent design to share Darwin's panoramic view of animal and human life, seamlessly connected to each other.

Evolution, as Wilson explains, is not just about dinosaurs and human origins, but about why all species behave as they do—from beetles that devour their own young, to bees that function as a collective brain, to dogs that are smarter in some respects than our closest ape relatives. And basic evolutionary principles are also the foundation for humanity's capacity for symbolic thought, culture, and morality.

In example after example, Wilson sheds new light on Darwin' s grand theory and how it can be applied to daily life. By turns thoughtful, provocative, and daringly funny, Evolution for Everyone addresses some of the deepest philosophical and social issues of this or any age. In helping us come to a deeper understanding of human beings and our place in the world, it might also help us to improve that world.
Praise For Evolution for Everyone: How Darwin's Theory Can Change the Way We Think About Our Lives…
"In this age of mounting mistrust between science and religion in American society—especially in America's classrooms—David Sloan Wilson's Evolution for Everyone comes as a breath of fresh air. Without stooping to condemn those whose religious beliefs lead them to reject evolution, Wilson clearly but gently shows how evolution is essential to understanding all aspects of our daily lives. Wilson knows the power of a good story—and most of his 36 chapters are short, riveting accounts of evolution and the scientists who have puzzled out the intricacies, and importance, of understanding evolution in human life. Evolution for Everyone fills a gap in understanding evolution, and will help in the much-needed bridge building across the divide that has threatened educational values in recent years." —Niles Eldredge, Division of Paleontology The American Museum of Natural History New York, New York

"Evolution for Everyone is a remarkable contribution. No other author has managed to combine mastery of the subject with such a clear and interesting explanation of what it all means for human self-understanding. Aimed at the general reader, yet peppered with ideas original enough to engage scholars, it is truly a book for our time. " —Edward O. Wilson, Pulitzer Prize-winning author of On Human Nature

"A mind-stretching and unforgettable synthesis of biology, psychology, religion, and politics, this engrossing story is evolutionary biology at its very best." —Martin Seligman, author Learned Optimism and Authentic Happiness

"There tend to be two types of science books, those for professional scientists and those for the general public. Every once in awhile a book comes along that bridges this gap, and David Sloan Wilson's Evolution for Everyone is just such a book—a well written, page-turning narrative that can be enjoyed by anyone, that also contains original ideas that simply must be read by professional scientists because they push the science forward. I was amazed by how much new ground Wilson covers, how many new ideas he presents, so in this case "everyone" means just that: general readers and professional scientists alike." —Michael Shermer, Publisher of Skeptic magazine, columnist for Scientific American, and the author of Why Darwin Matters

"Evolution for Everyone is tremendous fun. But don't be deceived. David Sloan Wilson is a master biologist, who just happens to be a wonderful story teller." —Sarah B. Hrdy, author of Mother Nature

"Wilson does for evolution what Steve Levitt does for economics in his book Freakonomics....Evolution for Everyone is full of gripping stories about the natural world, related with humor and a rare flair for language." —Chicago Sun Times

"With a clear passion for the subject, Wilson shows that understanding evolution is easy, even intuitive—it really is for everyone. If only everyone would read his book." —New Scientist

"Should be read by everyone interested in the natural world." —Buffalo News
Delta, 9780385340922, 400pp.
Publication Date: December 26, 2007
About the Author
David Sloan Wilson is distinguished professor of biology and anthropology at Binghamton University. He is the author of Darwin's Cathedral: Evolution, Religion, and the Nature of Society, coauthor of Unto Others: The Evolution and Psychology of Unselfish Behavior, and coeditor of The Literary Animal: Evolution and the Nature of Narrative.