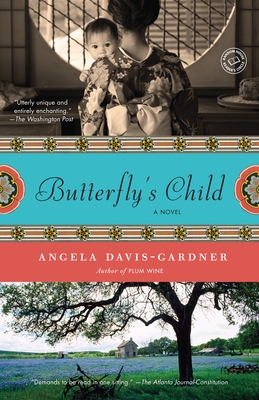 Butterfly's Child
A Novel
Paperback

* Individual store prices may vary.
Other Editions of This Title:
Digital Audiobook (4/11/2011)
Description
When three-year-old Benji is plucked from the security of his home in Nagasaki to live with his American father, Lt. Benjamin Franklin Pinkerton, and stepmother, Kate, on their farm in Illinois, the family conceals Benji's true identity as a child born from a liaison between an officer and a geisha—and instead tells everyone that he is an orphan. When the truth surfaces, it will splinter this family's fragile dynamic and send Benji on the journey of a lifetime from Illinois to the Japanese settlements in Denver and San Francisco, then across the ocean to Nagasaki, where he will uncover the truth about his mother's tragic death.

Don't miss the exclusive conversation between Angela Davis-Gardner and Jennifer Egan at the back of the book.



Praise For Butterfly's Child: A Novel…
"Extraordinary...To give away any of the astonishing plot twists and revelations would deny the reader the thrill of a totally transforming and satisfying finale. Sometimes bold and gripping, often delicate and sensual, Butterfly's Child is utterly unique and entirely enchanting."--The Washington Post

"This spectacular novel manages to be many things at once: an exploration of race and difference; a viscerally tragic love story; a sweeping, authoritative portrait of late 19th century Midwestern life; a poignant inquiry into the burdens and hardships of women; and a clever reimagining of Puccini's opera. Butterfly's Child eclipsed my own life while I was feverishly immersed in it, and dominated my mood and thoughts long after I'd finished."
—JENNIFER EGAN, Pulitzer Prize-winning author of A Visit from the Goon Squad

"The kind of book you sink into, becoming so transfixed by the story that you cannot help devouring it in just a few sittings. Davis-Gardner has created a masterful novel and an engaging read."—Charlotte Observer 

"Book club alert:...a highly readable sequel to the tragic opera that works within the characters' existing framework while still managing to sneak in a few surprises."--Christian Science Monitor

"An absorbing what if? that stands on its own merits, Butterfly's Child is...a novel that demands to be read in one sitting. The characters hate and love with murderous intensity whether plowing a field, quietly embroidering a sampler, or canning beets. And their drama, played out with no less passion in cornfields and general stores, sparsely furnished bedrooms and musty parlors, moves toward an ending as unexpected as it is revealing."--Atlanta Journal Constitution

"A magical journey, a heartbreaking tale of family ties and the tears of the heart...I don't know when I have been as completely enthralled by a book as I was by Butterfly's Child. It's a classic to come."--The Pilot (NC)

"A richly imagined literary sequel to Puccini's Madama Butterfly…In its way, it holds its own alongside the modern Western masterpieces of Larry McMurtry and Cormac McCarthy...It strikes themes of hope and renewal, and believing in the unbelievable."—Kirkus Reviews

"Very appealing...this is the type of novel many readers will want to finish in one sitting."—Library Journal

"Extraordinary...With deft imagination, and prose as delicately suggestive as the design on a kimono, Angela Davis-Gardner spins a provocative and persuasive account of what transpires after the curtain falls. Familiarity with Madama Butterfly is not a prerequisite for appreciating this finely wrought novel...That said, anyone unfamiliar with Puccini will likely seek out a production immediately after turning the last page, while fans of the opera will never experience it in quite the same way again."--Opera News

"Immediately engaging…Though Davis-Gardner inherited her characters, they are complex, dimensional beings in her hands."—Publishers Weekly 

"A unique and beautiful story...deeply moving. Once you enter Benji's world and begin his journey, there's no turning back. I read this book in 48 hours and did not stop until I finished the book."—The Charlotte Weekly

"A story appealing to those who avoid opera as well as to fans who also may have wondered what happened to Butterfly's child...Davis-Gardner's characters may be flawed, but they are human, with all the complexity and range of emotions that entails."--Charleston Post and Courier

"A novel nearly as lyrical and operatic as the original...prob[es] the fault lines between East and West, where each side strains to meet but where efforts at translation often fall short."—Star News

"Vivid details about Japanese life and the opera's history enrich this thoughtfully rendered story about love, betrayal and eventual reconciliation...Ingenious [and] persuasive."--Richmond Times-Dispatch

"Opera buffs and literary fiction fans will appreciate the depth and the tenor of this worthy successor to a classic tale of love and loss."—Booklist

"I enjoyed the novel and read it in two sittings. The ending is unexpected and I hope that Davis-Gardner writes a sequel."—Guelph Mercury

"Davis-Gardner has done an expert job in portraying more than just the disconnect between the cultures but also the chasm between the expectations of children of their parents and between husbands and wives."--Asian Review of Books

"Who ever thought the story was over? There was, after all, a child...Expansively imagined, carefully researched, and beautifully told, this is the perfect book for anyone who has ever longed to know what came next after that famous unhappily-ever-after ending."—Karen Joy Fowler, author of The Jane Austen Book Club

"Secrets unfold like a Japanese fan in Butterfly's Child. With jewel-like prose, Angela Davis-Gardner has created an enchantment—a novel so beautiful, mysterious, and compelling that I had to stay up into the wee hours to finish it in one sitting."—Lee Smith, author of The Last Girls

"Brilliant and inspired . . . Butterfly's Child reveals, in ways both devastating and surprising, how the human heart and the world we live in are rarely as they appear. Once you enter Benji's world and begin his journey, there is no turning back and no slowing down." —Jill McCorkle, author of Going Away Shoes

"I read Butterfly's Child in one day, totally hooked. It is a captivating novel of love, guilt, sin, justice—and how all these things are, in time, transformed surprisingly and inevitably."—Josephine Humphreys, Southern Book Award–winning author of Nowhere Else on Earth
 
"An utterly fascinating and entertaining novel whose transcultural themes are particularly relevant today. It is also a deftly and lyrically written novel, well deserving of a wide readership."—Oscar Hijuelos, Pulitzer Prize–winning author of The Mambo Kings Play Songs of Love
 
"Angela Davis-Gardner weds artful, beautifully sensuous prose to deeply involving, page-turning story. She's among our best. Take the word 'our' in that sentence to mean everyone, anywhere—the whole human family."—Richard Bausch, author of Peace

"What happened to the son of Madame Butterfly, the tragic heroine of the operatic masterpiece? Davis-Gardner tells his enthralling story in a complex but tightly knit novel that is entrancing to read, beautiful to remember."—Fred Chappell, former poet laureate of North Carolina and author of I Am One of You Forever
 
"Butterfly's Child is one of the finest books by a living writer that I have read in years. Davis-Gardner explores, with great tenderness, a boy's search for family, and she moves between the American and the Japanese cultures in a way that both informs and involves the reader completely."—Elizabeth Cox, author of The Slow Moon
 
"Beautifully written and deeply stirring, this is a timeless rendering of marriage at its best and worst, of the lengths a parent will go for a child, of how one decision or action can roll on and on in its effects. Butterfly's Child has the drama of an opera and the meticulous realism of a profound psychological novel."—Peggy Payne, author of Sister India

"A lovely, haunting novel, layered and beautifully written…I was captured by this book and couldn't put it down." –Susan Richards Shreve, author of A Student of Living Things

"Amid the dullness and small mindedness of 19th century American life, Davis-Gardner's Japanese characters—especially the indomitable Benji—stand in bright contrast.  Davis-Gardner enlightens us with her subtle insights and startles us with one major surprise, in this touching story of an Asian mother who sacrifices everything for her child."—David Guy, author of Jake Fades and The Autobiography of My Body

"The author allows time for rich detail of place, personalities, and historical events. But, she draws the reader in irresistibly to a totally surprising turn in Part Three. What was until then just a fine, sensitive, and complex story becomes a truly great one. I would put Butterfly's Child at the top of your winter reading list." --Historical Novels Review
Dial Press Trade Paperback, 9780385340953, 384pp.
Publication Date: April 10, 2012
About the Author
Angela Davis-Gardner spent a year in Japan as a visiting professor at Tokyo's Tsuda College, which inspired her acclaimed novel Plum Wine. She is also the author of Felice and Forms of Shelter. An Alumni Distinguished Professor Emerita at North Carolina State University, she lives in Raleigh.
or
Not Currently Available for Direct Purchase