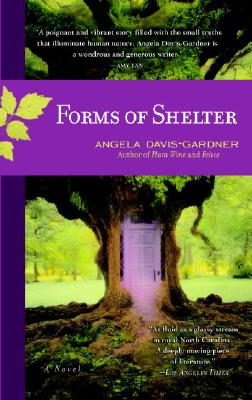 Forms of Shelter (Paperback)
Dial Press Trade Paperback, 9780385340977, 336pp.
Publication Date: October 30, 2007
* Individual store prices may vary.
Description
Perched amid the leaves of the Osage orange tree in her stepfather's backyard, Beryl Fonteyn observes the life around her—Mama's desperate attempts to gain Jack's approval by writing her novel, which he mercilessly critiques; her brother Stevie's unhealthy fascination with acting out events from the Bible; and Jack's obsession with his bees—all the while imagining that her runaway father will one day return. But as Beryl's adolescent turmoil collides with the confines of Jack's eccentric home, a shattering secret will divide their loyalties—and in one irrevocable moment the home that Beryl's family has found, their shelter in the storm, will be torn apart forever. . . .



About the Author
Angela Davis-Gardner spent a year in Japan as a visiting professor at Tokyo's Tsuda College, which inspired her acclaimed novel Plum Wine, as well as her latest novel, Butterfly's Child. She is also the author of Felice and Forms of Shelter. An Alumni Distinguished Professor Emerita at North Carolina State University, she lives in Raleigh.
Praise For Forms of Shelter…
"Told with an integrity that makes it compelling . . . The reader gains full confidence in characterizations that are both complex and especially well rendered."—New York Times

"Pulls the reader into its clutches, then refuses to let go. As Beryl Fonteyn recounts her troubled but not unusual childhood, Davis-Gardner's seductive poetics lure us on. . . . Captivating."—Boston Globe

"Rarely has an author confronted more honestly one of the deepest betrayals of the notion of family... A deeply moving piece of literature."—Los Angeles Times

"Davis-Gardner skillfully renders the fine lines that connect sympathy, intimacy and menace. . . . A wise novel."—Washington Post

"A strong and wise book . . . Angela Davis-Gardner writes with integrity."—Kaye Gibbons

"What a strong voice Angela Davis-Gardner has, and what a listening heart. Forms of Shelter shows the transcendent power of childhood to heal itself when the adult world cannot or will not."—Anne Rivers Siddons
or
Not Currently Available for Direct Purchase