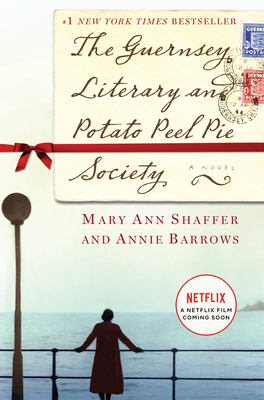 The Guernsey Literary and Potato Peel Pie Society (Hardcover)
Dial Press, 9780385340991, 288pp.
Publication Date: July 29, 2008
* Individual store prices may vary.
or
Not Currently Available for Direct Purchase
Description
#1 NEW YORK TIMES BESTSELLER

"I wonder how the book got to Guernsey? Perhaps there is some sort of secret homing instinct in books that brings them to their perfect readers." January 1946: London is emerging from the shadow of the Second World War, and writer Juliet Ashton is looking for her next book subject. Who could imagine that she would find it in a letter from a man she's never met, a native of the island of Guernsey, who has come across her name written inside a book by Charles Lamb.... As Juliet and her new correspondent exchange letters, Juliet is drawn into the world of this man and his friends--and what a wonderfully eccentric world it is. The Guernsey Literary and Potato Peel Pie Society--born as a spur-of-the-moment alibi when its members were discovered breaking curfew by the Germans occupying their island--boasts a charming, funny, deeply human cast of characters, from pig farmers to phrenologists, literature lovers all. Juliet begins a remarkable correspondence with the society's members, learning about their island, their taste in books, and the impact the recent German occupation has had on their lives. Captivated by their stories, she sets sail for Guernsey, and what she finds will change her forever. Written with warmth and humor as a series of letters, this novel is a celebration of the written word in all its guises, and of finding connection in the most surprising ways.
About the Author
Mary Ann Shaffer who passed away in February 2008, worked as an editor, librarian, and in bookshops. The Guernsey Literary and Potato Peel Pie Society was her first novel. Her niece, Annie Barrows, is the author of the children's series Ivy and Bean, as well as The Magic Half. She lives in northern California.
Praise For The Guernsey Literary and Potato Peel Pie Society…
"I can't remember the last time I discovered a novel as smart and delightful as this one, a world so vivid that I kept forgetting this was a work of fiction populated with characters so utterly wonderful that I kept forgetting they weren't my actual friends and neighbors. Treat yourself to this book please—I can't recommend it highly enough."—Elizabeth Gilbert, author of Eat, Pray, Love

"Mary Ann Shaffer and Annie Barrows have written a wondrous, delightful, poignant book— part Jane Austen, part history lesson.  The letters in The Guernsey Literary and Potato Peel Pie Society aren't addressed to you, but they are meant for you.  It's a book everyone should read.  An absolute treasure."—Sarah Addison Allen, author of Garden Spells

"A jewel...Poignant and keenly observed...A small masterpiece about love, war and the immeasurable sustenance to be found in good books and good friends."—People

"It's tempting to throw around terms like 'gem' when reading a book like this. But The Guernsey Literary and Potato Peel Pie Society is not precious...This is a book for firesides or long train rides. It's a charming and timeless as the novels for which its characters profess their love."—San Francisco Chronicle Book Review

"A book-lover's delight, an implicit and sometimes explicit paean to all things literary."—Chicago Sun-Times

"I've never wanted to join a [book] club as desperately as I did while reading The Guernsey Literary and Potato Peel Pie Society…. [The novel] is a labor of love, and it shows on almost every page."–Yvonne Zipp, Christian Science Monitor

"As the letters unfold, Juliet—and we readers—learn the little-known history of German occupation of Guernsey. We come to know the brave and endearing people who survived the hardships—and a few who did not....In addition to a fine story, this delightful book offers affirming messages about some of the most enduring forces in life—the power of the written word, the strength of the human spirit and the value of relationships, even unexpected ones."—Winston Salem Journal

"The Guernsey Literary and Potato Peel Pie Society is a sweet, sentimental paean to books and those who love them.... It affirms the power of books to nourish people enduring hard times."—Washington Post Book World

"Here's who will love this book: anyone who nods in profound agreement with the statement, "Reading keeps you from going gaga." The Guernsey Literary and Potato Peel Pie Society is a delight. Tart, insightful and fun."—Mary Doria Russell, author of The Sparrow, A Thread of Grace and Dreamers of the Day

"[A] marvelous debut.... Reminiscent of Helene Hanff's 84 Charing Cross Road , this is a warm, funny, tender, and thoroughly entertaining celebration of the power of the written word."—Library Journal

"Charming…. [Heroine] Juliet finds in the letters not just inspiration for her next work, but also for her life—as readers will."—Publishers Weekly

"[ The Guernsey Literary and Potato Peel Pie Society is] a nifty little cloth whose warp is bibliophilia and whose weft is Anglophilia.... I could not put the book down. I have recommended it to all my friends."—Erica Marcus, Newsday

" A poignant, funny novel that celebrates the resilience of the human spirit.... This one is a treat."—Boston Globe

"A sure winner…. Elizabeth and Juliet are appealingly reminiscent of game but gutsy '40s movie heroines."—Kirkus Reviews

"Fast, fresh.... A perfect novel for adaptation by Masterpiece Theater."—Santa Cruz Sentinel

"Warm, life-affirming prose … an ideal choice for book groups, and also for individual readers."—St. Petersburg Times

"Delightful ... One of those joyful books that celebrates how reading brings people together."—New Orleans Times-Picayune
Book Videos
What was it like to read a novel composed entirely of letters? What do letters offer that no other form of writing (not even emails) can convey?
What makes Sidney and Sophie ideal friends for Juliet? What common ground do they share? Who has been a similar advocate in your life?
Dawsey first wrote to Juliet because books, on Charles Lamb or otherwise, were so difficult to obtain on Guernsey in the aftermath of the war. What differences did you note between bookselling in the novel and bookselling in your world? What makes book lovers unique, across all generations?
What were your first impressions of Dawsey? How was he different from the other men Juliet had known?
Discuss the poets, novelists, biographers, and other writers who capture the hearts of the members of the Guernsey Literary and Potato Peel Pie Society. What does a reader's taste in books say about his or her personality? Whose lives were changed the most by membership in the society?
Juliet occasionally receives mean-spirited correspondence from strangers, accusing both Elizabeth and Juliet of being immoral. What accounts for their judgmental ways?
In what ways were Juliet and Elizabeth kindred spirits? What did Elizabeth's spontaneous invention of the society, as well as her brave final act, say about her approach to life?
Numerous Guernsey residents give Juliet access to their private memories of the occupation. Which voices were most memorable for you? What was the effect of reading a variety of responses to a shared tragedy?
Kit and Juliet complete each other in many ways. What did they need from each other? What qualities make Juliet an unconventional, excellent mother?
How did Remy's presence enhance the lives of those on Guernsey? Through her survival, what recollections, hopes, and lessons also survived?
Juliet rejects marriage proposals from a man who is a stereotypical "great catch." How would you have handled Juliet's romantic entanglement? What truly makes someone a "great catch"?
What was the effect of reading a novel about an author's experiences with writing, editing, and getting published? Did this enhance the book's realism, though Juliet's experience is a bit different from that of debut novelist Mary Ann Shaffer and her niece, children's book author Annie Barrows?
What historical facts about life in England during World War II were you especially surprised to discover? What traits, such as remarkable stamina, are captured in a detail such as potato peel pie? In what ways does fiction provide a means for more fully understanding a non-fiction truth?
Which of the members of the Society is your favorite? Whose literary opinions are most like your own?
Do you agree with Isola that "reading good books ruins you for enjoying bad ones"?
Advertisement