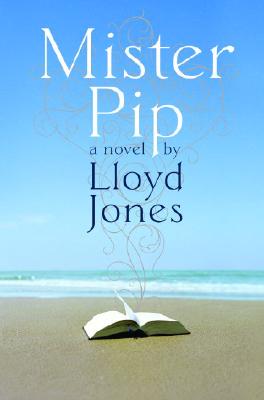 Mister Pip (Hardcover)
The Dial Press, 9780385341066, 272pp.
Publication Date: July 31, 2007
Other Editions of This Title:
Paperback (5/20/2008)
Prebound (5/20/2008)
Hardcover (9/1/2011)
* Individual store prices may vary.
Description
In a novel that is at once intense, beautiful, and fablelike, Lloyd Jones weaves a transcendent story that celebrates the resilience of the human spirit and the power of narrative to transform our lives.

On a copper-rich tropical island shattered by war, where the teachers have fled with most everyone else, only one white man chooses to stay behind: the eccentric Mr. Watts, object of much curiosity and scorn, who sweeps out the ruined schoolhouse and begins to read to the children each day from Charles Dickens's classic Great Expectations.

So begins this rare, original story about the abiding strength that imagination, once ignited, can provide. As artillery echoes in the mountains, thirteen-year-old Matilda and her peers are riveted by the adventures of a young orphan named Pip in a city called London, a city whose contours soon become more real than their own blighted landscape. As Mr. Watts says, "A person entranced by a book simply forgets to breathe." Soon come the rest of the villagers, initially threatened, finally inspired to share tales of their own that bring alive the rich mythology of their past. But in a ravaged place where even children are forced to live by their wits and daily survival is the only objective, imagination can be a dangerous thing.
Praise For Mister Pip…
"One of the best books of the year! Poetic, heartbreaking, surprising. Matilda is a young girl in Bougainville, a tropical island where the horror of civil war lurks. Mr. Watts, the only white person, is the self appointed teacher of the tiny school where the only textbook is the Dickens novel Great Expectations. Storytelling, imagination, courage, beauty, memories and sudden violence are the main elements of this extraordinary book."—Isabel Allende

"Genuinely affecting.... A book with worthwhile thoughts to impart."—The New York Times

"Mister Pip is sheer magic, a story about stories and their power to transcend the limits of imagination and reside in the deep heart's core. Lloyd Jones is a brave and fierce writer, and he has given us Dickens brand new again."—Keith Donohue, author of The Stolen Child

"Jones's prose is fautless.... With a mixture of thrill and unease, Matilda discovers independent thought, and Jones captures the intricate, emotionally loaded evolution of the mother-daughter relationship."—Publishers Weekly

"The novel is a paean to the transformative power of literature, particularly its ability to occlude an unpleasant reality with a fictional alternative and to expand an individual's sense of possibility."—New York Sun

"Not just a delightful read, Mister Pip shows the cut and thrust of true multiculturalism."—Atlantic Monthly
Is it important that Mr. Watts is the last white man on the island? Why?
Why does Matilda write Pip's name in the sand alongside the names of her relatives? Why does this upset her mother? How does this contribute to Dolores's feelings about Mr. Watts's instruction of her daughter? Are these feelings understandable?
Why do you think Mr. Watts pulled his wife in the cart? Why did he wear the red clown nose? What meaning did that have for them?
What is the message Matilda's mother is trying to express to the children with the story of her mother's braids? How is this related to the issue of Mr. Watts' faith in God?
What did you think of the lessons that the mothers of the children bring to the classroom? If you were the parent of a child in Matilda's class, what lesson would you teach the children? What might your mother have taught the class?
Who is Dolores warning the children about when she tells them the story about the devil lady and the church money? How does this story justify her actions regarding the book and the redskins? Do you agree with Dolores's refusal to bring forth the book? With Matilda's?
Where do you think Gilbert's father takes Sam? How do you know? In your opinion, was it necessary that he do so?
Why does the corned beef in Mr. Watts's house "represent a broad hope" for Matilda? Discuss Mr. Watts's reaction to Matilda's fragment. Do you believe that Grace was alive when Matilda arrived?
Discuss how the characters in this story struggle to reconcile the concepts of race and identity. Does it seem to dictate their interaction with each other? How does it influence their concepts of self? What moments, especially, helped reveal this to you?
What is the meaning of the story of the Queen of Sheba? Why does Mr. Watts bring it up? Why is it significant that Dolores is familiar with that story?
Why does Dolores step forward to declare herself "God's witness" to the murder of Mr. Watts? Were you surprised that she did? Why does she insist that Matilda remain silent?
Do you think Matilda was able to return home? How would that outcome affect your reading of both novels?
Discuss your memorable experiences of being read to as a child. What book made the greatest impact on your life? Did any book come to you at precisely the right time, the way Great Expectations was brought to Matilda?
Are both Mister Pip and Great Expectations universal coming-of-age tales? How did you react to the blending of these two distinctly different settings and time periods?
The initial lines of Great Expectations are reflected several times in this novel. Compare them to the opening lines of Mister Pip. What connections do these first sentences draw between the themes of both novels?
In what way are the narrative voices of Mister Pip and Great Expectations the same? How are they different? What shifts do you notice in the storytelling after Matilda leaves the island? How did this impact your reading?
How is Dolores's treatment of Matilda similar to Estella's treatment of Pip in Great Expectations? How does this relationship help Matilda understand Pip's attachment to Estella? Is it necessary that this attachment be severed before Pip/Matilda can grow individually?
Why do you think Mr. Watts omitted the characters of Orlick and Compeyson from his telling of Great Expectations? What additional meaning might the children have gleaned from the story if these characters and their storylines, such as Compeyson's jilting of Miss Havisham, had been included?
What is signified by the changing of one's name, both in Great Expectations and Mister Pip? Why does Matilda not change her name?
In what ways does Great Expectations help Matilda cope with her reality and prepare her for the future? How does it help Mr. Watts deal with his past? What makes Great Expectations the ideal Dickens choice for this purpose?
or
Not Currently Available for Direct Purchase