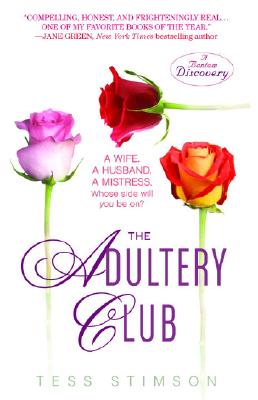 The Adultery Club (Paperback)
Bantam Books, 9780385341264, 386pp.
Publication Date: January 29, 2008
* Individual store prices may vary.
or
Not Currently Available for Direct Purchase
Description
Nicholas Lyon is the perfect husband--a handsome divorce attorney who dotes on his wife and family. Sara Kaplan is the perfect seductress--a vivacious young lawyer tired of being single. And Malinche Lyon is the perfect wife--a still-beautiful cookbook writer and mother to three darling daughters. Now, in this smart, wickedly sexy novel, Nick, Sara, and Malinche are all about to join...The Adultery Club

Suddenly Nicholas--a man totally in love with his wife--is fantasizing about Sara. Sara is toying with Nick. And Malinche is facing temptations of her own. While appetites are whetted and sated from London to the English countryside, what began as instant animal attraction is spinning wildly out of control, turning lives upside down--and hearts inside out. And now one heretofore happily married man and two very different women are about to discover the difference between fulfilling your wildest desires--and getting your just deserts.
About the Author
Tess Stimon is the author of three previous novels and one biography, and writes regularly for UK newspapers and women's magazines. Born and brought up in Sussex, England, she graduated from Oxford University before spending a number of years working in Europe, Cyprus, and Lebanon as a TV news producer with ITN (UK) and CNN. She now lives in Florida with her American husband, their daughter and two sons.
Praise For The Adultery Club…
"Perfect beach reading...Engaging, amusing, sexy, and surprisingly thought-provoking." —The Boston Globe

"One of my favorite books of the year." —Jane Green, New York Times bestselling author

"[A] superior tale of immorality and lust…Warmly recommended." —Daily Mail, UK

"The perfect book to make you debate...a novel about cheating that challenges the reader to pick sides." —In the Know, UK

"Bring this to your book club!"—Eve Magazine, UK

"With stiletto-sharp wit, Stimson unfolds a love triangle from all three points of view." —Cosmopolitan, UK

"Stimson's characters are complex and believable."—Publishers Weekly
Consider the trio of voices the author uses in the narrative. How would the novel have been different if the story were told from only one character's point of view?
"It's not that I have a particular moral thing about affairs with married men, though it's not something I'd shout from the rooftops. But at the end of the day, they're the ones cheating, not you," (chapter 2). Discuss Sara, specifically her belief stated here. Do you agree that because she's not married, she's not doing anything wrong by having an affair with a man who is?
"I'm shocked. I would never have thought–he doesn't seem the type," (chapter 2). What did you think of Nicholas? Did you expect he'd be capable of cheating on Malinche? Are there clues or traits about a man that suggest he might cheat?
Does Kit's friendship hurt or help Malinche? Why does Nicholas dislike him so much?
Sara asserts, "A man who cheats with you will cheat on you," (chapter 2). Nicholas muses, "Is there a gene to infidelity, like those for red hair or big feet?" (chapter 13). For a man, is it a foregone conclusion that once he cheats, it's something he's destined to do again and again?
"I don't want this. I love my wife. I love my wife," (chapter 7). Why do you think Nicholas ultimately gives in to Sara?
As she witnesses the daughter of a family neighbor hitting on her father, Sara disparages Libby as being a "little tart" and a "homewrecker" (chapter 5). Why is Sara not able to turn such a similar, and harsh, spotlight on herself?
"Men give love to get sex…Women give sex to get love. There's your battle of the sexes right there," (chapter 11). Is lust purely a man's domain, while love is a woman's?
"Kit, I kissed another man! And what's worse, I enjoyed it!" (chapter 12). Countering Malinche's self-pity, Kit argues that kissing does not constitute adultery; sex is the line to be crossed. What do you think; is one of these acts a bigger betrayal than the other?
Discuss Malinche's renewed relationship with Trace, especially the timing of it. In your opinion, did her actions constitute adultery?
What do you think of the ending? Was it a surprise? Did you wish the book ended differently?
Answer the question the book's subtitle poses: "A wife. A husband. A mistress. Whose side will you be on?"
Advertisement