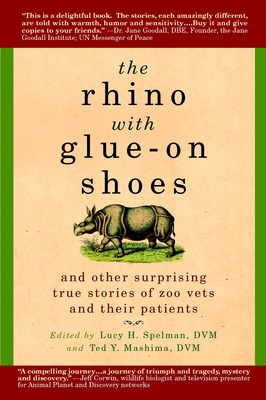 The Rhino with Glue-On Shoes: And Other Surprising True Stories of Zoo Vets and Their Patients (Paperback)
And Other Surprising True Stories of Zoo Vets and Their Patients
Delta, 9780385341479, 310pp.
Publication Date: June 23, 2009
Description

A moray eel diagnosed with anorexia...A herd of bison whose only hope is a crusading female doctor from Paris...A vet desperately trying to save an orphaned whale by unraveling the mystery of her mother's death...This fascinating book offers a rare glimpse into the world of wild animals and the doctors who care for them. Here pioneering zoological veterinarians--men and women on the cutting edge of a new medical frontier--tell real-life tales of daring procedures for patients weighing tons or ounces, treating symptoms ranging from broken bones to a broken heart, and life-and-death dramas that will forever change the way you think about wild animals and the bonds we share with them. At once heart-quickening and clinically fascinating, the stories in this remarkable collection represent some of the most moving and unusual cases ever taken on by zoological vets. A chronicle of discovery, compassion, and cutting-edge medicine, The Rhino with Glue-on Shoes is must reading for animal lovers, science buffs, and anyone who loves a well-told tale.
About the Author
Lucy H. Spelman, DVM, is the regional veterinary manager for the Mountain Gorilla Veterinary Project in Rwanda that Dian Fossey created. She is the former director of the Smithsonian National Zoo in Washington, D.C., and has been featured on Animal Planet and the Discovery Channel. Ted Y. Mashima, DVM, is the director of academic affairs and research for the Association of American Veterinary Medical Colleges, based in Washington, D.C.
Praise For The Rhino with Glue-On Shoes: And Other Surprising True Stories of Zoo Vets and Their Patients…
"Spelman and Mashima's fascinating exploration of the mysterious and often exciting world of veterinary medicine within the confines of the zoological community is a rare opportunity for the reader to go behind the scenes where the stories of drama, discovery, and compassion have been waiting to be revealed. This book is a compelling journey of the often herculean efforts on behalf of dedicated zoo veterinarians and their charismatic patients..... it is a journey of triumph and tragedy, mystery and discovery, which will keep the reader glued to the pages like the prosthetic shoes glued to a rhino hoof." —Jeff Corwin, wildlife biologist and television presenter for Animal Planet and Discovery networks

"This is a delightful book. The stories, each amazingly different, are told with warmth, humor and sensitivity. They are sometimes sad, always captivating. It is a book you can dip into on a journey or read before sleep at night. Buy it and give copies to your friends."—Dr. Jane Goodall, DBE, Founder, the Jane Goodall Institute, UN Messenger of Peace

"Think House but with patients who cannot speak…. Mini life-and-death dramas told by vets who love their patients."–USA Today

"Lucy Spelman and Ted Mashima have put together a stunning array of stories from twenty-eight of the best wild animal veterinarians in all parts of the world. Whether it is the tale of bringing two whale sharks from Taiwan to the Atlanta Aquarium or the astonishing account of fitting shoes on a foot-sore Asian Rhinoceros, the reader is left with the undeniable conclusion that these vets are contributing indispensable knowledge to a world-wide effort to protect wild creatures threatened by human activity. My hat is off to these unsung heroes of the natural world."—-Roger Sant, Chair of the Board of Regents, Smithsonian Institution

"This book went straight to my heart for emphasizing something that is often missed by the zoo-going public: the emotional commitment between those who care for zoo animals and their exotic charges. I have worked with the Los Angeles Zoo for almost forty years and, truly, these relationships are beautiful to behold."—Betty White, actress/author

"Expect to laugh, cry and read in astonishment about the lengths these vets must go to save their uncommon patients. From the hilarious and mad capped to the heartwarming and tragic, this wonderful collection of stories is sure to inspire a whole new generation of wildlife veterinarians. Dr. Spelman and her colleagues show amazing dedication to their work, but they're also cutting-edge scientists who must pioneer new techniques for their patients. They have enormous affection for all manner of incredible creatures and I admire these courageous professionals who routinely put themselves in danger to save the animals in their care." —W. Clark Bunting, President and General Manager, Discovery Emerging Networks

"In settings ranging from zoos to wildlife sanctuaries and from aquariums to the open ocean, and patients that run the gamut from goldfish to Gomek, the world's largest crocodile, these stories reveal the empathy, creativity, and daring of their veterinarian authors."—Booklist

"Entertaining…. Readers will be dazzled by stories of recapturing a fugitive herd of wild bison from the outskirts of Paris and medical marvels developed to treat especially small or sensitive patients."—Publishers Weekly
Advertisement