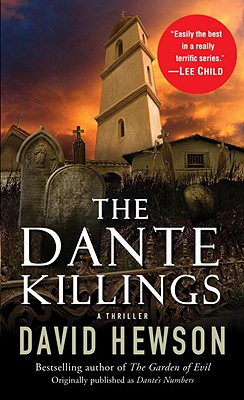 The Dante Killings (Mass Market Paperbound)
Dell Publishing Company, 9780385341493, 527pp.
Publication Date: April 27, 2010
* Individual store prices may vary.
or
Not Currently Available for Direct Purchase
Description
On a warm, golden evening in Rome, celebrities and paparazzi gather at the Villa Borghese as a legendary director premieres his long-anticipated film version of Dante's Inferno. But minutes later the scene is chaos: A man lies dead, the film's star is missing, and a priceless relic has vanished. As the premiere shifts locations--from Rome to San Francisco--detective Nic Costa finds himself on U.S. shores for the first time, charged with protecting a trove of rare Italian artworks and artifacts, as well as an American film actress, Maggie Flavier. When a killer indeed strikes, and with Flavier in danger, Costa races to unravel the chilling clues that connect Dante's nine circles of Hell to the shattering revelations of Alfred Hitchcock's Vertigo. But he may be too late. For a cunning plot is closing in around Costa, guided by a poet's ancient vision of sin and punishment and a killer's genius for terror. Previously published as Dante's Numbers.
About the Author
David Hewson is the author of ten novels. Formerly a weekly columnist for the Sunday Times, he lives in Kent, England, where he is at work on his next crime novel, Bitter Mountain. From the Hardcover edition.
Praise For The Dante Killings…
"The return of Nic Costa is a true cause for celebration! A literate, page-turning tale that finds our hero—one of the most appealing in crime fiction—zipping between two of the most iconic cities in the world: Rome and San Francisco. Hewson is a daunting talent—a writer who is a master stylist, who respects his audience's intelligence, and who effortlessly keeps the thrills coming a mile a minute."–Jeffery Deaver, New York Times bestselling author

"One of my all-time favorite fictional detectives is David Hewson's Nic Costa, and Dante's Numbers brings Nic for the first time to American shores. From the opening scene of murder and mayhem at a movie premiere to the final, mind-blowing surprise, Dante's Numbers is an elegant, clever, and terrifying tale of intrigue and murder involving Dante's first circle of Hell and Hitchcock's classic film Vertigo. An outstanding novel."—Douglas Preston, author of The Monster of Florence and Blasphemy.

"David Hewson is one of the finest thriller writers working today. A born stylist. Dante's Numbers is politically wise, multi-dimensional, and psychologically intuitive. Action braids suspense on nearly every page, creating a reader's delight from beginning to end. A superb effort by a master storyteller. The rest of the world already knows how good David is. Now, it's time America find out." —Steve Berry

" Dante's Numbers is action-packed suspense at its smartest and most gripping. Transplanting Nic Costa and his fellow Italian detectives to the dizzying world of Hitchock's 'Vertigo' is a master stroke from a brilliant author. It's impossible not to be swept up in the memorable, compelling world that is David Hewson's specialty."–David Morrell

"Easily the best in a really terrific series."—Lee Child

"Hewson is a master at convoluted, manytentacled plots that weave their way through history and back to the present." —Booklist

"[In] Hewson's fine seventh crime novel to feature Nic Costa…. A convoluted plot, eccentric characters and numerous sinister connections to Hitchcock's Vertigo all contribute to the suspense." —Publishers Weekly

Advertisement