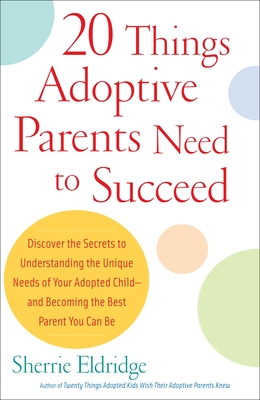 20 Things Adoptive Parents Need to Succeed
Discover the Secrets to Understanding the Unique Needs of Your Adopted Child-and Becoming the Best Parent You Can Be
Paperback

* Individual store prices may vary.
Description
Do I have what it takes to be a successful adoptive parent?
Does my child consider me a successful parent?
Will I ever hear my rebellious teen say, "I love you"?
What tools do I need to succeed?

In her groundbreaking first book, Twenty Things Adopted Kids Wish Their Adoptive Parents Knew, Sherrie Eldridge gave voice to the very real concerns of adopted children, whose unique perspectives offered unprecedented insight. In this all-new companion volume, Eldridge goes beyond those insights and shifts her focus to parents, offering them much-needed encouragement and hope.

Speaking from her own experience as an adoptee and an expert in the field of adoption, Eldridge shares proven strategies and the moving narratives of nearly one hundred adoptive families, helping parents gain a deeper understanding of what is normal, both for their children and themselves. By first strengthening yourself as a parent, you'll be able to truly listen to your child, and to connect with him on every level, by opening the channels of communication and keeping them open forever. Then you and your child can grow closer through the practical exercises at the end of every chapter.

Discover how to
• be confident that your role in your child's life is vital and irreplaceable
• pass on the legacy of healthy self-care by assessing and regulating your stress
• communicate unconditional love to your child
• talk candidly with your child about her adoption and her birth family
• teach your family how to respond positively to insensitive remarks about adoption
• connect with other adoptive families–and build a support network
• plus learn to become a "warrior" parent…settle the "real parent" question…cope with emotional triggers–what to do when you "lose it" . . . celebrate the miracle of your family…and much more
Praise For 20 Things Adoptive Parents Need to Succeed: Discover the Secrets to Understanding the Unique Needs of Your Adopted Child-and Becoming the Best Parent You Can Be…
"Sherrie Eldridge once again makes a remarkable contribution to adoption literature, weaving together her personal experiences as both an adoptee and an adoption expert and skillfully examining the often unspoken thoughts of adoptive parents. "—, MS, author of Beneath the Mask: Understanding Adopted Teens, and executive director, The Center for Adoption Support and Education

"A must-read and must-keep resource for all adoptive parents, getting straight to the core of adoption issues. This is one of the most validating books for adoptive parents I have ever read, helping them to know not only that their experiences are different but how to turn challenges into healing moments." —Heather T. Forbes, LCSW, author of Beyond Consequences, Logic, and Control
Delta, 9780385341622, 320pp.
Publication Date: October 27, 2009
About the Author
Sherrie Eldridge is the author of the bestselling Twenty Things Adopted Kids Wish Their Adoptive Parents Knew. An internationally known adoption expert and speaker, she is also the founder and president of Jewel Among Jewels Adoption Network. She lives in Indiana with her husband.
or
Not Currently Available for Direct Purchase