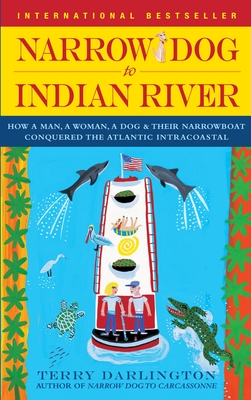 Narrow Dog to Indian River (Paperback)
How a Man, a Woman, a Dog & Their Narrowboat Conquered the Atlantic Intracoastal
Delta, 9780385342094, 352pp.
Publication Date: April 28, 2009
* Individual store prices may vary.
Description
From Virginia to Florida in an English canal boat.

Join the authors of "one of the most hilarious travel memoirs ever written"* on a wild odyssey aboard one of the most unlikely craft ever to sail U.S. waters.

No one had ever sailed an English narrowboat in the U.S. before—for reasons that become clear when Terry Darlington, his wife, Monica, and their well-traveled dog, a whippet named Jim, begin a nine-month voyage down the 1,150-mile Intracoastal Waterway. But no sooner do they set out in the seven-foot-wide Phyllis May than they encounter an ice storm in Virginia and piranhas in North Carolina. The Georgia coast is a madman's jigsaw and in Florida the alligators wait patiently for Jim. But as they wend their way through golden marshes, incomparable cities, and lost arcadias, the intrepid trio aboard the beautiful painted boat reveals a South few of us have ever seen. And with frequent stops to dine on sweet tea, grits, and the freshest of the day's catch, they make plenty of strange companions along the way—from wayfarers stopping to give Jim a good scratch behind the ears to ex–CIA agents and the Good Ole Boys of the Deep South—and discover that everyone has a story they're only too willing to share.

Beautifully written, lovingly observed and very funny, Narrow Dog to Indian River takes you on a dangerous, surprising, and always entertaining journey through the wonderland of the South.

*Booklist

About the Author
Terry Darlington was raised in Wales. He likes boating but doesn't know much about it. Monica Darlington has run thirty marathons and leaps tall buildings in a single bound. She likes boating. Brynula Great Expectations (Jim) is sprung from a long line of dogs with ridiculous names. Cowardly, thieving, and disrespectful, he hates boating.