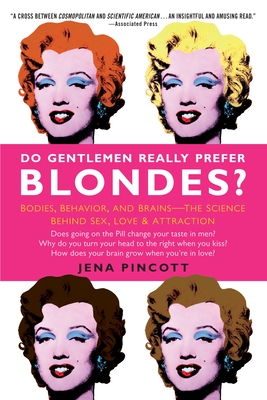 Do Gentlemen Really Prefer Blondes? (Paperback)
Bodies, Behavior, and Brains--The Science Behind Sex, Love, & Attraction
Delta, 9780385342162, 368pp.
Publication Date: September 29, 2009
* Individual store prices may vary.
Description

How do the seasons affect your sex life? Is your lover more likely to get you pregnant than your husband? Are good dancers also good in bed?
If you've ever wondered how scientists measure love—or whether men really prefer blondes—this smart, sexy book provides real answers to these and many other questions about our most baffling dating and mating behaviors. Based on the latest research in biology, evolutionary psychology, neuroscience, and cognitive science, Do Gentlemen Really Prefer Blondes? dares to explain the science behind sex—and opens a fascinating window on the intriguing phenomenon of love and attraction. Did you know…

•When a couple first fall in love, their brains are indistinguishable from those of the clinically insane
•You can tell a lot about a person's sexual chemistry just by looking at his or her hands
•Your genes influence whose body odors you prefer

Viewed through the lens of science and instinct, your love life might be seen in a completely different way. This book provides both an in-depth exploration into our sexual psyches—and fresh advice for men and women who want to discover the secrets of successful relationships.
About the Author
Jena Pincott has a background in biology and was a production assistant on science documentaries for PBS. She is a former senior editor at Random House, and is the author of Success: Advice for Achieving Your Goals from Remarkably Accomplished People and Healing: Advice for Recovering Your Strength and Spirit from the World's Most Famous Survivors. She lives in New York City.


From the Hardcover edition.
Praise For Do Gentlemen Really Prefer Blondes?: Bodies, Behavior, and Brains--The Science Behind Sex, Love, & Attraction…
"Witty, captivating, scientifically sound and great fun. Every curious man and woman will love this book."—Louann Brizendine, M.D., New York Times bestselling author of The Female Brain

"Answers around 100 questions we've all wondered about or asked…. A tremendous amount of potentially useful information in a well-written, entertaining, and easy-to-understand format."—Library Journal

"Playfully written scientific anecdotes." – Publishers Weekly, starred review


From the Hardcover edition.
or
Not Currently Available for Direct Purchase