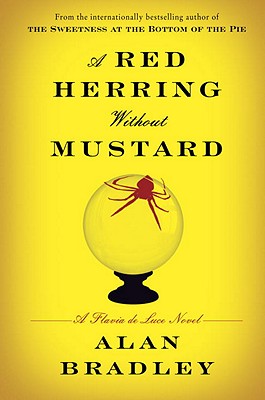 A Red Herring Without Mustard
A Flavia de Luce Novel
Hardcover

* Individual store prices may vary.
Other Editions of This Title:
Digital Audiobook (3/31/2011)
Digital Audiobook (2/7/2011)
Paperback (10/18/2011)
Hardcover, Large Print (2/2/2011)
Paperback, Chinese (11/1/2012)
Compact Disc (2/8/2011)
Description
Award-winning author Alan Bradley returns with another beguiling novel starring the insidiously clever and unflappable eleven-year-old sleuth Flavia de Luce. The precocious chemist with a passion for poisons uncovers a fresh slew of misdeeds in the hamlet of Bishop's Lacey—mysteries involving a missing tot, a fortune-teller, and a corpse in Flavia's own backyard.

Flavia had asked the old Gypsy woman to tell her fortune, but never expected to stumble across the poor soul, bludgeoned in the wee hours in her own caravan. Was this an act of retribution by those convinced that the soothsayer had abducted a local child years ago? Certainly Flavia understands the bliss of settling scores; revenge is a delightful pastime when one has two odious older sisters. But how could this crime be connected to the missing baby? Had it something to do with the weird sect who met at the river to practice their secret rites? While still pondering the possibilities, Flavia stumbles upon another corpse—that of a notorious layabout who had been caught prowling about the de Luce's drawing room.

Pedaling Gladys, her faithful bicycle, across the countryside in search of clues to both crimes, Flavia uncovers some odd new twists. Most intriguing is her introduction to an elegant artist with a very special object in her possession—a portrait that sheds light on the biggest mystery of all: Who is Flavia?

As the red herrings pile up, Flavia must sort through clues fishy and foul to untangle dark deeds and dangerous secrets.
Praise For A Red Herring Without Mustard: A Flavia de Luce Novel…
"She remains irresistibly appealing."  —New York Times Book Review

"A Red Herring Without Mustard will steal a mystery lover's heart, and the clever Miss Flavia will surely keep it forever."  —Las Vegas ReviewJournal

"Flavia, oh Flavia, how I've missed you!.....If you like your heroines whip-smart, lippy, and resourceful, Flavia's your gal."  —Montreal Gazette

"As satisfying as the mystery is, the multiple-award winning Bradley offers more…beautifully written, with fully fleshed characters…[Bradley] secures his position as a confident, talented writer and storyteller."  —Toronto Globe & Mail

"Delightful….The book's forthright and eerily mature narrator is a treasure."  —Seattle Times

 "As hilarious, gripping, and sad as the previous books in this enjoyable series….once again, Bradley succeeds.  And so, of course, does Flavia."  —Bookpage

"This idiosyncratic heroine continues to charm." —Wall Street Journal

"Think preteen Nancy Drew, only savvier and a lot richer, and you have Flavia de Luce….Don't be fooled by Flavia's age or the 1950s setting: A Red Herring isn't a dainty tea-and-crumpets sort of mystery. It's shot through with real grit."  —Entertainment Weekly

"Outstanding….In this marvelous blend of whimsy and mystery, Flavia manages to operate successfully in the adult world of crimes and passions while dodging the childhood pitfalls set by her sisters."  —Publishers Weekly (starred review)

"Oh, to be 11 again and pal around with irresistible wunderkind Flavia de Luce….A splendid romp through 1950s England led by the world's smartest and most incorrigible preteen."  —Kirkus Reviews (starred review)

"Whether battling with her odious sisters or verbally sparing with the long-suffering Inspector Hewitt, our cheeky heroine is a delight. Full of pithy dialog and colorful characters, this series would appeal strongly to fans of Dorothy Sayers, Gladys Mitchell, and Leo Bruce as well as readers who like clever humor mixed in with their mysteries."  —Library Journal (starred review)

 "Think of Flavia as a new Sherlock in the making."  —Booklist





ACCLAIM FOR ALAN BRADLEY'S BELOVED FLAVIA DE LUCE MYSTERIES
 
"Flavia is incisive, cutting and hilarious . . . one of the most remarkable creations in recent literature."—USA Today

The Sweetness at the Bottom of the Pie
 
"Wonderfully entertaining . . . sure to be one of the most loved mysteries of the year."—Chicago Sun-Times
 
"If ever there was a sleuth who's bold, brilliant, and, yes, adorable, it's Flavia de Luce. . . . [A] scrumptious first novel."—USA Today
 
"A five-star performance for young and old . . . written with Dickensian flair, Sherlockian suspense and tongue-in-cheek fun."  —Mysterious Reviews

The Weed That Strings the Hangman's Bag
 
 "Utterly beguiling . . . wicked wit . . . The real delight here is [Flavia's] droll voice and the eccentric cast."—People (four stars)
 
"Bradley takes everything you expect and subverts it, delivering a smart, irreverent, unsappy mystery."—Entertainment Weekly
 
"Discovering Alan Bradley's Flavia de Luce books is several steps beyond pleasure—it's a sheer delight."—Winston-Salem Journal
Delacorte Press, 9780385342322, 416pp.
Publication Date: February 8, 2011
About the Author
Alan Bradley is the internationally bestselling author of many short stories, children's stories, newspaper columns, and the memoir "The Shoebox Bible." His first Flavia de Luce mystery, "T"he "Sweetness at the Bottom of the Pie, " received the Crime Writers' Association Debut Dagger Award, the Dilys Award, the Arthur Ellis Award, and the Agatha Award, and was nominated for the Macavity, the Anthony, and the Barry awards. His second Flavia de Luce mystery is "The Weed That Strings the Hangman's Bag." Bradley lives in Malta with his wife and two calculating cats, and is currently at work on the next Flavia de Luce mystery, " I Am Half Sick of Shadows."
or
Not Currently Available for Direct Purchase