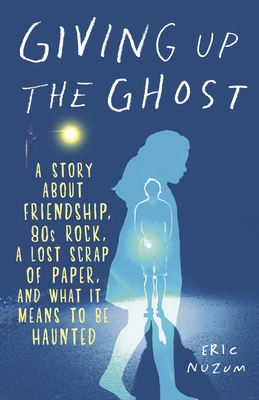 Giving Up the Ghost (Paperback)
A Story About Friendship, 80s Rock, a Lost Scrap of Paper, and What It Means to Be Haunted
Dial Press Trade Paperback, 9780385342438, 320pp.
Publication Date: August 7, 2012
* Individual store prices may vary.
Description
At once hilarious and incredibly moving, Giving Up the Ghost is a memoir of lost love and second chances, and a ghost story like no other.
 
Eric Nuzum is afraid of the supernatural, and for good reason: As a high school oddball in Canton, Ohio, during the early 1980s, he became convinced that he was being haunted by the ghost of a little girl in a blue dress who lived in his parents' attic. It began as a weird premonition during his dreams, something that his quickly diminishing circle of friends chalked up as a way to get attention. It ended with Eric in a mental ward, having apparently destroyed his life before it truly began. The only thing that kept him from the brink: his friendship with a girl named Laura, a classmate who was equal parts devoted friend and enigmatic crush. With the kind of strange connection you can only forge when you're young, Laura walked Eric back to "normal"—only to become a ghost herself in a tragic twist of fate.
 
Years later, a fully functioning member of society with a great job and family, Eric still can't stand to have any shut doors in his house for fear of what's on the other side. In order to finally confront his phobia, he enlists some friends on a journey to America's most haunted places. But deep down he knows it's only when he digs up the ghosts of his past, especially Laura, that he'll find the peace he's looking for.
About the Author
Eric Nuzum works at NPR in Washington, DC. He is also the author of The Dead Travel Fast: Stalking Vampires from Nosferatu to Count Chocula and Parental Advisory: Music Censorship in America. He has appeared on CNN, VH1, and elsewhere.
Praise For Giving Up the Ghost: A Story About Friendship, 80s Rock, a Lost Scrap of Paper, and What It Means to Be Haunted…
Early Praise for Giving Up the Ghost:

"An original, deeply moving memoir. . . [a] testament to friendship, love and survival."—Kirkus Reviews 

"[A] brutally honest memoir. . . an evocative glimpse into one man's past, so different from what his 'normal' present would suggest."—Booklist

"A highly unusual, wildly specific story about love and death and confusion. But its power comes from an universal realization: Very often, our memory of a person matters more than whatever actually happened."
—Chuck Klosterman, author of Sex, Drugs and Cocoa Puffs
 
"Giving Up The Ghost is powerful and evocative, with a painfully vivid sense of Midwest teenage-wasteland dread. It's an elegiac ghost story that can make you wonder if there's any difference between being young and being haunted."
—Rob Sheffield, author of Love Is a Mixtape
or
Not Currently Available for Direct Purchase