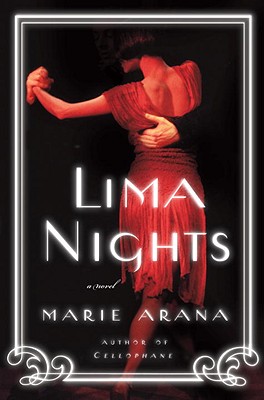 Lima Nights
Hardcover

* Individual store prices may vary.
Other Editions of This Title:
Paperback (7/13/2010)
Description
From a National Book Award finalist—for her memoir American Chica—and the author of the acclaimed novel Cellophane comes this spare, powerful story of sexual obsession and its consequences.

Carlos Bluhm leads the good life in upper-class Lima: he attends social functions with his elegant wife, goes out drinking with his three best friends, has the occasional, fleeting assignation. . . . Until he meets Maria Fernandez, a dancer at a tango bar in a rough part of town. The beautiful sixteen-year-old intoxicates him. An indigenous dark-skinned Peruvian, she represents everything his safe white world does not, and soon he can't get her out of his mind. They begin a passionate affair, one that will destroy his marriage and shatter the only reality he's ever known.

Flash forward twenty years: against all odds, Carlos and Maria have remained together. But when Maria finally presses for a formal commitment, feelings long suppressed erupt in a tense endgame that sends both of them hurtling toward a dangerous resolution that will forever alter their lives.

Brilliantly realized, erotic, unsentimental, Lima Nights is a unique love story and a stunning work of fiction that will reverberate long after its final page.
Praise For Lima Nights…
"Spare, unsentimental…. [A] finely tuned human drama."—Publishers Weekly

"An erotic, catastrophic love story that grows more mysterious by the page, Arana's novel of taboo passion, tragic misperception, and life's hidden dimensions is as shattering as it is seductive."—Booklist, starred review

"Unflinching … compelling…. Intelligent."—Library Journal

"Arana's prose soars with poetic imagery, evocative description and moving characterization."—Rocky Mountain News

The Dial Press, 9780385342582, 256pp.
Publication Date: December 30, 2008
What are Bluhm's first impressions of Maria, both at Lima Nights and at the supermarket? What makes her different from the other women he has known? How did your impressions of Maria, and of Bluhm, change throughout the novel?
Discuss the time period and history captured in Lima Nights. What had you known about the Shining Path guerrillas?
Do the vast differences between Maria and Bluhm–especially in terms of age, race, and economic status–strengthen their attraction for each other? How do their differences help and hinder their relationship?
How do Maria's memories of her parents influence her beliefs about love and survival?
Discuss Maria and Bluhm's sublime beach trip to Paracas. Was he deceiving himself as much as he deceived his wife, or did he find his true self during those passionate days and nights? How does their trip compare to your ideal romantic escape?
What do Maria and Sophie mean to Bluhm? When he compares them on a list, what qualities seem more important to him? How important is sex in building a healthy marriage?
How does Bluhm relate to his two sons, Fritz and Rudy? What does he try to teach them about being good men? What do they, in turn, teach him?
What emotional shifts take place between the first and second parts of Lima Nights? Were you surprised to see Maria and Bluhm still together in "Mano a Mano"?
What makes the tango the perfect dance for Bluhm and Maria's mutual seduction? What illusions did they create when they first became lovers? How did they stay in step with each other as things became more turbulent?
What truths does Lima Nights reveal about relationships and longing? Would you have responded to infidelity the same way Sophie did?
Was Bluhm's obsession with Maria the cause of his marital problems, or was it a symptom? How did his desire for Maria compare to Willy's feelings for Carmela?
Is there much difference between the services offered by Oscar and those offered by the vidente? Which one has better insight? How do both healers affect the minds of their clients?
How did you interpret the presence of the old man who helps carry Bluhm's curse out to sea? Is his presence a coincidence, divine intervention, or something else altogether?
What does the closing scene say about Bluhm's house and all that it represented to him at the various stages of his life? What do you predict for him, and for Maria?
What elements of Lima Nights reflect themes from Marie Arana's previous books, including the issues of class described in her memoir, American Chica, and the relationships captured in the novel Cellophane?
or
Not Currently Available for Direct Purchase