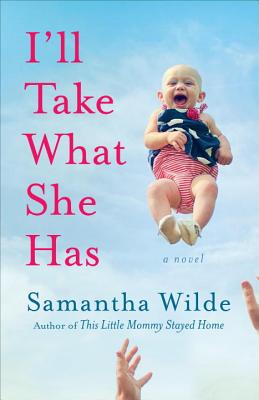 I'll Take What She Has (Paperback)
A Novel
Bantam, 9780385342674, 416pp.
Publication Date: February 26, 2013
* Individual store prices may vary.
Description
Perfect for fans of Marisa de los Santos and Allison Winn Scotch, Samantha Wilde's new novel is a funny and heartfelt look at friendship, marriage, and the dynamics of modern motherhood.
 
Nora and Annie have been best friends since kindergarten. Nora, a shy English teacher at a quaint New England boarding school, longs to have a baby. Annie, an outspoken stay-at-home mother of two, longs for one day of peace and quiet (not to mention more money and some free time). Despite their very different lives, nothing can come between them—until Cynthia Cypress arrives on campus.
 
Cynthia has it all: brains, beauty, impeccable style, and a gorgeous husband (who happens to be Nora's ex). When Cynthia eagerly befriends Nora, Annie's oldest friendship is tested. Now, each woman must wrestle the green-eyed demon of envy and, in the process, confront imperfect, mixed-up family histories they don't want to repeat. Amid the hilarious and harried straits of friendship, marriage, and parenthood, the women may discover that the greenest grass is right beneath their feet.

Praise for I'll Take What She Has
 
"Samantha Wilde has a dry wit, a big heart, and a sharp eye that doesn't miss a trick. I'll Take What She Has is a smart and funny behind-the-scenes look at private school life and the grass-is-always-greener friendships of three women who, like most of us, would have fabulous lives if only they could get out of their own way!"—Claire Cook, bestselling author of Must Love Dogs and Wallflower in Bloom
 
"With wit, compassion, and a keen ear for dialogue Wilde explores issues of insecurity, envy, young motherhood, and friendship in this fast-paced work."—Publishers Weekly
 
"With her easy, amusing narrative style, Wilde speaks the language of women and communicates what lies in their hearts. Add to that a strong, genuine plot with expressive, intelligent yet flawed characters at the center, and you have a gem of a read."—RT Book Reviews
 
"A poignant, thoroughly entertaining tale of friends, family, and wanting more."—Valerie Frankel, author of Four of a Kind
 
"Wilde delivers an honest, unflinching, and emotional look at the messy unpredictability of both motherhood and friendship."—Lisa Verge Higgins, author of The Proper Care and Maintenance of Friendship
About the Author
Samantha Wilde, the mother of three young children born in just over four years, openly admits to eating far, far too much chocolate—usually to keep her awake during nap time so she can write some books. Before she took on mothering as a full-time endeavor, she taught more than a dozen yoga classes a week (now she teaches one). She's a graduate of Concord Academy, Smith College, Yale Divinity School and The New Seminary, as well as the Kripalu School of Yoga. She's been an ordained minister for more than a decade. Her first novel, This Little Mommy Stayed Home, helped a lot of new mothers get through the night. The daughter of novelist Nancy Thayer, she lives in western Massachusetts with her husband, a professor of chemical engineering.
Praise For I'll Take What She Has: A Novel…
"Samantha Wilde has a dry wit, a big heart, and a sharp eye that doesn't miss a trick. I'll Take What She Has is a smart and funny behind-the-scenes look at private school life and the grass-is-always-greener friendships of three women who, like most of us, would have fabulous lives if only they could get out of their own way!"—Claire Cook, bestselling author of Must Love Dogs and Wallflower in Bloom
 
"With wit, compassion, and a keen ear for dialogue Wilde explores issues of insecurity, envy, young motherhood, and friendship in this fast-paced work."—Publishers Weekly
 
"With her easy, amusing narrative style, Wilde speaks the language of women and communicates what lies in their hearts. Add to that a strong, genuine plot with expressive, intelligent yet flawed characters at the center, and you have a gem of a read."—RT Book Reviews
 
"A poignant, thoroughly entertaining tale of friends, family, and wanting more."—Valerie Frankel, author of Four of a Kind
 
"Wilde delivers an honest, unflinching, and emotional look at the messy unpredictability of both motherhood and friendship."—Lisa Verge Higgins, author of The Proper Care and Maintenance of Friendship
or
Not Currently Available for Direct Purchase