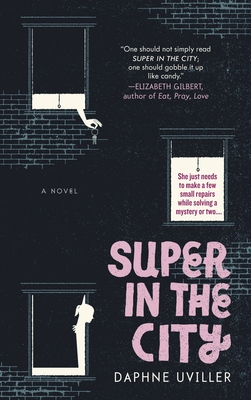 Super in the City (The Zephyr Books #1) (Paperback)
Bantam, 9780385342698, 304pp.
Publication Date: January 27, 2009
* Individual store prices may vary.
Description
In this off-the-beaten-sidewalk debut, native New Yorker Daphne Uviller reveals the secrets of a sexy, story-filled Big Apple, where a mystery lurks behind every apartment door—and a savvy but slightly lost young woman unexpectedly finds herself holding the keys.

In a city brimming with opportunities for heroism, twenty-seven-year-old Zephyr Zuckerman has often fantasized about committing acts of bravery that would make front-page news. Now she may get her big break—though it may require plunging a few toilets. When the superintendent of her parents' Greenwich Village brownstone is led away in handcuffs, unemployed Zephyr takes over his post and unleashes her inner sleuth: discovering titillating secrets about her tenants—from a smoky-voiced Frenchwoman who entertains throngs of unsavory visitors to a moody musician who just has to be hiding something—and realizing that her new reality is far more intriguing than her imagination.

Soon Zephyr has sussed out wrongs that stretch from losers on the Internet to art fraud and an international crime ring. The mob thinks she's in the FBI, and the FBI thinks she's in the mob—a predicament she needs to clear up fast. But perhaps not before the cute, surly exterminator helps her solve the mystery of what to do with the rest of her life….
About the Author
Daphne Uviller was superintendent of her family's building in the West Village for ten long years. She is a former Books/Poetry editor for Time Out New York and has written for the New York Times, Washington Post, Newsday, New York, Allure, and Self. A third-generation Greenwich Village resident, she now lives in her childhood apartment with her husband and two children.
Praise For Super in the City (The Zephyr Books #1)…
"One should not simply read Super in the City; one should gobble it up like candy." —Elizabeth Gilbert, bestselling author of Eat, Pray, Love

"Undoubtedly smarter and funnier than most girls-in-the-city novels."—Publishers Weekly

"[A] funny enjoyable caper about a dirty job…. With a polished lead character, an ear for snappy dialogue and a propulsive storytelling style."—Kirkus Reviews

"[A] lively, smart chick-lit mystery."—Booklist
or
Not Currently Available for Direct Purchase