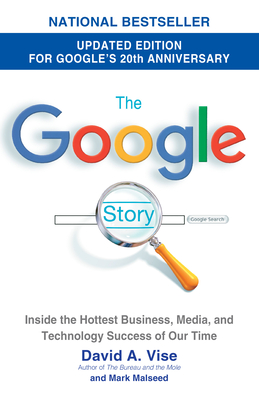 The Google Story: For Google's 10th Birthday (Paperback)
For Google's 10th Birthday
Delta, 9780385342735, 330pp.
Publication Date: September 23, 2008
Description
Moscow-born Sergey Brin and Midwest-born Larry Page dropped out of graduate school at Stanford University to, in their own words, "change the world" through a powerful search engine that would organize every bit of information on the Web for free. The Google Story takes you deep inside the company's wild ride from an idea that struggled for funding in 1998 to a firm that rakes in billions in profits, making Brin and Page the wealthiest young men in America. Based on scrupulous research and extraordinary access to Google, this fast-moving narrative reveals how an unorthodox management style and culture of innovation enabled a search engine to shake up Madison Avenue and Wall Street, scoop up YouTube, and battle Microsoft at every turn. Not afraid of controversy, Google is expanding in Communist China and quietly working on a searchable genetic database, initiatives that test the founders' guiding mantra: DON'T BE EVIL.
About the Author
David A. Vise, formerly a Pulitzer Prize winning reporter for The Washington Post, is a Senior Advisor to New Mountain Capital, a New York-based private equity firm, and to New Mountain Vantage, the firm's public equity fund. He is the author of three previous books, including the New York Times bestseller, The Bureau and the Mole. Mark Malseed has contributed to The Washington Post, Boston Herald, Moment, and other publications. The former researcher to Bob Woodward, he is a consultant to ChaCha and cofounder of OhMyGov.com. From the Hardcover edition.
Praise For The Google Story: For Google's 10th Birthday…
"[The authors] do a fine job of recounting Google's rapid rise and explaining its search business."—New York Times

"An intriguing insider view of the Google culture."—Harvard Business Review

"Fascinating…meticulous…never bogs down…Even if you think you've heard about Google ad nauseam, you will find new items about this important company."—Houston Chronicle

"An interesting read on a powerhouse company…if you haven't read anything about one of today's most influential companies, you should. If you don't read The Google Story, you're missing a few extra treats.—USA Today
Advertisement