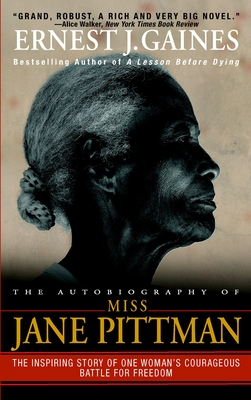 The Autobiography of Miss Jane Pittman (Paperback)
Dial Press, 9780385342780, 259pp.
Publication Date: January 27, 2009
Description
"
"Miss Jane Pittman. She is one of the most unforgettable heroines in American fiction, a woman whose life has come to symbolize the struggle for freedom, dignity, and justice. Ernest J. Gaines's now-classic novel written as an autobiography spans one hundred years of Miss Jane's remarkable life, from her childhood as a slave on a Louisiana plantation to the Civil Rights era of the 1960s. It is a story of courage and survival, history, bigotry, and hope as seen through the eyes of a woman who lived through it all. A historical tour de force, a triumph of fiction, Miss Jane's eloquent narrative brings to life an important story of race in America and stands as a landmark work for our time.
About the Author
Ernest Gaines is a writer-in-residence at the University of Louisiana at Lafayette. His 1993 novel, A Lesson Before Dying, won the National Book Critics Circle Award for fiction and was nominated for the Pulitzer Prize. In 2004, he was nominated for the Nobel Prize in Literature. Gaines' A Lesson Before Dying was an Oprah Book Club pick in 1997.
Praise For The Autobiography of Miss Jane Pittman…
"Stunning. I know of no black novel about the South that exudes quite the same refreshing mix of wit and wrath, imagination and indignation, misery and poetry." —Life

"In this woman, Ernest Gaines has created a legendary figure….Gaines's novel brings to mind other great works: The Odyssey, for the way his heroine's travels manage to summarize the American history of her race, and Huckleberry Finn, for the clarity of [Pittman's] voice, for her rare capacity to sort through the mess of years and things to find the one true story of it all." —Newsweek

Advertisement