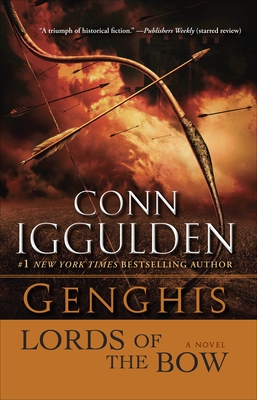 Genghis: Lords of the Bow (Paperback)
Lords of the Bow
Bantam, 9780385342797, 400pp.
Publication Date: July 13, 2010
Description
For centuries, primitive tribes have warred with one another. Now, under Genghis Khan--a man who lives for battle and blood--they have united as one nation, overcoming moats, barriers, deceptions, and superior firepower only to face the ultimate test of all: the great, slumbering walled empire of the Chin. Genghis Khan comes from over the horizon, a single Mongol warrior surrounded by his brothers, sons, and fellow tribesmen. With each battle his legend grows and the ranks of his horsemen swell, as does his ambition. In the city of Yenking--modern-day Beijing--the Chin will make their final stand, confident behind their towering walls, setting a trap for the Mongol raiders. But Genghis will strike with breathtaking audacity, never ceasing until the emperor himself is forced to kneel.
About the Author
Conn Iggulden is the author of Genghis: Birth of an Empire, the first novel in the series, as well as the Emperor novels, which chronicle the life of Julius Caesar: Emperor: The Gates of Rome, Emperor: The Death of Kings, Emperor: The Field of Swords, and Emperor: The Gods of War, all of which are available in paperback from Dell. He is also the co-author of the bestselling nonfiction work The Dangerous Book for Boys. He lives with his wife and three children in Hertfordshire, England. From the Hardcover edition.
Praise For Genghis: Lords of the Bow…
"A triumph of historical fiction."
—Publishers Weekly (starred review)
 
"Iggulden is in a class of his own when it comes to epic, historical fiction."
—Daily Mirror (UK)

"Readers who enjoy well-researched tales of historical adventure with an emphasis on political intrigue, exotic settings, and military conflict will enjoy the ride."
—Library Journal

Advertisement