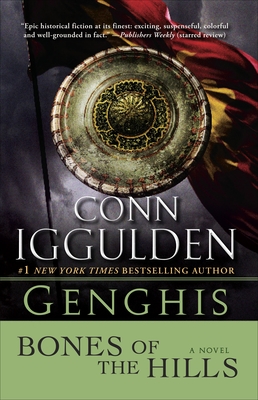 Genghis: Bones of the Hills (Paperback)
Bones of the Hills
Bantam, 9780385342803, 419pp.
Publication Date: July 13, 2010
Description
From the author of the bestselling The Dangerous Book for Boys

From Conn Iggulden, #1 bestselling author of six historical epics and coauthor of the international sensation The Dangerous Book for Boys, comes a magnificent new work of fiction. Here, the Mongol conqueror Genghis Khan, stalked by enemies seen and unseen and plagued by a divided family, leads a sprawling force of horsemen beyond the realm of their known world. He will bring a storm to Arab lands and face the armies of the shah in all their strength. From the fierce cold plains of Mongolia to the Korean Peninsula, Genghis's brothers, sons, and commanders have made emperors bow, slaughtering vast armies of fighting men. But as Genghis enters a strange new land of towering mountains and arid desert, he stirs an enemy greater than any he has met before. Under his command, Shah Ala-ud-Din Mohammed has thousands of fierce Arab warriors, teeming cavalry, and terrifying armored elephants. When Genghis strikes, the Arabs prove their mettle. On the verge of defeat, Genghis is forced to leave his own vast encampment, and the women and children in it, in the path of an enraged, savage enemy. While the Mongols--men, women, and children--fight back, as secret assassins are sent into the night, another battle is taking shape. Two of Genghis's sons, Jochi and Chagatai, are steeped in enmity. Warriors choose between them, and a murderer commits an unspeakable crime. Soon the most powerful man in the world, who has brought devastation to this land, must choose a successor. And when he does, it will touch off the most bitter conflict of all. In a novel that ranges from the fertile lands of the Chin to the dust and rock of Afghanistan, Conn Iggulden weaves the epic story of history's most enigmatic conqueror --those who feared him, those who defied him, and those whose bones he left behind. From the Hardcover edition.
About the Author
Conn Iggulden is the author of two previous Genghis Khan novels: Genghis: Birth of an Empire and Genghis: Lords of the Bow, as well as the Emperor novels, which chronicle the life of Julius Caesar: Emperor: The Gates of Rome, Emperor: The Death of Kings, Emperor: The Field of Swords, and Emperor: The Gods of War, all of which are available in paperback from Dell. He is also the coauthor of the #1 New York Times bestseller The Dangerous Book for Boys. He lives with his wife and children in Hertfordshire, England. From the Hardcover edition.
Praise For Genghis: Bones of the Hills…
"Iggulden's trilogy [is] a feat of rousing, adventure-packed storytelling ... a kind of fictionalized Dangerous Book, loaded with the lore of warfare, horsemanship, strategy, and exotic geography and history, along with the perils as well as the virtues of an unrelenting ethos of manliness."—National Review

"The exciting third novel in Iggulden's Genghis Khan series … is epic historical fiction at its finest: exciting, suspenseful, colorful and well-grounded in fact…. Iggulden's vivid descriptions of bloody battles, masterful sieges and political intrigue are gripping…. With this tale, it is easy to see why the name Genghis is synonymous with conquest and military genius." —Publishers Weekly, starred review
Advertisement