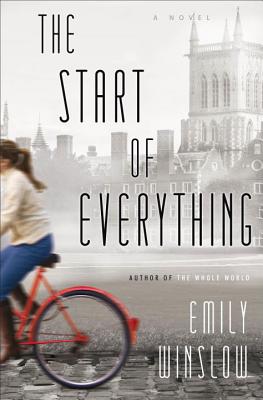 The Start of Everything (Hardcover)
Delacorte Press, 9780385342902, 272pp.
Publication Date: January 8, 2013
* Individual store prices may vary.
or
Not Currently Available for Direct Purchase
Description
In this stunning psychological thriller for readers of Tana French, Kate Atkinson, and Donna Tartt, Emily Winslow has crafted a literary prism told through the eyes of her many intricately drawn characters. Masterly and mesmerizing, "The Start of Everything" will captivate until the very last page.
" If you don t want to see me again, say so. But it's not right to say nothing. It's not right to go silent. You know what to do. "
Cambridge, England: Outside the city, the badly decomposed body of a teenage girl has washed up in the flooded fens. Detective Inspector Chloe Frohmann and her partner, Morris Keene, must work quickly to identify the victim before the press takes off with the salacious story.
Across the hallowed paths and storied squares of Cambridge University, the detectives follow scant clues toward the identity of the dead girl. Eventually, their search leads them to Deeping House, an imposing country manor where, over the course of one Christmas holiday, three families, two nannies, and one young writer were snowed in together. Chloe Frohmann begins to unravel a tangled web of passions and secrets, of long-buried crimes and freshly committed horrors. But in order to reveal the truth about misaddressed letters, a devastating affair, and a murdered teenager she may have to betray her partner.
Emily Winslow effortlessly weaves together separate lives with intertwined lies, creating a powerful web of small deceits and horrifying misdeeds. "The Start of Everything "is a must read #1 "New York Times "bestselling author Lisa Gardner.
About the Author
Emily Winslow is an American living in England. She s the author of "The Whole World "(published by Delacorte in 2010) and is at work on her next novel of suspense, also to be set in Cambridge. Her training as an actress at Carnegie Mellon s elite drama conservatory is put to use in her multiple first-person narrators, and her years designing puzzles for "Games" magazine inform her playful, complex plot structures. She and her husband live in Cambridge with their two sons, in a house full of books."
Praise For The Start of Everything…
Praise for Emily Winslow and The Start of Everything
 
"A masterly whodunnit! Emily Winslow effortlessly weaves together separate lives and intertwined lies, creating a powerful web of small deceits and horrifying misdeeds. The Start of Everything is a must-read!"—#1 New York Times bestselling author Lisa Gardner
 
"Emily Winslow's writing is uniquely perceptive and penetrating, inhabiting the minds of her characters with great subtlety. She is a precise and expert analyst of the darkest parts of the human psyche."—Sophie Hannah, author of The Other Woman's House
 
"Winslow's pace and language are assured, and the multiple points of view are deftly drawn. But it is the vividly nuanced relationships between her characters that will rivet readers as the story hurtles toward its can't-look-away conclusion."—Sophie Littlefield, author of A Bad Day for Mercy
 
"You'll find your palms sweating out the dysfunction, awkwardness, inhibitions, challenges, and brilliance of this fleshed-out, comfortable, uncomfortable, duplicitous, and surprising cast of characters while Emily Winslow draws them and you into a carefully plotted and treacherous existence."—Amanda Kyle Williams, author of The Stranger in the Room
 
"Marvelous . . . Every word flows smoothly and pulses with meaning. In The Start of Everything, Emily Winslow has crafted a riveting mystery layered with dark secrets, uneasy alliances, and tangled truths. This is literary suspense at its finest."—Carla Buckley, author of Invisible
 
Praise for The Whole World
 
"The Whole World shines as a potent look at the self-absorption and angst of youth and the regrets and doubts of middle age."—Richmond Times-Dispatch
 
"The pieces come together to reveal a vivid—and shocking—picture at the end."—Parade
 
"A first novel about growing up . . . written in an intimate, breathy, stream-of-consciousness style that captures youth's ardor."—The Palm Beach Post
Advertisement