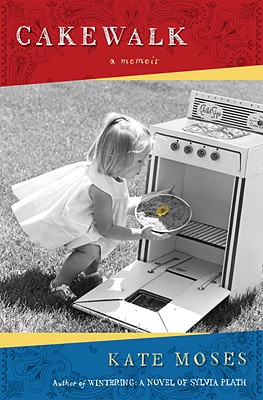 Cakewalk (Hardcover)
A Memoir
The Dial Press, 9780385342988, 368pp.
Publication Date: May 11, 2010
* Individual store prices may vary.
Description
From the author of the internationally acclaimed Wintering: A Novel of Sylvia Plath comes a funny, touching memoir of a crummy—and crumby—childhood.

Growing up in the 1960s and '70s, Kate Moses was surrounded by sugar: Twinkies in the basement freezer, honey on the fried chicken, Baby Ruth bars in her father's sock drawer. But sweetness of the more intangible variety was harder to come by. Her parents were disastrously mismatched, far too preoccupied with their mutual misery to notice its effects on their kids.

A frustrated artist, Kate's beautiful, capricious mother lived in a constant state of creative and marital emergency, enlisting Kate as her confidante—"We're the girls, we have to stick together"—and instructing her three children to refer to her in public as their babysitter. Kate's father was aloof, ambitious, and prone to blasts of withering abuse increasingly directed at the daughter who found herself standing between her embattled parents. Kate looked for comfort in the imaginary worlds of books and found refuge in the kitchen, where she taught herself to bake and entered the one realm where she was able to wield control.

Telling her own story with the same lyricism, compassion, and eye for lush detail she brings to her fiction, coupled with the candor and humor she is known for in her personal essays, Kate Moses leavens each tale of her coming-of-age in Cakewalk with a recipe from her lifetime of confectionary obsession. There is the mysteriously erotic German Chocolate Cake implicated in a birds-and-bees speech when Kate was seven, the gingerbread people her mother baked for Christmas the year Kate officially realized she was fat, the chocolate chip cookies Kate used to curry favor during a hilariously gruesome adolescence, and the brownies she baked for her idol, the legendary M.F.K. Fisher, who pronounced them "delicious."

Filled with the abundance and joy that were so lacking in Kate's youth, Cakewalk is a wise, loving tribute to life in all its sweetness as well as its bitterness and, ultimately, a recipe for forgiveness.
About the Author
Hailed as "a new writer of startling, lyrical intensity" by" The Times Literary Supplement," Kate Moses received the 2003 Janet Heidinger Kafka Prize as well as a Prix des Lectrices de Elle for "Wintering: A Novel of Sylvia Plath," published in a dozen languages. While a senior editor and contributing writer for "Salon," Moses co-founded the popular daily feature "Mothers Who Think" and co-edited two anthologies of essays on motherhood, the nationally bestselling, American Book Award-winning "Mothers Who Think: Tales of Real-Life Parenthood" and "Because I Said So: 33 Mothers Write About Children, Sex, Men, Aging, Faith, Race & Themselves." She lives in San Francisco. For more recipes, stories, and baking tips, visit the Cakewalk blog at www.katemoses.com.
Praise For Cakewalk: A Memoir…
"Kate Moses is a great and gifted storyteller, and in this very funny, smart and lyrical account of one family's complex history, she gives us a cross between the childhood memoirs of Augusten Burroughs and a story of culinary education, such as Julie and Julia.
It's a good thing Cakewalk is a book and not a cake, because it' s the kind of work you just devour, great chunks at a time. Anyone interested in love, family, or baked goods will want to read and own this remarkable book–two copies, ideally, one for the kitchen and one somewhere a little more pristine, where it won' t become coated in flour and butter as the reader tries out the many mouthwatering recipes."—Sylvia Brownrigg, author of The Metaphysical Touch


"What we have here is no less than a collection of Proustian madeleines for the modern age. Spanning a childhood spent being uprooted from all the good places and trapped in all the lonely ones, Moses conjures up Alaska in her cookies, backwoods California in her blackberry jam and the warmth and stability of the good family life we all long for in a towering spiced pecan birthday cake.
Cooking memoirs are all the rage. What makes this one special is that this is a truly gifted writer who just happens to be as experimental and adventuresome in the kitchen as she is at the keyboard. A crazy, richly compelling tale of learning to sweeten her way through good times and bad." —Mary Pols, author of Accidentally on Purpose: A One-Night Stand, My Unplanned Parenthood, and Loving the Best Mistake I Ever Made


"Although this gorgeous memoir made me laugh, made me wistful, even made me cry, the overwhelming sensation I experienced was of hunger, the kind of empty desperation that only a thick piece of coconut layer cake or a chewy fudge brownie can cure. Those cravings were the only things that could force me to put this marvelous book down. And because Kate Moses provides a complete literary and gustatory experience, within an hour or so, I had my own, (albeit less competent) versions of those delicacies to enjoy with the next chapter."—Ayelet Waldman, author of Bad Mother


"That Kate Moses survived her past to write about it with such generosity, optimism, and affection, is a miracle; she is made of strong stuff, and her memoir attests not only to the tensile strength of her character, but to her crazy-beautiful talents as a writer."—Heidi Julavits, author of The Uses of Enchantment
 
or
Not Currently Available for Direct Purchase