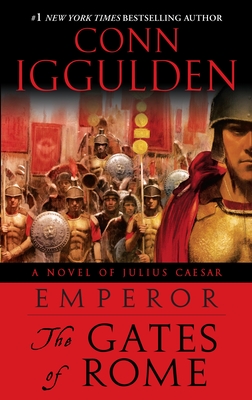 The Gates of Rome (Paperback)
Delta, 9780385343015, 357pp.
Publication Date: June 23, 2009
Description
From the author of the bestselling The Dangerous Book for Boys

Sweeping us into a realm of tyrants and slaves, of dark intrigues and seething passions, Conn Iggulden brings us a magnificent novel of ancient Rome--and of the early years of a man who would become the most powerful ruler on earth.
In a city of grandeur and decadence, beauty and bloodshed, two boys, best friends, dream of glory in service of the mightiest empire the world has ever known. One is the son of a senator. The other is a bastard child. As young Gaius and Marcus grow to manhood, they are trained in the art of combat--under the tutelage of one of Rome's most fearsome gladiators. For Marcus, a bloody campaign in Greece will become a young soldier's proving ground. For Gaius, the equally deadly infighting of the Roman Senate will be the battlefield where he hones his courage and skill. And for both, the love of an extraordinary slave girl will be an honor each will covet but only one will win. But as Rome is thrust into the grip of bitter conflict, as every Roman prepares to take sides in the coming battle, Gaius and Marcus's friendship will be put to the ultimate test....
About the Author
Conn Iggulden is the author of three novels about Genghis Khan, as well as the Emperor novels, all of which are available in hardcover and in paperback from Dell. He is also the coauthor of the #1 New York Times bestseller The Dangerous Book for Boys. He lives with his wife and children in Hertfordshire, England. From the Hardcover edition.
Praise For The Gates of Rome…
"Conn Iggulden is a grand storyteller...[he keeps] adults turning pages like enthralled kids."—USA Today

"Brilliant."—Bernard Cornwell

"Iggulden knows that history derives from 'story'. Don't miss it."—Los Angeles Times

"An absorbing portrait of ancient Roman life and history, well written and full of suspense—even for those who know the ending."—Kirkus Reviews

"What Robert Graves did for Claudius, Iggulden now does for the most famous Roman emperor of them all—Julius Caesar." —William Bernhardt, author of Criminal Intent
Advertisement