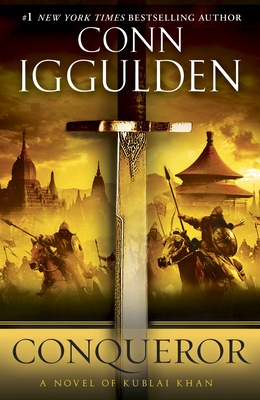 Conqueror: A Novel of Kublai Khan (Paperback)
A Novel of Kublai Khan
Bantam, 9780385343060, 488pp.
Publication Date: January 1, 2013
Description
For lovers of thrilling adventure and grand history, the bestselling co-author of the #1 New York Times bestseller The Dangerous Book for Boys has written a magnificent novel with a hero for the ages: the legendary, visionary conqueror Kublai Khan. A succession of ruthless men have seized power in the wake of Genghis Khan's death--all descendants of the great leader, but none with his indomitable character. One grandson, Guyuk, strains the loyalties of the tribes to the breaking point, and another, Mongke, brutally eliminates the opposition and dispatches his younger brothers Kublai and Hulegu to far-flung territories. Hulegu displays his barbarity with the savage destruction of Baghdad and his clash with the Khan's age-old enemies, the cult of assassins. But it is Kublai--refined and scholarly, always considered too thoughtful to take power--who will devise new ways of warfare and conquest as he builds the dream city of Xanadu and pursues the ultimate prize: the ancient empire of Sung China. His gifts will serve him well when an epic civil war breaks out among brothers, the outcome of which will literally change the world.

"Conqueror is as real as military fiction gets. Conn Iggulden's story of one of history's most ferocious and brilliant warriors is full of lessons for our warfighters today."--Gunnery Sergeant Jack Coughlin, USMC (ret.), New York Times bestselling author of Shooter and Kill Zone: A Sniper Novel

"A rollicking, dangerous and often very gory gallop through the largest land empire the world has ever known."--Sunday Express (U.K.)

"A thrilling journey, rippingly told . . . Iggulden's most satisfying to date."--The Daily Telegraph (U.K.)
About the Author
Conn Iggulden is the author of four novels in the saga of the Khan Dynasty--Genghis: Birth of an Empire; Genghis: Lords of the Bow; Genghis: Bones of the Hills; and Khan: Empire of Silver--as well as the Emperor novels, which chronicle the life of Julius Caesar. He is also the co-author of the #1 New York Times bestseller The Dangerous Book for Boys and The Dangerous Book of Heroes. He lives with his wife and children in Hertfordshire, England, where he is working on his next Emperor book. From the Hardcover edition.
Praise For Conqueror: A Novel of Kublai Khan…
Praise for Conn Iggulden's novels of the Khan Empire
 
"Invigorating . . . zesty historical fiction, the kind with plenty of unbridled combat, accurate research, rampaging hordes and believable characters from very different cultures whose motivation rings true across the centuries."—USA Today
 
"Readers who enjoy well-researched tales of historical adventure with an emphasis on political intrigue, exotic settings, and military conflict will enjoy the ride."—Library Journal
 
"This is epic historical fiction at its finest: exciting, suspenseful, colorful and well-grounded in fact."—Publishers Weekly (starred review)
 
"This appropriately page-turning treatment of a sweeping historical saga will appeal to fans of gritty combat fiction."—Booklist
 
"Iggulden writes with sweep and immediacy."—The Christian Science Monitor
Advertisement