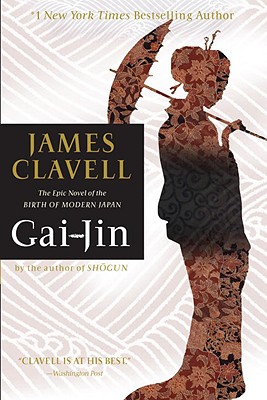 Gai-Jin: The Epic Novel of the Birth of Modern Japan (Paperback)
The Epic Novel of the Birth of Modern Japan
Delta, 9780385343275, 1092pp.
Publication Date: May 19, 2009
Description

The heir to the magnificent English trading company, the Noble House...the direct descendant of the first Toranaga Shogun battling to usher his country into the modern age...a beautiful young French woman forever torn between ambition and desire...Their lives intertwine in an exotic land newly open to foreigners, gai-jin, torn apart by greed, idealism, and terrorism. Their passions mingle with monarchs and diplomats, assassins, courtesans and spies. Their fates collide in James Clavell's latest masterpiece set in nineteenth-century Japan--an unforgettable epic seething with betrayal and secrets, brutality and heroism, love and forbidden passions....
About the Author
James Clavell, who died in 1994, was a screenwriter, director, producer, and novelist born in Sydney, New South Wales, Australia. Although he wrote the screenplays for a number of acclaimed films, including The Fly (1958), The Great Escape (1963), and To Sir With Love (1967), he is best known for his epic novels in his Asian Saga.
Praise For Gai-Jin: The Epic Novel of the Birth of Modern Japan…
"With great skill and intelligence…Gai-Jin is just the ticket. It has it all: murders, battles, rapes, earthquakes, sword fights, insanely convoluted political intrigues, and innumerable accounts of 'pillowing' with beautiful women."—San Francisco Chronicle

"A grand historical perspective that makes us feel we're understanding how today's Japan came into being…absorbing…full of rich characters and complicated action." —New York Times

"Engrossing…entertaining…the broad portrait is accurate and as colorful as an ancient Kabuki play."—People

"Breathtaking....worth every word, every ounce, every penny."—Associated Press


Advertisement