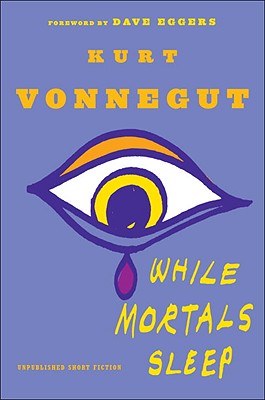 While Mortals Sleep (Hardcover)
Unpublished Short Fiction
Delacorte Press, 9780385343732, 272pp.
Publication Date: January 25, 2011
* Individual store prices may vary.
Description
Foreword by Dave Eggers

Smart, whimsical, and often scathing, the fiction of Kurt Vonnegut influenced a generation of American writers—including Dave Eggers, author of this volume's Foreword. In these previously unpublished gems, Vonnegut's originality infuses a unique landscape of factories, trailers, and bars—and characters who pit their dreams and fears against a cruel and sometimes comically indifferent world.

Here are stories of men and machines, art and artifice, and how ideals of fortune, fame, and love take curious twists in ordinary lives. An ambitious builder of roads, commanding an army of bulldozers, graders, and asphalt spreaders, fritters away his free time with miniature trains—until the women in his life crash his fantasy land. Trapped in a stenography pool, a young dreamer receives a call from a robber on the run, who presents her with a strange proposition. A crusty newspaperman is forced onto a committee to judge Christmas displays—a job that leads him to a suspiciously ostentatious ex-con and then a miracle. A hog farmer's widow receives cryptic, unsolicited letters from a man in Schenectady about "the indefinable sweet aches of the spirit." But what will she find when she goes to meet him in the flesh?

These beautifully rendered works are a testament to Vonnegut's unique blend of observation and imagination. Like a present left behind by a departed loved one, While Mortals Sleep bestows upon us a shimmering Kurt Vonnegut gift: a poignant reflection of our world as it is and as it could be.
About the Author
Kurt Vonnegut's black humor, satiric voice, and incomparable imagination first captured America's attention in "The Sirens of Titan"in 1959 and established him as "a true artist" ("The New York Times") with "Cat's Cradle"""in 1963. He was, as Graham Greene declared, "one of the best living American writers." Mr. Vonnegut passed away in April 2007.

Dave Eggers is the author of six previous books, including "Zeitoun, What Is the What, " and "A Heartbreaking Work of Staggering Genius." He is the founder and editor of McSweeney's, an independent publishing house. He lives in the San Francisco Bay Area with his wife and two children.
Praise For While Mortals Sleep: Unpublished Short Fiction…
"Immensely readable and thoroughly entertaining."—The Washington Post

"Taut, concise . . . The stories set themselves up with neat swiftness, proceed at a clip, and shut down with equal speed, [showing Vonnegut] honing his skills in structure and satire."—Los Angeles Times
 
"A lovely reminder of the mischievous moral voice we lost when we lost Kurt Vonnegut."—San Francisco Chronicle 
 
"These stories were all good when they were written decades ago, but many strike me as great now. Never has the voice of Kurt Vonnegut, humanist and humorist, been more relevant."—The Seattle Times
 
"There's something distinctly timeless about Vonnegut's vision."—Minneapolis Star-Tribune
or
Not Currently Available for Direct Purchase