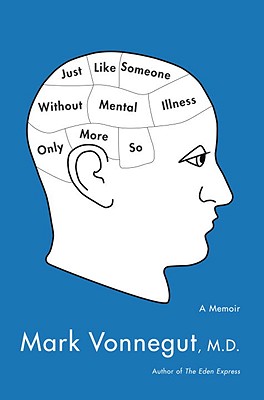 Just Like Someone Without Mental Illness Only More So
A Memoir
Hardcover

* Individual store prices may vary.
Other Editions of This Title:
Paperback (9/27/2011)
Description
I wrote Just Like Someone Without Mental Illness Only More So because I was increasingly annoyed with my younger self, who had wrapped up everything with a bow. You can try but you don't just get to get over mental illness at age twenty-five, go to medical school, write a book, get married and call it a wrap. In the seventies I was in so in love with the medical model I almost thought I had invented it. "No shame. No blame." I was thrilled to not have my health be dependent on the sanity of society or the wellness of those around me. I was magnanimous about not wanting to credit insight or hard work or circumstances like the kindness of others. Now, the medical model has morphed into "Shut up and take your pills." What passes for care is medication, medication, and more medication, the purpose of which is only incidentally and occasionally to help the patient get a life. Much of mental illness is genetic, but I'm now quite sure there are people with more or less the same genetics I have who never go crazy and others who never get well. As a kid who wrote a little and painted a little and played a little music, I certainly didn't want my mental health riding on anything as flimsy as my creative abilities but, among other things, I've come to see that a willingness to write, paint and play music is more than a little important to progress and just trying to keep my feet under me. It was the feeling that good things had happened to me in spite of myself, that I had a rich life that showed itself in my house and how I practiced pediatrics and how we lived as a family that made me want to write Just Like Someone Without Mental Illness Only More So. I'm grateful to the gritty clench-jawed kid who wrote The Eden Express, I think it's an excellent book, but I'm glad I'm not him anymore.
Praise For Just Like Someone Without Mental Illness Only More So: A Memoir…
"Mr. Vonnegut's book surpasses all expectations--his heartfelt effort to enlighten us about mental illness is a gift. I read in awe and recognition, to say nothing of how many times I laughed out loud. People with mental illness, their families, friends and caretakers in the world of psychiatry will learn so much and continue to be fascinated by this remarkable man." 
 --Patty Duke


"Mark and I both started communes in 1971, and reading his new book I feel like a hippie brother. Sharing so vulnerably his woundedness and his family's and society's woundedness, he shows you can step out of it all, into a celebration of imperfection and a life of meaning."
--Patch Adams, M.D.


"The man who wanted to bite R.D. Laing has grown into the doctor who helps us understand how compassionate healthcare has given way to mindless bureaucracy. As a psychiatric patient and a pediatrician, he lucidly conveys his experience of psychosis, as well as the maddening effects of today's health insurance and big pharma collusions. He is uniquely qualified and positioned to show us both sides of the insanity." 
-- Julie Holland, M.D., author of Weekends at Bellevue: Nine Years on the Nightshift at the Psych E.R.
 
 
Delacorte Press, 9780385343794, 224pp.
Publication Date: October 5, 2010
About the Author
Mark Vonnegutis the only son of the late Kurt Vonnegut and Jane Cox Vonnegut and the author of" The Eden Express: A Memoir of Insanity," an ALA Notable Book. A full-time practicing pediatrician, he lives in Massachusetts with his wife and son.
or
Not Currently Available for Direct Purchase