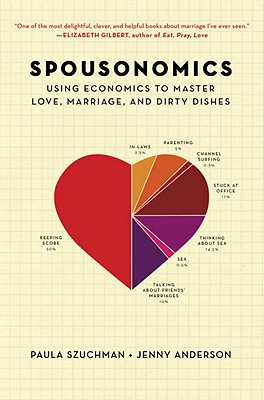 Spousonomics (Hardcover)
Using Economics to Master Love, Marriage, and Dirty Dishes
Random House, 9780385343947, 352pp.
Publication Date: February 8, 2011
Other Editions of This Title:
Digital Audiobook (2/7/2011)
Paperback (6/12/2012)
Paperback, Spanish (2/1/2012)
Compact Disc (2/8/2011)
Paperback (2/1/2011)
* Individual store prices may vary.
Description
Are you happy in your marriage—except for those weekly spats over who empties the dishwasher more often? Not a single complaint—unless you count the fact that you haven't had sex since the Bush administration? Prepared to be there in sickness and in health—so long as it doesn't mean compromising? Be honest: Ever lay awake thinking how much more fun married life used to be?
 
If you're a member of the human race, then the answer is probably "yes" to all of the above. Marriage is a mysterious, often irrational business. Making it work till death do you part—or just till the end of the week—isn't always easy. And no one ever handed you a user's manual.

Until now. With Spousonomics, Paula Szuchman and Jenny Anderson offer something new: a clear-eyed, rational route to demystifying your disagreements and improving your relationship. The key, they propose, is to think like an economist.

That's right: an economist.

Economics is the study of resource allocation, after all. How do we—as partners in a society, a business, or a marriage—spend our limited time, money, and energy? And how do we allocate these resources most efficiently? Spousonomics answers these questions by taking classic economic concepts and applying them to the domestic front. For example:
 
• Arguing all night isn't a sign of a communication breakdown; you're just extremely loss-averse—and by refusing to give an inch, you're risking even greater losses.
• Stay late at the office, or come home for dinner? Be honest about your mother-in-law, or keep your mouth shut and smile? Let the cost-benefit analysis make the call.
• Getting your spouse to clean the gutters isn't a matter of nagging or guilt-tripping; it's a question of finding the right incentives.
• Being "too busy" to exercise or forgetting your anniversary (again): your overtaxed memory and hectic schedule aren't to blame—moral hazard is.
• And when it comes to having more sex: merely a question of supply and demand!
 
Spousonomics cuts through the noise of emotions, egos, and tired relationship clichés. Here, at last, is a smart, funny, refreshingly realistic, and deeply researched book that brings us one giant leap closer to solving the age-old riddle of a happy, healthy marriage.
About the Author
Paula Szuchman is a page-one editor at "The Wall Street Journal," where she was previously a reporter covering the travel industry, college internships, and roller coasters. She lives with her husband and daughter in Brooklyn, N.Y.

Jenny Anderson is a "New York Times" reporter who spent years covering Wall Street and won a Gerald Loeb Award for her coverage of Merrill Lynch. She currently writes on education and lives with her husband and daughter in Manhattan.
Praise For Spousonomics: Using Economics to Master Love, Marriage, and Dirty Dishes…
Praise for Spousonomics

"Comparing marriage to a business doesn't sound very romantic. But in Spousonomics, journalists Paula Szuchman and Jenny Anderson make a convincing and creative case for how the dismal science can help reconcile marital disputes. Applying economic research to anecdotes from couples around the country, Szuchman and Anderson draw on concepts such as the division of labor and game theory to help readers determine who should mow the lawn or how to persuade a homebody spouse to join you at the movies. Just as technology has made it easier for countries to be flexible in the global economy, the authors propose, so has the redefining of gender roles allowed spouses to become more adaptable partners."--Lisa Bonos, The Washington Post
 
"Apply economic principles to marriage and you will be happier is the message —and the more you think about it, the more it makes perfect sense.... Thinking of your marriage not as a love affair that is slowly getting buried under layers of family responsibilities, but as a start-up business that is adding skills by the day, makes everything look completely different. Rosy, even. And pretty sexy. Try it."--Shane Watson, The Sunday Times
 
"Just in time for Valentine's, two journalists, Paula Szuchman and Jenny Anderson, have endeavored to show you the way. In their book Spousonomics—complete with a big heart with a pie chart in it on the cover—they promise to teach you how to use economics 'to master love, marriage, and dirty dishes.' The book starts with two basic premises. First, relationships exist in a world with scarce resources: time, money, humor, patience, breakfast cereal. Second, the field of economics has a lot to say about worlds with scarce resources. Szuchman and Anderson describe 10 big economic principles and many more small ones to recognize or apply at home in service of a better relationship. 'By thinking like an economist, you can have a marriage that not only takes less work, but that feels like a vacation from work,' the book promises."--Annie Lowrey, Slate.com
 
"Spousonomics pretty much nailed it. Authors Paula Szuchman and Jenny Anderson, journalists from The Wall Street Journal and the New York Times, respectively, propose treating your marital union the same way you'd treat any other business: As an operation that can only succeed if its limited resources are effectively allocated....What I love most about Spousonomics: The authors are funny, smart and relatable--and the advice isn't just designed to make both parties happy, it's also simple enough to work. Even if your marriage isn't operating in the (emotional) red, consider this book a great investment." --Jenna McCarthy, iVillage
 
"It's funny, smart and breaks down complex ideas about economics and relationships into easy-to-digest anecdotes about who does the dishes and how often married folks get laid. These are authors who are unafraid to drop an F-bomb and can also tackle big words like 'intertemporal' without breaking a sweat. The basic premise of Spousonomics is that we can apply economy theory to our marriages, and make them better in the process. They promise readers improved marriages with more sex, less strife and smoother handling of everything from bills to bedtime routines. Sounds impressive, right? It is. The authors interviewed dozens of married couples, as well as experts in economics and relationships. They know what they're talking about."--Sierra Black, Babble.com
 
"Paula Szuchman and Jenny Anderson say if you only treated your marriage like the business partnership that it is, many of those issues just might solve themselves. It's behavioral finance for the bedroom and beyond. And it is both helpful and hilarious."
--Tess Vigeland, Marketplace
 
"The book is grounded in solid research, makes economics entertaining, and might just save a marriage or two."--James Pressley, Bloomberg
 
"Spousonomics is one of the most delightful, clever, and helpful books about marriage I've ever seen."—Elizabeth Gilbert, author of Eat, Pray, Love and Committed
 
"Practical, compelling, and hilarious, Spousonomics highlights economics-based strategies for couples coping with the inevitable annoyances of a relationship. How can you coax him to do chores without nagging? Or change her mind about important decisions, quit yelling at the kids, or step away from the computer? The minute I finished this book, I started to experiment on my husband."—Gretchen Rubin, author of The Happiness Project
 
"Spousonomics is a brilliant and innovative book. And if you're a rational consumer, you really have to buy it: A few bucks to improve your marriage? That's just good decision making."
– A.J. Jacobs, bestselling author of The Know-It-All and The Year of Living Biblically
 
"This book – by suggesting that people are not rational, but irrational – turns our thinking about relationships on its head. A stimulating, must read for all of us who want to better understand and improve our love lives."
– John Gottman, bestselling author of The Seven Principles for Making Marriage Work
 
"Spousonomics delivers: Two accomplished journalists master a fascinating body of research I'd been hoping to learn more about, then weave it into a narrative that's a pure pleasure to read. Bravo."
– Robert H. Frank, Professor of Economics at Cornell University, and author of The Economic Naturalist and The Winner-Take-All Society
 
 "Spousonomics lets you peer into other people's relationships, with valuable lessons for your own. A fun and breezy read for anyone who wants to be both smarter about economics and wiser about love."
– Steven Landsburg, author of The Armchair Economist and More Sex is Safer Sex
 
"Spousonomics offers couples real life, common sense solutions for some of the knottiest conflicts regularly experienced in marriage. Written with great wit and understanding, it is both very helpful and a pleasure to read. I recommend it highly."
– John. W. Jacobs, M.D., author of All You Need Is Love And Other Lies About Marriage
or
Not Currently Available for Direct Purchase