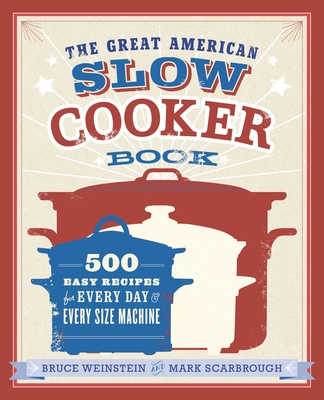 The Great American Slow Cooker Book (Paperback)
500 Easy Recipes for Every Day and Every Size Machine: A Cookbook
Clarkson Potter, 9780385344661, 512pp.
Publication Date: January 7, 2014
* Individual store prices may vary.
Description
The ultimate in slow-cooker books--with 500 recipes, each adapted for three sizes of appliance. From breakfast to soups, mains to grains, vegetables to desserts, this guide is the only book you'll ever need to master your slow cooker or crockpot.

Millions of people are turning to slow cookers for their weeknight meals yet often can't find recipes that match their exact machine. Adapting recipes meant for a different-size cooker doesn't work--getting the right level of spice in your Vietnamese soup or keeping pulled pork tender requires having ingredients in the right proportion. But now, Bruce Weinstein and Mark Scarbrough have decoded slow cookers, and each of their recipes includes ingredient proportions for 2-3 quart, 4-5 quart, and 6-8 quart machines, guaranteeing a perfect fit no matter what machine you own. Each recipe is labeled for its level of difficulty and nutritional value, and they cover every kind of dish imaginable: delicious breakfast oatmeals, slow-braised meats, succulent vegetables, sweet jams and savory sauces, decadent desserts. This is the slow cooker book to end them all.
About the Author
BRUCE WEINSTEIN and MARK SCARBROUGH are the creators of the bestselling Ultimate Cookbook series (on subjects as diverse as pizza, ham, candy, shrimp, and peanut butter) and have most recently published Goat: Meat, Milk, Cheese and Grain Mains. They were nominated for a James Beard award in 2011, and are regular contributors to Weight Watchers.com and Eating Well, Cooking Light, and the Washington Post.