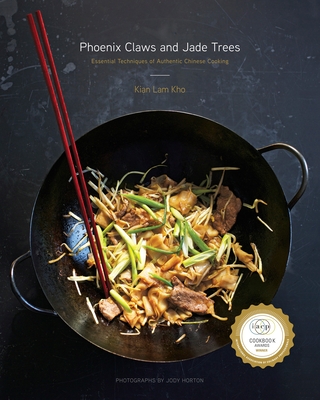 Phoenix Claws and Jade Trees
Essential Techniques of Authentic Chinese Cooking: A Cookbook
Hardcover

* Individual store prices may vary.
Description
Create nuanced, complex, authentic Chinese flavors at home by learning the cuisine's fundamental techniques with more than 150 recipes.
 
Phoenix Claws and Jade Trees offers a unique introduction to Chinese home cooking, demystifying it by focusing on its basic cooking methods. In outlining the differences among various techniques—such as pan-frying, oil steeping, and yin-yang frying—and instructing which one is best for particular ingredients and end results, culinary expert Kian Lam Kho provides a practical, intuitive window into this unique cuisine. Once you learn how to dry stir-fry chicken, you can then confidently apply the technique to tofu, shrimp, and any number of ingredients. 

Accompanied by more than 200 photographs, including helpful step-by-step images, the 158 recipes range from simple, such as Spicy Lotus Root Salad or Red Cooked Pork, to slightly more involved, including authentic General Tso's Chicken or Pork Shank Soup with Winter Bamboo. But the true brilliance behind this innovative book lies in the way it teaches the soul of Chinese cooking, enabling home cooks to master this diverse, alluring cuisine and then to re-create any tempting dish you encounter or imagine.
Praise For Phoenix Claws and Jade Trees: Essential Techniques of Authentic Chinese Cooking: A Cookbook…
"[A] magisterial new book."
—New York Times

"[A] beautiful and meticulous volume that examines the techniques one by one--stir-frying, deep-frying, saucing, braising. The recipes travel the gamut from familiar (mapo tofu) to startling (pig's skin and bean aspic), offering something for both the student and the adventurer in your kitchen."
—T. Susan Chang, NPR.org, one of "2015's Great Reads"

"If you've wanted to cook authentic Chinese food but have felt a little put off by unfamiliar ingredients or techniques, then run, don't walk, to buy this book."
—Fine Cooking

"Red Cook blogger Kian Lam Kho focuses on basic techniques—flash-poaching, deep-frying, hang-roasting—in his first cookbook, a compendium of specialties from throughout China. Organizing recipes by technique, he shows how to master dishes from the simple (cucumber salad) to the complex (yin-yang fried tofu-skin rolls)."
—Food & Wine

"This extraordinary collection is a must-have for anyone interested in Chinese cuisine."
—Publishers Weekly, starred review

"[A] gorgeous trove; if you owned it, you'd feel as though you'd never need another Chinese cookbook for your entire culinary life."
—Seattle Weekly

"An attractive, knowledgeable yet accessible guide to cooking Chinese food, focusing on techniques from stir-frying to smoking. Kho clearly explains the differences in regional cuisines, reviews crucial cooking tools and skillfully guides Western readers through essential ingredients and dishes."
—Seattle Times
Clarkson Potter, 9780385344685, 368pp.
Publication Date: September 29, 2015
About the Author
KIAN LAM KHO is a chef, culinary instructor, restaurant consultant, and the James Beard Award–nominated blogger behind redcook.net. He has taught at the Institute of Culinary Education and Brooklyn Kitchen. He lives in New York City.