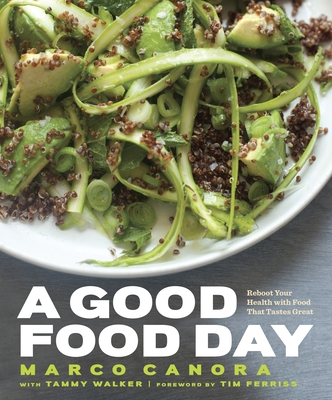 A Good Food Day (Hardcover)
Reboot Your Health with Food That Tastes Great
Clarkson Potter, 9780385344913, 272pp.
Publication Date: December 30, 2014
* Individual store prices may vary.
Description
In A Good Food Day, more than 100 recipes made with good-for-you ingredients make a good food day--a day when feeling good and eating well go hand in hand--easy and attainable.

After years of thoughtless eating that led to weight gain and poor health, chef Marco Canora knew he had to make every day a good food day: a whole day in which every meal was full of healthy and delicious ingredients. But he wasn't willing to give up flavor for health. Instead of dieting, he decided to make simple, natural recipes fit for a food lover's palate.

Marco explains the secret powers of good-for-you ingredients (such as low-GI carbohydrates and alkaline-forming greens), and then builds them into recipes that are all about satisfaction, such as Amaranth Polenta with Tuscan Kale, Black Rice Seafood Risotto, Citrus-Spiked Hazelnut and Rosemary Granola, and Chickpea Crepe Sandwiches. He covers techniques to coax natural flavor out of dishes, including infusing seasoning into vegetable salads and pounding fresh herbs and spices into lean meats.

To make a lasting change in your diet, the food you eat has to be delicious. A Good Food Day is for people who love real food, and know that healthy and flavorful can go hand in hand.
About the Author
As a chef, restaurateur, and cookbook author, MARCO CANORA has been doing his part to promote delicious, simple, and healthful food. He is the restauranteur behind Hearth, Insieme, and Terroir, has cooked at Gramercy Tavern and at Craft with Tom Colicchio, and is the author of Salt to Taste, A Good Food Day, and Brodo. He was a contestant on Food Network's Next Iron Chef and teaches cooking classes every summer in Tuscany. He lives in New York.
Praise For A Good Food Day: Reboot Your Health with Food That Tastes Great…
"In A Good Food Day, Marco makes a compelling case that healthy eating begins with the simple act of cooking." —Tom Colicchio

"I have always loved Marco Canora—we became friends through years of greenmarket trips and our shared love of great local ingredients. Now I have a window into how Marco eats and stays healthy. I love these clever and easy recipes like his 'overnight' oats, and his nods to childhood reminiscence like his 'Ode to Orange Julius'... This is a book for practical use at home, a way to eat better without sacrificing appeal or great flavor!"—Alex Guarnaschelli