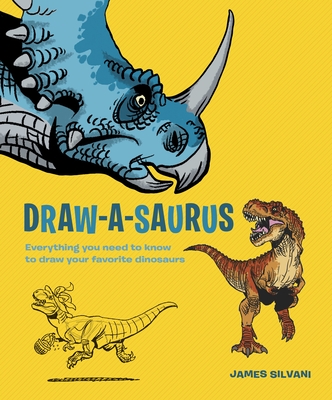 Draw-A-Saurus (Paperback)
Everything You Need to Know to Draw Your Favorite Dinosaurs
Watson-Guptill, 9780385345804, 160pp.
Publication Date: September 9, 2014
* Individual store prices may vary.
Description
This in-depth yet accessible dinosaur drawing guide combines humor, creativity, and the latest dino research to show artists young and old how to breathe life into drawings of their prehistoric favorites. 

Prehistoric Pencil Power!
Even though they lived some 65 million years ago, dinosaurs and other prehistoric reptiles continue to rule today. From movies to comics and cartoons, these ancient, giant beasts are everywhere you turn. Of course, who wants to just read about or watch these dinos when you can learn how to use pencils, pens, markers, and more to draw your very own? 

Cartoonist James Silvani combines easy-to-follow art exercises with the latest, greatest dino-facts to help you create fun and cool dinosaur doodles all by yourself. With lessons on old favorites like T-rex and stegosaurus, as well as lesser-known (but still awesome) creatures like the massive argentinosaurus, Draw-a-Saurus has everything the dinosaur fan could ever ask for (outside of their very own pet dino!).
About the Author
JAMES SILVANI is an artist and illustrator and has drawn characters for Disney, Warner Bros., Dreamworks, Lucasfilm, and Marvel Comics. Currently he is a comic book illustrator for titles like Disney's Mickey Mouse, DuckTales, Darkwing Duck, and The Muppets. Silvani has drawn dinosaurs and other prehistoric beasts since childhood, and now puts those skills to use in art workshops at libraries, schools, and comic book conventions. Silvani is a resident of Kihei, Hawaii.

Praise For Draw-A-Saurus: Everything You Need to Know to Draw Your Favorite Dinosaurs…
"Draw-a-Saurus was a wonderful surprise. Not only does it provide solid instructions on the basics of drawing these magnificent terrible lizards, but it also includes great facts about them and a great deal of humor that both parents and children can enjoy. Recommended. A+"
—Josh Begley, The Fandom Post

"While it's goal is to teach you how to draw a 'saurus (see how that works?), you can still enjoy it if you're a complete artistic luddite. I know this because I loved it and I can't even draw a decent cube. Silvani combines real drawing instruction with adorable and hilarious editorial commentary (the "editor" notes are amazing) which makes this book work as both a teaching manual and source of entertainment."
—Geek Girl Diva

"With delightful touches of humor throughout the book, James Silvani shows readers how they, with a little knowledge and some practice, can create their own dinosaur drawings. It is clear that he does not take himself too seriously and that he absolutely loves dinosaurs, which makes him easy to connect with and wonderfully entertaining."
—Marya Jansen-Gruber, Through the Looking Glass Children's Book Review