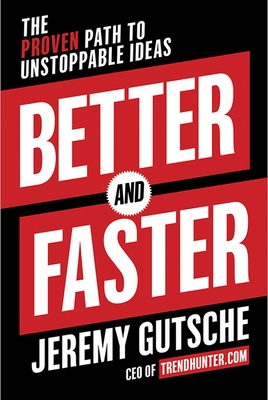 Better and Faster
The Proven Path to Unstoppable Ideas
Hardcover

* Individual store prices may vary.
Other Editions of This Title:
Digital Audiobook (3/16/2015)
Description
Out-innovate, outsmart and outmaneuver your competitors with tactics from the CEO of TrendHunter.com, Jeremy Gutsche.

In our world of chaos and change, what are you overlooking? If you knew the answer, you'd be a better innovator, better manager, and better investor.

This book will make you better by teaching you how to overcome neurological traps that block successful people, like you, from realizing your full potential. Then, it will make you faster by teaching you 6 patterns of opportunity: Convergence, Divergence, Cyclicality, Redirection, Reduction and Acceleration. Each pattern you'll learn is a repeatable shortcut that has created fortunes for ex-criminals, reclusive billionaires, disruptive CEOs and ordinary people who unexpectedly made it big. 

In an unparalleled study of 250,000 ideas, Jeremy and his TrendHunter.com team have leveraged their 100,000,000 person audience to study what actually causes opportunity: data-driven research that was never before possible. The result is a series of frameworks battle-tested with several hundred brands, and top executives at some of the most successful companies in the world who rely on Jeremy to accelerate their hunt for ideas.

Better and Faster will help you learn to see patterns and clues wherever you look that will put you on the smarter, easier path to finding those breakthrough ideas, faster.
Praise For Better and Faster: The Proven Path to Unstoppable Ideas…
"Jeremy Gutsche's latest book is a gem. Using a wealth of research and an array of great stories, he shows you how to avoid the traps that inhibit your progress. Then he shows you smart, useful tools to help you find breakthrough ideas better and faster."
- Daniel H. Pink, NY Times bestselling author of To Sell is Human and Drive

An instant classic! Jeremy has delivered a well-researched, passionate, inspiring book you will gulp and then study. It will lead to countless new ventures and adventures for those lucky enough to read it."
- Seth Godin, bestselling author of What To Do When It's Your Turn
 
"Gutsche nails it with this book. He'll teach you neurological habits that can accelerate your success and make you into a fire-breathing, game-changing innovator of epic proportions."
- Guy Kawasaki, Former Chief Evangelist of Apple, Chief Evangelist of Canva and bestselling author of The Art of Social Media
 
"Better and Faster grabbed me from the first page.  The stories and compelling writing make this book a joy to read.  But the real payoff comes from the big and immensely practical ideas.  Gutsche's contrast between farmers and hunters and the six patterns of opportunity are pure gold.   Buy it, read it, and teach these lovely lessons to others – you will be glad you did."
- Robert I. Sutton, Stanford Professor and co-author of Scaling Up Excellence
 
  "Better and Faster is an epic method for all those who want to become better at innovating, managing and adapting. Stop missing out on your hidden potential, harness your hunter instincts and learn Gutsche's 6 shortcuts to remarkable opportunity"
- Josh Linkner, NY Times bestselling author of Road to Reinvention, Venture Capitalist
 
"Gutsche pushes us to push our own potential. This book will make you see the power of ideas in a new light."
- Scott Belsky, Founder/CEO of Behance and WSJ bestselling author of Making Ideas Happen
 
"The cutting edge just got sharper. Jeremy Gutsche's book unleashes fascinating stories and genius takeaways that will launch your game to the next level."
- Sally Hogshead, NY Times bestselling author of How the World Sees You and Fascinate
 
"Rich with examples and practical tips, Better and Faster is essential reading for any manager."
- Hayagreeva Rao, Stanford Professor and co-author of Scaling Up Excellence
Currency, 9780385346542, 272pp.
Publication Date: March 17, 2015
About the Author
JEREMY GUTSCHE is an innovation expert, award-winning author, one of the most sought-after keynote speakers on the planet, and the founder of Trendhunter.com, the world's #1 most popular trend-spotting website.  Prior to founding Trend Hunter, Jeremy grew a $1 billion portfolio for Capital One, and today over 300 brands rely on his expertise, including Victoria's Secret, Sony, Coca-Cola, IBM, Wells Fargo, and Hughes Aerospace.