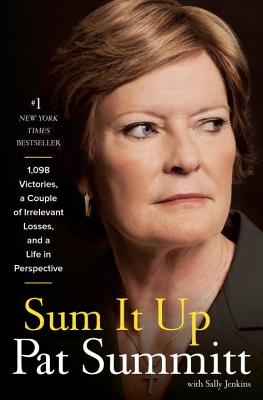 Sum It Up (Hardcover)
1,098 Victories, a Couple of Irrelevant Losses, and a Life in Perspective
Crown Archetype, 9780385346870, 407pp.
Publication Date: March 5, 2013
Other Editions of This Title:
Digital Audiobook (3/4/2013)
Paperback (3/4/2014)
Compact Disc (3/12/2013)
Paperback, Large Print (3/25/2014)
Hardcover, Large Print (3/20/2013)
* Individual store prices may vary.
Description
Pat Summitt, the all-time winningest coach in NCAA basketball history and bestselling author of "Reach for the Summitt" and "Raise The Roof," tells for the first time her remarkable story of victory and resilience as well as facing down her greatest challenge: early-onset Alzheimer's disease.
Pat Summitt was only 21 when she became head coach of the Tennessee Vols women's basketball team. For 38 years, she has broken records, winning more games than any NCAA team in basketball history. She has coached an undefeated season, co-captained the first women's Olympic team, was inducted into the Basketball Hall of Fame, and has been named "Sports Illustrated" 'Sportswoman of the Year'.
She owes her coaching success to her personal struggles and triumphs. She learned to be tough from her strict, demanding father. Motherhood taught her to balance that rigidity with communication and kindness. She is a role model for the many women she's coached; 74 of her players have become coaches.
Pat's life took a shocking turn in 2011, when she was diagnosed with early-onset Alzheimer's disease, an irreversible brain condition that affects 5 million Americans. Despite her devastating diagnosis, she led the Vols to win their sixteenth SEC championship in March 2012. Pat continues to be a fighter, facing this new challenge the way she's faced every other--with hard work, perseverance, and a sense of humor.
About the Author
PAT SUMMITT became head coach of the Tennessee Lady Volunteers in 1974; since then she has achieved an astounding .843 average and won 8 national championships. She is the first coach in NCAA history to reach 1,000 wins. She lives in Tennessee with her son, Tyler. SALLY JENKINS is the author of #1 New York Times bestseller "It's Not About the Bike." Her other 8 books include "The Real All-Americans: The Team That Changed a Game, a People, a Nation," and "The State of Jones." Her work has been featured in "Vanity Fair," "GQ," and "Sports Illustrated." A native of Texas, Jenkins graduated from Stanford and lives in New York City.
Praise For Sum It Up: 1,098 Victories, a Couple of Irrelevant Losses, and a Life in Perspective…
"I have admired Pat Summitt for many years. To me, she epitomizes what it means to be a coach.  Not only has she molded championship teams, but she has helped her players grow as people and always done it with class and dignity. This book gives us tremendous lessons for winning on and off the court."  
-Tony Dungy, former professional American football player and NFL coach, and #1 New York Times bestselling author of Quiet Strength and Uncommon.

"Sum It Up" is absolutely incredible!  No one has coached the game any better than Pat Summitt.  Sally Jenkins has worked with Pat to produce a truly inspiring book that will benefit every reader.  Pat was a pioneer.  She has led women's basketball over the last three decades.  As a result of her leadership, women's basketball has achieved great heights.  I consider a true honor to call her a friend."-- Mike Krzyzewski, Head Basketball Coach, Duke University


"Basketball legend Pat Summitt recalls her life in vivid detail, describing its triumphs, both on and off the court.... With her trademark honesty and grace, Summitt reveals her fears, her early anger and astonishment, her diminishing abilities, her decision to retire, and how her faith sustains her."—USA Today

"Pat Summit was one of the best coaches ever, and one of the most enduring...She helped lift her sport out of an era in which high school girls didn't even play on a full court, saw the number of female college athletes rise from 16,000 to almost 20,000, won eight national titles, and gradduated 100 percent of the players who completed their eligibility. She did this through force of personality and, in her own telling, with a mix of love, fury and manipulation...As scandals and player lawsuits make college sports seem increasingly ruthless and suspect, Summitt is often held up as a rare example of dignity and class."
-Emily Bazelon, NY Times

"Vibrant, sprightly."
-NY Times

"Pat is a remarkable leader, lady, and Coach. One of the best of all time." 
-Rick Pitino, Head Basketball Coach, University of Louisville.

"How many times have we heard a basketball fan utter that's "the truth" when witnessing a great play or player?  This book IS the truth, capturing the reality of challenges, the blessings of friendship and teamwork, the exhilaration of achieving excellence, and the rewards of mentorship and leadership."
-Jody Conradt, University of Texas
or
Not Currently Available for Direct Purchase