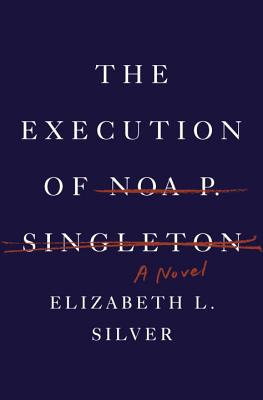 The Execution of Noa P. Singleton (Hardcover)
Crown Publishing Group (NY), 9780385347433, 310pp.
Publication Date: June 11, 2013
Other Editions of This Title:
Digital Audiobook (6/10/2013)
Compact Disc (6/11/2013)
Paperback (4/1/2014)
* Individual store prices may vary.
Description
An unforgettable and unpredictable debut novel of guilt, punishment, and the stories we tell ourselves to survive
Noa P. Singleton never spoke a word in her own defense throughout a brief trial that ended with a jury finding her guilty of first-degree murder. Ten years later, having accepted her fate, she sits on death row in a maximum-security penitentiary, just six months away from her execution date.
Seemingly out of the blue, she is visited by Marlene Dixon, a high-powered Philadelphia attorney who is also the mother of the woman Noa was imprisoned for killing.Marlene tells Noa that she has changed her mind about the death penalty and Noa's sentence, and will do everything in her considerable power to convince the governor to commute the sentence to life in prison, in return for the one thing Noa is unwilling to trade: her story.
Marlene desperately wants Noa to reveal the events that led to her daughter's death events that Noa has never shared with a soul.With death looming, Marlene believes that Noa may finally give her the answers she needs, though Noa is far from convinced that Marlene deserves the salvation she alone can deliver. Inextricably linked by murder but with very different goals, Noa and Marlene wrestle with the sentences life itself can impose while they confront the best and worst of what makes us human in this haunting tale of love, anguish, and deception.
About the Author
ELIZABETH L. SILVER grew up in New Orleans and Dallas and currently lives in Los Angeles. She holds a BA from the University of Pennsylvania, an MA in Creative Writing from the University of East Anglia in England, and a JD from Temple University Beasley School of Law. She has taught ESL in Costa Rica, writing and literature at several universities in Philadelphia, and worked as a research attorney for the Texas Court of Criminal Appeals. "The Execution of Noa P. Singleton "is her first novel."
Praise For The Execution of Noa P. Singleton…
BookPage's 10 Notable Books for June: "A rare thriller that will be equally appealing for beach reading or book club discussion…riveting legal drama." —BookPage

"Like the narrators in recent best-sellers Gone Girl and The Dinner, Noa is endlessly complex and impossible to trust. Don't try to outsmart her — you can't. Just let her manipulate, shock, and maybe even move you. A-" —Entertainment Weekly

"Bracing and combative… a classic slow-burn, with Ms. Silver spinning the web…and masterfully revealing the threads that connect [the characters] to each other and to the crime…The novel proceeds to its heart-wrenching conclusion by a series of feints and betrayals that would make Gillian Flynn stand and applaud." —The Wall Street Journal

"Fantastic first novel…[A] minor flaw doesn't interfere with the fun of doing some grown-up Nancy Drew sleuthing as the dark mystery unfurls…Silver makes us think critically about capital punishment without ever getting up on a soapbox or turning her great yarn into a civics lesson. As this unstoppable story bounds end-over-end to "X-Day," we are reminded that everybody is guilty of something. Forgiveness, freedom and peace are rare commodities, and Silver keeps us guessing about whether or not we will find them here." —Washington Post

"I cannot recall a debut novel written more skillfully than The Execution of Noa P. Singleton… It works as a first-rate murder mystery…Suffice it to say that every development harbors surprises, but surprises that seem plausible… Apart from the plotting, why is this novel superb? In large part because Silver is a master at delineating the lines between legal guilt and moral guilt. Is Singleton a murderer according to the law? Maybe, maybe not. Is Singleton a murderer according to societal codes of behavior? Almost certainly… In terms of literary style, Silver reels off memorable sentence after memorable sentence. I look forward to reading her next book." —Dallas Morning News
 
"In lucid, fast-moving prose, Elizabeth Silver, who comes well-equipped for the task with a JD and an MFA, constructs an intricate and thoughtful psychological thriller." —The San Francisco Chronicle

"A sophisticated debut novel… Silver deftly handles dark and weighty topics without ever sacrificing a literary attention to detail… But Silver is aiming for something more than good writing, satisfyingly complicated characters or a page-turning mystery… The Execution of Noa P. Singleton is a not just a novel, but a mirror upheld to a fragile, human criminal justice system." —St. Louis Post-Dispatch

"In this grippingly off-kilter thriller, a young woman sits on death row after being convicted of murder until a high-powered attorney – the victim's mother – intervenes, leaving everyone to wonder why." —O, The Oprah Magazine

"Silver is a talent to watch, a writer able to conjure odd and savagely beautiful images from the mundane." —Cleveland Plain Dealer

"[A] tense and multi-layered first novel…Noa's powerful voice, full of attitude and alienation, commands attention throughout the book…In Noa, Silver has created an articulate and intelligent protagonist who asks us to revisit our existing notions of victimhood." —The Minneapolis Star Tribune

"Gripping and introspective first novel…The book revolves around the "why"…It is an emotion-packed style, similar to that used by Lionel Shriver in her acclaimed novel We Need to Talk About Kevin, as the reader tries to come to grips with how much weight should be given to mitigating circumstances in determining guilt or innocence." —BookPage

"What does one look for in a good novel? Fascinating characters, a terrific plot, depth of thought? Silver delivers all of these and more. Her prose is paradoxically both unflinching and poetic. She creates magic with unsparing truth. Is there innocence disguised within guilt? Is redemption possible? Can punishment truly fit the crime?" —Federal Lawyer

"The wonderful contradiction of the antiheroine is that she cannot help but narrate her story unreliably, most of all to herself…Noa's voice is so pungent and potent as she describes the facts and pooh-poohs the theories of her criminality… We realize the tragic flaw both women share, which is that protecting our loved ones produces greater catastrophe than letting people be. The effect blurs our ability to delineate between criminal and victim, shattering the 'mucous-thin terrain where most of life resides.'…The antiheroines of The Execution of Noa P. Singleton and The Silent Wife may make it difficult for some readers to like them. But their deeds, however monstrous, are true to their natural character, and command reader attention by cementing their respect—a harder road with a more rewarding payoff." —The New Republic
 
"Silver gives Noa a voice powerful enough to make us want to know the answers…In Elizabeth Silver's debut novel, a sympathetic anti-heroine reveals a story that is ultimately tragic, yet flecked with dark humor." —Shelf Awareness

"Compelling debut…A clever examination of the nature of destiny and the choices we make, this thought-provoking book is reminiscent of John Grisham's The Confession in its exploration of the death penalty. Silver has successfully written a suspenseful, absorbing tale. This is a special treat for mystery fans." —Library Journal (starred review)

"[A] searing debut…This devastating read stands less as a polemic against the death penalty than as a heartbreaking brief for the preciousness of life." —Publishers Weekly (starred review)

"Silver has written a darkly witty, acerbic jigsaw puzzle of a first novel about legal versus moral culpability…[and] explores convolutions of guilt and innocence beyond the law's narrow scope with a sharpness and attention to detail that can be unnerving but demands attention." —Kirkus (starred review)

"Vividly written debut novel...Silver definitely delivers a thought-provoking examination of the criminal-justice system, providing a clear-eyed view of the artificial theatrics that dominate criminal trials and a heartfelt look at both grief and remorse. An intriguing debut from a writer to watch." —Booklist

"This is a beautiful and consuming tale revolving around two women who are both torn, both guilty and both looking for some kind of redemption. Elizabeth Silver has set the bar very high for herself with this outstanding debut novel." —Crimespree magazine

"The Execution of Noa P. Singleton kept me awake long after I had put it down. Halfway through this gripping novel, in which 'good' and 'bad' and 'guilt' and 'innocence' change positions more than once, I thought I was so clever I might know where this story was headed. But I was proved wrong in a way I never could have imagined. Congratulations to Elizabeth L. Silver for a fantastic first book that will keep readers awake all over the world." —Herman Koch, author of The Dinner

"The Execution of Noa P. Singleton is mortal war between ferocious women, told with a fiery and merciless lyricism so beautiful it hurts." —Katherine Dunn, author of Geek Love
 
"The Execution of Noa P. Singleton is an intense and gripping novel of betrayal and guilt that forces readers to confront their convictions and the limitations of their capacity for empathy. Elizabeth L. Silver is a gifted new writer, and her novel is certain to be a smash." —Ayelet Waldman, author of Bad Mother
 
"In The Execution of Noa P. Singleton, Elizabeth Silver puts the human factor front and center, to devastating effect.  Guilt and innocence, capital punishment, the living hell of death row, all these get their due, but at the heart of it is us, the ongoing mystery of what lies inside our souls." —Ben Fountain, author of Billy Lynn's Long Halftime Walk

"Smart, cool, articulate, funny, and savvy—Noa P. Singleton dares you to put her story down." —Rosamund Lupton, author of Sister

"The Execution of Noa P. Singleton is an almost weirdly gripping thriller, presented in teasing slow motion. Author Elizabeth L. Silver displays a wicked genius for sucking us into a black maelstrom of nebulous uncertainty, making our need to find out the truth all the more urgent. Believe the hype: this is quite the irresistible page-turner." —BookReporter.com

"A thoughtful book which keeps turning itself upside down with new revelations about the protagonist, antagonist and several other characters. The book is mostly narrated by Noa, but the chapters end with letters written by the victim's mother to her deceased daughter. The trial scenes were fascinating, and the selection of the jury was hilarious. But best of all, the book made you think, not only about the nature of the death penalty but about the judicial system as well. Ms. Silver managed to write a fascinating book, told by an unreliable narrator which manages to tell a fascinating story in shades of gray. There are no good guys or bad guys in the story, everyone has their own demons within them, trying to make things right in their own head. —Seattle Post-Intelligencer

"Elizabeth L. Silver is a writer to watch out for, one of great scope and passion. Here she tackles a bold topic with skill, compassion and verve." —Jill Dawson, author of Orange and Whitbred nominated Fred & Edie, The Great Lover, and Lucky Bunny

"Exploring good and evil in a thought provoking yet entertaining fashion, The Execution of Noa P. Singleton by Elizabeth L. Silver reads surprisingly quickly. With murder, the death penalty and the quality of justice called into question, morality becomes an increasingly slippery slope." —Campus Circle

"Truly mesmerising…a remarkable novel by a young American writer…As well as functioning with great authority on the narrative level, this is a book with something to say — but Silver never imports ideological points at the expense of gripping storytelling."   —Barry Forshaw, Crime Time

"Haunting…Silver writes poetically with an adeptness that marks her out as a debut author to watch…A genuinely compulsive novel that can't be set aside until the last page is turned. Noa P might not be a literary heroine you will fall in love with, but you will find it hard to let her go." —Express (UK)
or
Not Currently Available for Direct Purchase