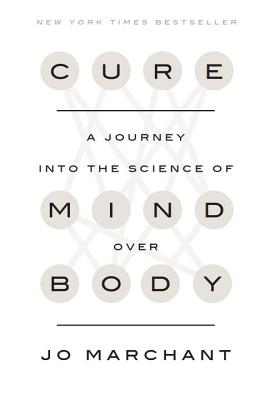 Cure (Hardcover)
A Journey into the Science of Mind Over Body
Crown, 9780385348157, 320pp.
Publication Date: January 19, 2016
Other Editions of This Title:
Paperback (1/10/2017)
* Individual store prices may vary.
Description
A rigorous, skeptical, deeply reported look at the new science behind the mind's surprising ability to heal the body.

Have you ever felt a surge of adrenaline after narrowly avoiding an accident? Salivated at the sight (or thought) of a sour lemon? Felt turned on just from hearing your partner's voice? If so, then you've experienced how dramatically the workings of your mind can affect your body.

Yet while we accept that stress or anxiety can damage our health, the idea of "healing thoughts" was long ago hijacked by New Age gurus and spiritual healers. Recently, however, serious scientists from a range of fields have been uncovering evidence that our thoughts, emotions and beliefs can ease pain, heal wounds, fend off infection and heart disease and even slow the progression of AIDS and some cancers.

In Cure, award-winning science writer Jo Marchant travels the world to meet the physicians, patients and researchers on the cutting edge of this new world of medicine. We learn how meditation protects against depression and dementia, how social connections increase life expectancy and how patients who feel cared for recover from surgery faster. We meet Iraq war veterans who are using a virtual arctic world to treat their burns and children whose ADHD is kept under control with half the normal dose of medication. We watch as a transplant patient uses the smell of lavender to calm his hostile immune system and an Olympic runner shaves vital seconds off his time through mind-power alone.

Drawing on the very latest research, Marchant explores the vast potential of the mind's ability to heal, lays out its limitations and explains how we can make use of the findings in our own lives. With clarity and compassion, Cure points the way towards a system of medicine that treats us not simply as bodies but as human beings.

A New York Times Bestseller
Finalist for the Royal Society Insight Investment Science Book Prize
Longlisted for the Wellcome Book Prize

About the Author
Jo Marchant is the author of Decoding the Heavens, shortlisted for the Royal Society Prize. She has a PhD in genetics and medical microbiology and has written on everything from the future of genetic engineering to underwater archaeology for New Scientist, Nature, The Guardian, and Smithsonian. She has appeared on BBC Radio, CNN, and National Geographic. She lives in London.
Praise For Cure: A Journey into the Science of Mind Over Body…
A New York Post Best Book of 2016
A New York Magazine Best Science Book of 2016
A Mindful.org Top 10 Mindful Book of 2016
A Sunday Times Book of the Year
An Economist Book of the Year
A Spirituality & Health Best Mind/Body Book of 2016

"Ms. Marchant writes well, which is never a guarantee in this genre… Second, [she] has chosen very moving characters to show us the importance of the research… and she has an equal flair for finding inspirational figures… the studies are irresistible, and they come in an almost infinite variety." 
—New York Times

"Cure is a cautious, scrupulous investigation of how the brain can help heal our bodies. It is also an important look at the flip side of this coin, which is how brains damaged by stress may make bodies succumb to physical illness or accelerated aging…Cure points a way toward a future in which the two camps [mainstream medicine and alternative therapies] might work together. After all, any medicine that makes a patient better, whether conventional, alternative, or placebo, is simply medicine."
—Wall Street Journal

"A well-researched page-turner… raises questions about the role of culture, environment and neurochemistry in our responses to treatment—and may very well lead to widespread changes in the ways we practice medicine."
—Susannah Cahalan, New York Post

"Cure is for anyone interested in a readable overview of recent findings in mind-body phenomena, a reliably enthralling topic… A rewarding read that seeks to separate the wishful and emotion-driven from the scientifically tested."
—Washington Post

"Research-heavy but never dull, this revelatory work about the mind-body connection explains how the brain can affect physical healing."
—Entertainment Weekly

"Marchant is a skeptical, evidence-based reporter—one with a background in microbiology, no less—which makes for a fascinating juxtaposition against some of the alternative treatments she discusses."
—New York Magazine

"A thought-provoking exploration of how the mind can affect the body and can be harnessed to help treat physical illness."
—Economist

"In a wide-ranging and compelling new book, science journalist Jo Marchant explores whether the mind can heal the body… With lively, clear prose, Marchant surveys the evidence for the mind-body connection."
—Science News

"Fascinating and thought-provoking. Marchant has travelled extensively around Europe and the US, talking to health workers and ordinary folk, to produce this meticulously researched book… Cure is a much-needed counter to a reductionist medical culture that ignores anything that doesn't show up in a scan… [it] should be compulsory reading for all young doctors."
—New Scientist

"A revved-up, research-packed explication of the use of mind in medicine, from meditation to guided visualisation. Marchant's nimble reportage on the work of scientists in novel fields such as psychoneuroimmunology and her discussion of placebos are as fresh as her reminders of how stress and poverty affect wellbeing are timely."
—Nature

"Could my belief that I'm going to feel better in itself heal me? It's a fascinating question, and one that British author Jo Marchant takes on with aplomb in her new book, Cure."
—Spirituality & Health 

"Writing with simplicity, clarity and style, and covering an enormous range of material, [Marchant] surveys with grace what we think we know, and what we would like to know, about the mysterious and troubling relationship between our minds and our bodies… [She] is level-headed, always with one foot planted in the worlds of science and reason. Though open-minded, she is rigorous, her gently skeptical tone reassures, and she gracefully skewers quackery."
—The Guardian

"Thought-provoking… This new generation of evidence-based mind-body researchers has produced some remarkable findings, which Marchant analyses with elegance and lucidity."
—Times Literary Supplement

"Jo Marchant makes her case so cogently that it is hard to disagree [with her]… The author has a gift for writing that is both clear and vivid, and communicates complex ideas in a way that is comprehensible and uncondescending… This is surely an area of medicine whose time has come."
—The Independent

"A diligent and useful work that makes the case for 'holistic' medicine while warning against the snake-oil salesmen who have annexed that word for profit."
—Sunday Times

"This is an important book, and one that will challenge those dismissive of efforts to investigate how our thoughts, emotions and beliefs might directly influence our physical wellbeing… The evolving science explored in Cure is intriguing and trailblazing, and Marchant's account of its pursuit is often gripping… There's a lot to this impressive book, and it has the potential to have the same dramatic impact on our understanding of our self as Norman Doidge's blockbuster, The Brain that Changes Itself." 
—Sydney Morning Herald

"Marchant explores the possibilities of psychology-based approaches to improving physical well-being in this open-minded, evidence-based account… A powerful and critically needed conceptual bridge for those who are frustrated with pseudoscientific explanations of alternative therapies but intrigued by the mind's potential power to both cause and treat chronic, stress-related conditions."
—Publishers Weekly (starred review)

"A balanced, informative review of a controversial subject."
—Kirkus Reviews

"Cure represents a journey in the best sense of the word: a vivid, compassionate, generous exploration of the role of the human mind in both health and illness. Drawing on her training as a scientist and a science writer, Marchant meticulously investigates both promising and improbable theories of the mind's ability to heal the body. The result is to illuminate a fascinating approach to medicine, full of human detail, integrity, and ultimately, hope."
—Deborah Blum, author of The Poisoner's Handbook and Love at Goon Park

"This is popular science writing at its very best. Cure beautifully describes the cutting-edge research going on in the fascinating—and until now, often unexplored—area of mind-body medicine. I would recommend this book to anybody who has a mind and a body."
—Henry Marsh, author of Do No Harm: Stories of Life, Death, and Brain Surgery 
Coverage from NPR
or
Not Currently Available for Direct Purchase