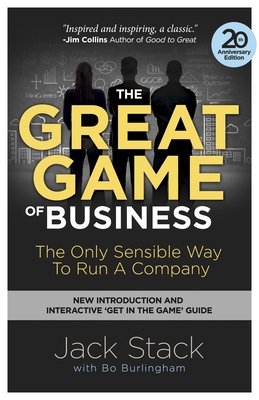 The Great Game of Business, Expanded and Updated
The Only Sensible Way to Run a Company
Paperback

* Individual store prices may vary.
Description
The Great Game of Business started a business revolution by introducing the world to open-book management, a new way of running a business that created unprecedented profit and employee engagement.
 
The revised and updated edition of The Great Game of Business lays out an entirely different way of running a company. It wasn't dreamed up in an executive think tank or an Ivy League business school or around the conference table by big-time consultants. It was forged on the factory floors of the heartland by ordinary folks hoping to figure out how to save their jobs when their parent company, International Harvester, went down the tubes.
 
What these workers created was a revolutionary approach to management that has proven itself in every industry around the world for the past thirty years—an approach that is perhaps the last, best hope for reviving the American Dream.
Praise For The Great Game of Business, Expanded and Updated: The Only Sensible Way to Run a Company…
"The whole concept of The Great Game of Business is beautiful –consistency, alignment, and transparency, infused with core values and brought to life with powerful mechanisms.  It is inspired and inspiring, a classic." -Jim Collins, author of Good to Great
 
"The Great Game of Business is one of the top 10 most important business books for all growth-minded company leaders to read.  Why?  It details how to create the critically important "line of sight" every employee needs to be fully engaged and driving toward a common goal.  And Jack's book details how to get everyone in your company focused with one eye on the financial impact of their decisions.  Then watch profits and cash soar." -Verne Harnish, CEO of Gazelles and author of The Greatest Business Decisions of All Time

"This is the  brilliant story of the most radical act committed by a  businessman in this century. You can't run or manage  your business the old way once you read  The Great Game." -Paul Hawken
Currency, 9780385348331, 384pp.
Publication Date: July 16, 2013
About the Author
JACK STACK is Founder, President and CEO of SRC Holdings Corporation, a 100% Employee-Owned Company employing over 1200 people, with sales of over $450,000,000. SRC Holdings Corporation operates 31 business units including Joint Ventures with John Deere, Case New Holland and Navistar, and maintains two venture capital incubator funds.
 
A pioneer of the leadership model known as Open Book Management, Stack is the author of two books on the subject, The Great Game of Business and A Stake in the Outcome.  His expertise in using the open book model has helped SRC Holdings Corporation start, acquire, and own over 60 small and medium size businesses and created thousands of jobs since 1983.  In addition, SRC Holdings Corporation has increased its stock value 292,000% since 1983.
 
Jack has been called the "smartest strategist in America" by Inc. Magazine and one of the "top 10 minds in small business" by Fortune Small Business Magazine. Jack is a contributing editor for Inc. Magazine and contributing business writer for The New York Times.
 
He is a popular public speaker and a practitioner of the open book model. SRC Holdings Corporation has received international recognition because of its success, including the Top 100 Companies to Work for in America, WorldBlu Most Democratic Workplaces, the National Business Ethics Award and the Business Enterprise Trust Award.  
 
Jack has served as a world judge for the Ernst & Young Entrepreneur of the Year Awards Institute and as an advisor for this group since 1998.  Jack designed the first ever United Way Entrepreneurial Fund to encourage innovation within the non-profit community.  He is the father of five children and grandfather of six. 
 
BO BURLINGHAM is editor-at-large—and former executive editor—of Inc. magazine and chairman of the Small Giants Community (www.smallgiants.org). His book Small Giants: Companies That Choose To Be Great Instead of Big was a finalist for the 2006 Financial Times/Goldman Sachs Business Book of the Year award. His most recent book, co-authored with Norm Brodsky, is Street Smarts: An All-Purpose Tool Kit for Entrepreneurs.
 
He has also written two books with Jack Stack. The first, The Great Game of Business, was named one of 100 best business books of all time. The second, A Stake in the Outcome, has been called "the first management classic of the new millennium." Burlingham is currently working on a book about exits. He lives in Oakland, CA, with his wife of 41 years, Lisa. They have two children and three grandchildren.

RICH ARMSTRONG is the president of The Great Game of Business, Inc. and a 20+ year veteran of SRC Holdings Corporation. Rich has been instrumental in the ongoing design and development of the GGOB methodology because of his practical, "first-hand" experience running businesses at SRC. Known for his engaging, down to earth and authentic style, Rich is a popular, versatile speaker and business coach. Rich serves on the board of Court Appointed Special Advocates for children (CASA) and the National Center for Employee Ownership (NCEO). Combined with the love and enjoyment of his family, including two wonderful children, Ryan and Rylee, Rich is an avid musician and will often be found enjoying music in his home studio.

STEVE BAKER is Vice President of The Great Game of Business, Inc., a division of employee-owned SRC Holdings Corporation. Known for his high-energy and engaging message, he has become a top-rated and sought-after speaker, author and coach on topics of Open-Book Management, Strategy & Execution, Business Literacy and Employee Engagement. Steve serves on the Board of the National Center for Employee Ownership as well as the Steering Committee for SRC's Ownership Culture Initiative. Steve is a career marketing and branding professional and is an award-winning designer. He lives in Springfield, Missouri with his wife, JoAnn, and their three children.