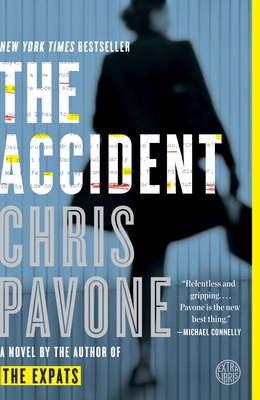 The Accident
Paperback

* Individual store prices may vary.
Other Editions of This Title:
Paperback (12/5/2017)
Description
From the author of the New York Times-bestselling and Edgar Award-winning The Expats
 
As dawn approaches in New York, literary agent Isabel Reed is turning the final pages of a mysterious, anonymous manuscript, racing through the explosive revelations about powerful people, as well as long-hidden secrets about her own past. In Copenhagen, veteran CIA operative Hayden Gray, determined that this sweeping story be buried, is suddenly staring down the barrel of an unexpected gun. And in Zurich, the author himself is hiding in a shadowy expat life, trying to atone for a lifetime's worth of lies and betrayals with publication of The Accident, while always looking over his shoulder.

Over the course of one long, desperate, increasingly perilous day, these lives collide as the book begins its dangerous march toward publication, toward saving or ruining careers and companies, placing everything at risk—and everyone in mortal peril.  The rich cast of characters—in publishing and film, politics and espionage—are all forced to confront the consequences of their ambitions, the schisms between their ideal selves and the people they actually became.

The action rockets around Europe and across America, with an intricate web of duplicities stretching back a quarter-century to a dark winding road in upstate New York, where the shocking truth about the accident itself is buried.

Gripping, sophisticated, layered, and impossible to put down, The Accident proves once again that Chris Pavone is a true master of suspense.
Praise For The Accident…
St. Louis Post-Dispatch Best Books of 2014

"[Pavone is] a reliable new must-read in the world of thrillers. . . . You will want to finish The Accident at a nice, rapid clip to see how [the] pieces come together. . . . Unputdownable." —The New York Times
 
"A taut, bookish thriller." —People

"If you like real nail-biters, this is the best one so far this year. . . . Couldn't put the damn thing down." —Stephen King, on Twitter
 
"Savvy. . . . [With] plenty of swift action and sudden twists." —Wall Street Journal
 
"Smart and stylish. . . . Thrill-a-minute. . . . The Accident never stumbles as it confidently and most entertainingly barrels forward toward shocking revelations and a bombshell of a finish." —Chicago Tribune
 
"A must-read…gripping."—USA Today
 
"Chris Pavone is the new best thing. The Accident proves the promise of The Expats. It is as intelligent and timely as it is relentless and gripping. Pavone is going to be around for a long time and now is the time to jump on the train." —Michael Connelly
 
"A fast-paced, airport-ready thriller. . . . Pavone writes well about the politics of modern publishing." —Entertainment Weekly
 
"The thriller-of-the-year. . . . Pavone's characters seem genuine, with some flaws in the good guys and some virtues in the bad guys." —St. Louis Post-Dispatch
 
"Maximum enjoyment at maximum speed."—Dallas Morning News

"A sly globetrotting spy thriller that gives new meaning to publish or perish." —Family Circle
 
"A propulsive A-train of a thrill ride and worthy successor to Pavone's debut." —Los Angeles Times
 
"A fast-paced, dangerous ride. . . . That intricate plot [propels you] forward, twisting and turning right up to its final, ultimately satisfying conclusion." —Fort Worth Star-Telegram
 
"A clever, sophisticated mystery."—Milwaukee Journal-Sentinel
 
"[Pavone] has outdone himself with this amazing thriller. . . . Full of constant surprises [The Accident] is jam-packed with everything from media moguls to conspiracies. This is a truly great read!" —Suspense Magazine
 
"Tantalizing. . . . With terrific surprises and high-quality writing in this engaging thriller." —Associated Press
 
"Marvelous. . . . The deft plot globetrots and en route provides glamorous locales as well as twisty turns in suspense." —New York Daily News
 
"A high-wire thriller featuring a Wolfe-ian cast of characters." —Vogue.com
 
"[A] high-wire thriller. . . . The suspense is palpable." —Publishers Weekly (starred review)
 
"Pavone's plot twists tirelessly, shifting focus among a large cast of well-drawn characters. . . . many readers will read this one through the night." —Booklist (starred review)
 
"[An] engaging thriller, driven by compelling portraits of desperate characters." —Library Journal
 
"Pavone knows the formula for a best-seller and keeps the reader turning the pages." —Kirkus
 
"Chris Pavone's many fans will not be disappointed with The Accident, his fast-paced, twisting, smart follow-up to The Expats. Cleverly plotted, filled with surprises, a terrific read." —William Landay, New York Times bestselling author of Defending Jacob
 
"The world of book publishing has never been more perilous or mesmerizing than in Chris Pavone's dizzyingly good follow-up to The Expats. The dark eruption of long-buried secrets, complex betrayals further snagged by sex and greed, and eleventh-hour desperate gambits for reinvention all propel a whirlwind story that will keep you up way past your bedtime. Crafty, stylish, satisfying."  —Paula McLain, New York Times bestselling author of The Paris Wife
 
"Clever, sophisticated, and propulsive.  I am constantly awed by Chris Pavone's writing.  He's already one of the best in the thriller business." —Joseph Finder, New York Times bestselling author of Paranoia and Suspicion
 


Praise for The Expats
 
"Sly. . . . Pavone strengthens this book with a string of head-spinning revelations in its last pages. . . . The tireless scheming of all four principals truly exceeds all sane expectations." —The New York Times

"Bombshell-a-minute. . . . Pavone creates a fascinating, complicated hero." —Entertainment Weekly

"A gripping spy drama and an artful study of the sometimes cat-and-mouse game of marriage." —Family Circle

"Smartly executed. . . . Pavone is full of sharp insights into the parallels between political espionage and marital duplicity. . . . Thoroughly captivating." —The New York Times Book Review

"Superb. . . . [Pavone] expertly draws readers along with well-timed clues and surprises. . . . An engineering marvel." —Richmond Times-Dispatch

"Expertly and intricately plotted, with a story spiraling into disaster and a satisfyingly huge amount of double-crossing, The Expats certainly doesn't feel like a first novel. This is an impressively assured entry to the thriller scene." —The Guardian (London)

"Refreshingly original. . . . Part Ludlum in the pacing, part Le Carré in the complexity of story and character, but mostly Chris Pavone. . . . A thriller so good that you wonder what other ideas [Pavone] has up his cloak, right alongside the obligatory dagger." —The Star-Ledger

"Amazing. . . . Impossible to put down. . . . Pavone invokes memories of the great writers of spy fiction of the past, and he has the chops to be mentioned with the best of them." —Associated Press

"A blast. . . . Pavone is spinning a fantastic tale with action that spans the globe." —Dallas Morning News

"Highly entertaining." —Mystery Scene

"Thoroughly enjoyable." —Suspense Magazine

"Hard to put down." —San Francisco Bay Guardian

"Stunningly assured. . . . An intricate, suspenseful plot that is only resolved in the final pages." —Booklist (starred review)

"Brilliant, insanely clever, and delectably readable." —Library Journal (starred review)

"Meticulously plotted, psychologically complex. . . . The sheer amount of bombshell plot twists are nothing short of extraordinary, but it's Pavone's portrayal of Kate and her quest to find meaning in her charade of an existence that makes this book such a powerful read." —Publishers Weekly (starred review)

"Impressive. . . . With almost more double-crosses than a body can stand." —Kirkus (starred review)

"Bristling with suspense and elegantly crafted, The Expats introduces a compelling and powerful female protagonist you won't soon forget. Well done!" —Patricia Cornwell

"I often thought I was again reading the early works of Ken Follett, Frederick Forsyth, and Robert Ludlum. Smart, clever suspense, skillfully plotted, and a lot of fun to read." —John Grisham

"One of the best-written spy thrillers I've ever read. . . . A riveting story of great-game deceptions wrapped inside the smaller deceptions of marriage. At moments horrifying, hilarious, and very wise, The Expats has given Chris Pavone a permanent place on my short list of must-read authors." —Olen Steinhauer

"A gem. Clever, suspenseful with a jet fueled story that rockets from one corner of the globe to another, it is never less than a thrill a minute. . . . An absolute winner!" —Christopher Reich

"Spy stories need to budge over to make space for Kate Moore—mother, wife, expat and far more than she appears. I loved her." —Rosamund Lupton

"Riveting. One of the most accomplished debuts of recent years: not just a worthy addition to the literature of espionage and betrayal, but a fine portrait of a marriage disintegrating under the pressure of secrets and lies." —John Connolly
Ballantine Books, 9780385348478, 416pp.
Publication Date: January 6, 2015
About the Author
Chris Pavone's novel The Expats was a New York Times, USA Today, and international bestseller, and winner of Edgar and Anthony awards for best first novel. Chris grew up in Brooklyn, graduated from Cornell, and was a book editor for nearly two decades, as well as an expat in Luxembourg, but now lives again in New York City with his wife and children. The Accident is his second novel.
What were your initial theories about Jens Grundtvig and the author's identity? Did you think the manuscript revealed the truth, or did you believe it was a hoax?
How did your perception of Isabel shift throughout the novel? Would her marriage have survived if Tommy had lived, or were the roots of the marriage too weak to begin with?
Discuss the novel's title. Were any of the tragedies in the characters' lives truly accidental?
The cast of characters spans shrewd assistants, a noble bookseller, and glamorous powerbrokers in the publishing industry and in Hollywood. Which of the characters were you rooting for? What would you have done with the manuscript?
Although The Accident is a work of fiction, do you believe in the possibility of collusions between the government and the media to sway international power structures? Is there much danger in Wolfe Worldwide Media's mission to "de-news the news" and "legitimize sensationalism"? (page 72)
In The Accident, what qualities separate the survivors from those who perish? Who has the best business instincts in the novel? Is financial power ultimately a liability?
Are Jeff and Isabel a good match? What keeps Jeff at a disadvantage in so many aspects of his life?
Identity drives many of the plot twists in The Accident. Which characters stay true to themselves, even when they're reinventing their lives? When have you found yourself having to play a new role?
Stoking the suspense is the fact that Brad's family business is on the verge of financial collapse (and takeover by Wolfe) unless he can acquire a blockbuster book. In reality, international media conglomerates have participated in ever-bigger mergers over the past decade. What are the consequences if the McNallys of America continue to lose their independence?
How do the characters exploit each other's trust? How do the alliances formed in youth haunt the characters long into their adult lives?
How would you respond to the question raised on page 364 as Dave's story unfolds: Who was the villain in this story?
What do you predict for the characters who are featured in the final chapter?
How does the publishing world featured in The Accident compare to your vision of it? How does it affect your reading to know that the author is a veteran of the publishing industry, making the journey from editor to author?
What did you enjoy most about the reappearance of Kate and Hayden, who made their debut in Chris Pavone's first novel, The Expats?
or
Not Currently Available for Direct Purchase