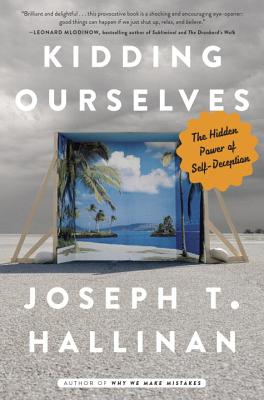 Kidding Ourselves
The Hidden Power of Self-Deception
Hardcover

* Individual store prices may vary.
Description
From the Pulitzer Prize-winning journalist and author of "Why We Make Mistakes," an illuminating exploration of human beings astonishing ability to deceive themselves.
To one degree or another, we all misjudge reality. Our perception of ourselves and the world around us is much more malleable than we realize. This self-deception influences every major aspect of our personal and social life, including relationships, sex, politics, careers, and health.
In "Kidding Ourselves," Joseph Hallinan offers a nuts-and-bolts look at how this penchant shapes our everyday lives, from the medicines we take to the decisions we make. It shows, for instance, just how much the power of many modern medicines, particularly anti-depressants and painkillers, is largely in our heads. Placebos in modern-day life extend beyond hospitals, to fake thermostats and elevator close buttons that don t really work but give the perception that they do.
"Kidding Ourselves" brings together a variety of subjects, linking seemingly unrelated ideas in fascinating and unexpected ways. And ultimately, it shows that deceiving ourselves is not always negative or foolish. As increasing numbers of researchers are discovering, it can be incredibly useful, providing us with the resilience we need to persevere, in the boardroom, bedroom, and beyond.
Provocative, accessible, and easily applicable to multiple facets of everyday life, "Kidding Ourselves" is an extraordinary new exploration of our mind's flexibility.

Praise For Kidding Ourselves: The Hidden Power of Self-Deception…
"In this brilliant and delightful expose of recent psychological research, Hallinan reveals that self-deception is also a potent drug for boosting hope, confidence, and creativity.  For those of us who have lived by Feynman's first principle, that you must not fool yourself, this provocative book is a shocking and encouraging eye-opener: good things can happen if we just shut up, relax, and believe."
 —Leonard Mlodinow, bestselling author of Subliminal and The Drunkard's Walk

"Accessible pop science that provides a good laugh and some great dinner conversation."
—Publishers Weekly

Praise for Joseph T. Hallinan's Why We Make Mistakes
 
"What an eye-opener!...Hallinan cites numerous studies and experts, but he keeps the book from becoming a stodgy recitation of facts and statistics through the frequent use of illustrative examples and snappy prose. He also throws in a few big surprises….A vastly informative, and for some readers vastly reassuring, exploration of the way our minds work." 
—Booklist (starred review)
 
"[I]mpressive…intriguing…a lesson in humility as much as human behavior, Hallinan's study should help readers understand their limitations and how to work with them."
—Publishers Weekly 


"Entertains while it informs. Hallinan brings the science of human behavior to life, showing how it applies to us every day."
—Don Norman, author of The Design of Everyday Things
Crown Publishing Group (NY), 9780385348683, 260pp.
Publication Date: May 20, 2014
About the Author
JOSEPH T. HALLINAN, a former writer for"The Wall Street Journal," is a winner of the Pulitzer Prize and a former Nieman Fellow at Harvard University. He lives in Chicago with his wife and three children."
or
Not Currently Available for Direct Purchase