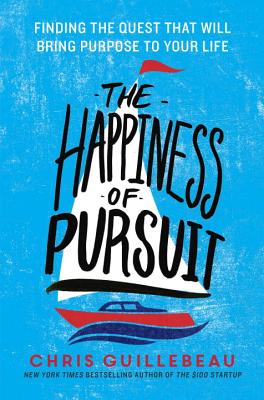 The Happiness of Pursuit (Hardcover)
Finding the Quest That Will Bring Purpose to Your Life
Harmony, 9780385348843, 304pp.
Publication Date: September 9, 2014
Other Editions of This Title:
Digital Audiobook (9/8/2014)
Paperback (4/5/2016)
* Individual store prices may vary.
Description
A remarkable book that will both guide and inspire, The Happiness of Pursuit reveals how anyone can bring meaning into their life by undertaking a quest.
 
When he set out to visit all of the planet's countries by age thirty-five, compulsive goal seeker Chris Guillebeau never imagined that his journey's biggest revelation would be how many people like himself exist--each pursuing a challenging quest. And, interestingly, these quests aren't just travel-oriented. On the contrary, they're as diverse as humanity itself. Some involve exploration; others the pursuit of athletic or artistic excellence; still others a battle against injustice or poverty or threats to the environment.
 
Everywhere that Chris visited he found ordinary people working toward extraordinary goals, making daily down payments on their dream. The more Chris spoke with these strivers--including a suburban mom pursuing a wildly ambitious culinary project, a DJ producing the world's largest symphony, a young widower completing the tasks his wife would never accomplish, a teenager crossing an entire ocean alone, and scores of others writing themselves into the record books--the more he began to appreciate the direct link between questing and long-term happiness--how going after something in a methodical way enriches our lives.

He was compelled to complete a comprehensive study of the phenomenon and extract the best advice. In The Happiness of Pursuit he draws on interviews with hundreds of questers, revealing their secret motivations, their selection criteria, the role played by friends and family, their tricks for solving logistics, and the importance of documentation.
 
Equally fascinating is Chris' examination of questing's other side, including questers' acute awareness of mortality, their struggle against monotony, and their wistful feelings once a quest has succeeded. What happens after the summit is climbed, the painting hung, the endurance record broken, the "at risk" community saved? 
 
A book that challenges each of us to take control--to make our lives be about something while at the same time remaining clear-eyed about the commitment--The Happiness of Pursuit will inspire readers of every age and aspiration. It's a playbook for making your life count.
About the Author
CHRIS GUILLEBEAU is the New York Times bestselling author of books including The $100 Startup, The Happiness of Pursuit, and The Art of Non-Conformity. He is also the founder and host of Side Hustle School, a daily podcast with more than 2 million downloads per month. During a lifetime of self-employment and side hustling, he visited every country in the world (193 in total) before his 35th birthday.
Praise For The Happiness of Pursuit: Finding the Quest That Will Bring Purpose to Your Life…
"Chris Guillebeau is a rare combination of sage and adventurer, and The Happiness of Pursuit is both a distillation of his wisdom and and a demonstration of his -- and others'-- passion for the questing life.  The passion Chris chronicles is infectious, and it becomes even more so as we read about life-focusing action delivering deep meaning.  Even if you prefer never to leave your armchair, this book will inspire you to to take a beautiful voyage – one that can be either physical or mental as you chase the thrill of steady accomplishment."
—Susan Cain, Quiet Revolution co-founder and New York Times bestselling author of Quiet: The Power of Introverts in a World That Can't Stop Talking
 
"If you like complacency and mediocrity, do not read this book. It's dangerously inspiring. It will make you want to do amazing things with your life. You may not end up visiting every country on Earth or directing a global protest from the top of a tree (I certainly won't), but Chris made me want to dive into an adventure. The Happiness of Pursuit is a how-to guide for avoiding a boring life."
—A.J. Jacobs, New York Times bestselling author of The Know-It-All and The Year of Living Biblically
 
"The Happiness of Pursuit is smart, honest, and dangerous. Why dangerous? Because it is as practical as it is inspiring. You won't just be daydreaming about your quest -- you'll be packing for it!"
—Brené Brown, Ph.D., LMSW, author of the #1 New York Times bestseller Daring Greatly
 
"It's not easy to dream big—and it's not easy to turn that dream into reality. The brilliant Chris Guillebeau provides the essential blueprint for those of us for whom the happiness of pursuit—such as Chris's successful quest to visit every country in the world—is a key part of the pursuit of happiness."
—Gretchen Ruben, New York Times bestselling author of The Happiness Project
 
"The incredible quests Chris Guillebeau explores in The Happiness of Pursuit, including his own to visit every country, left me feeling exhausted. Of course, as a person who works from home, I limit my quests most days to taking a shower. Bottom line: these stories are inspiring--and very, very entertaining."
—Joel Stein, columnist, Time magazine and author of Man Made: A Stupid Quest for Masculinity
 
"Passion is the quickest route to joy -- the kind that gets your heart beating and your soul smiling. It involves committing to something bigger than yourself, taking risks, trusting; there's no passion in your comfort zone. Guillebeau's route to happiness is taking on a quest -- something that will get you up in the morning, impatient to begin your day. His stories, biographies, observations, and personal insights will get you thinking about a greater purpose. And there's a lot of how-to in here. If you've been wondering 'what it's all about?' this book could change your life."
—Rita Golden Gelman, author of Tales of a Female Nomad, Living at Large in the World
 
 "When a quest is a journey or a sought-after goal, it can be satisfying, fun, even paradigm-shifting. But when a quest begins with an inner yearning and transforms into a calling, it becomes medicine for the soul, and this changes everything. The Happiness of Pursuit is an invitation to listen to the part of oneself that craves purpose. It says. "Hey! Wake up! Your unique adventure awaits you." 
—Lissa Rankin, MD, New York Times bestselling author of Mind Over Medicine
or
Not Currently Available for Direct Purchase