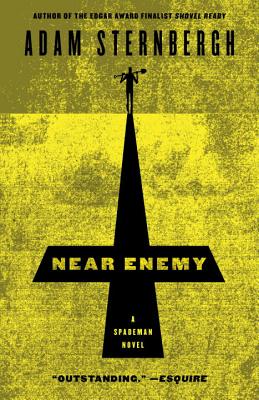 Near Enemy (Paperback)
A Spademan Novel
Broadway Books, 9780385349048, 320pp.
Publication Date: October 6, 2015
Other Editions of This Title:
Digital Audiobook (1/12/2015)
Hardcover (1/13/2015)
Pre-Recorded Audio Player (1/13/2015)
* Individual store prices may vary.
Description
The Taut, Unflinching New Thriller from Adam Sternbergh, Author of the Critically-Acclaimed Shovel Ready
 
New York is toxic—decimated by a dirty bomb years ago.  The limnosphere is a virtual safe haven—if you're rich enough to buy in.  Spademan is a hit man—box-cutter at the ready.

His latest job is to snuff out Lesser, a lowlife lurking around other people's fantasies.  As Spademan is about to close the deal, Lesser comes back from the limn with a wild claim: terrorists are planning to attack New York. Again. This time from the inside out.

The warning sends Spademan down a dark path full of unsavory characters and startling revelations.  A shadowy political fixer tells him of a long-running power struggle that goes all the way to City Hall.  A brilliant Egyptian radical brings Spademan to the mysterious far-reaches of the limn.  And a beautiful nurse holds the secret to what, and who, is behind these attacks—and she seems to want to help Spademan stop them.  But he works best alone.  Or so he thinks.

Spademan has always had his share of enemies, but now they're coming at him from all sides and it's impossible to know whom to trust.  To stay sharp, his only option might be the one thing he swore he'd never do again.
About the Author
Adam Sternbergh is a contributing editor for New York magazine and Vulture. Formerly culture editor of The New York Times Magazine, his writing has appeared in GQ and the Times of London and on This American Life. He currently lives in Brooklyn with his family. Near Enemy is his second novel.
 

www.adamsternbergh.com; @sternbergh
Praise For Near Enemy: A Spademan Novel…
"Another adaptation-friendly sci-fi noir.  Buy it now." —Entertainment Weekly
 
"Outstanding. . . . More fun than a book about the aftermath of a giant terrorist attack has any right to be." —Esquire
 
"An impressively thrilling narrative of terrorism, virtual reality and never quite knowing who, or what, the enemy is." —Time Out New York
 
"Fiction so fiery it will blister your subconscious. . . . Electric prose and shocking plot twists. . . . Sternbergh is quickly proving he requires permanent occupancy in the list of today's best writers." —The Free Lance-Star
 
"This cool, futuristic crime noir will keep readers guessing. . . . Gritty. . . . Hard hitting." —Parkersburg News and Sentinel

"Violent, stylish, and even better than the first one." — Sydney Morning Herald

"Compelling. . . . Intellectually beguiling. . . . The fight scenes in Near Enemy blend the operatic elegance of Bruce Lee in flight with comic-book-inspired mayhem. . . . Popular fiction that engages one's heart, mind, and adrenaline the way the Spademan novels do is something to be savored." —Booklist (starred review)
 
"[A] solid sequel. . . . Sternbergh laces his second cyberpunk voyage with dark humor and eccentric characters." —Publishers Weekly
 
"Sternbergh's spare characterizations and vivid descriptions of a great city fallen on hard times will strike a chord with fans of classic noir as well as readers who like dystopian sf or thrillers with a cyberpunk flavor." —Library Journal

"[The] action is played out in a postmodern and corrupt world of toxicity, both literal and metaphorical. . . . Other characters return from the first novel and provide a hint of nostalgia and sweetness missing from the dark and mean streets of New York." —Kirkus


Praise for Adam Sternbergh's SHOVEL READY
 
A Newsweek Best Books for 2014 
Salon.com Top Critics' Best of 2014 selection

"Bogart-cool. . . . Addictive. . . . Death-metal brutal and darkly hilarious." —Entertainment Weekly

"A searing debut. . . . Stark dialogue and high-volume grit, which Sternbergh enhances with sci-fi and dark humor. . . . [This] shady antihero may have a long life ahead." —USA Today
 
 "[A] sardonic thriller that serves up lots of barbs. . . . Uniquely engaging. . . . A great read, and its world still manages to hold you in its dirty clutches until the violent, fascinating conclusion." —io9.com
 
"[Sternbergh] skillfully blends elements of noir, sci-fi, and speculative fiction, and keeps the action and the dialogue energetic." —The New Yorker
 
"A lean thriller. . . . Sternbergh knows his way around the style, matching the staccato rhythms of violence to those of language. . . . [If] you want to know if it's as awesome as it sounds. It is." —Chicago Tribune
 
"The best of two dark, amoral, existentially empty worlds!" —Time
 
"Energetic. . . . An enjoyable read." —The Boston Globe
 
"Boy, does this plot drive. It's one of those books so gripping you read the whole thing in a single go. . . . Swift, [with] expertly timed twists and shocks, very hard to put down." —The Guardian (UK)
 
"Reads like Cormac McCarthy's The Road set in New York. . . . [An] agreeably macho dystopia." —Newsweek
 
"Darkly funny." —New York
 
 
"Sternbergh's prose is lean and sparse. . . . Shovel Ready is exciting. It starts fast and the author keeps his foot on the gas. The thrills feel earned." —The Globe and Mail
 
"The best kind of hard boiled noir." —GQ
 
 
"Memorably entertaining and garishly funny, Sternbergh's debut novel is a winner." —Cleveland Plain-Dealer
"Thrilling. . . . Like Raymond Chandler on a sleepless cyberpunk jag. . . . Sternbergh adroitly delivers shadowy adventure tropes within a surprisingly breezy read."—Time Out New York
 
"Sternbergh comes busting out of the gate with this gritty noir." —Flavorwire
 
"Gripping. . . . A sharp, thought-provoking thriller. . . . The strongest impact of the book is the constant feeling it gives that the ghosts of 9/11 still haunt New York." —National Post
 
 "Hardboiled as f*** with writing as fierce and sharp as a paper-cut." —Lauren Beukes, author of The Shining Girls
 
"With prose chiseled to hardboiled perfection and a tale that throbs with the keen ache of noir, Adam Sternbergh's Shovel Ready reads like William Gibson as directed with inky brilliance by Christopher Nolan. Debut novels as sleek, resonant and accomplished as this are a rare gift." —Megan Abbott, author of Dare Me
 
"Shovel Ready tosses you off a precipice and you don't know where you're going to land. Dark and often funny, with sparse, sharp language. Think Charlie Huston's dystopian New York meets Richard Stark's anti-hero— this is good, bitter fun." —Toby Barlow, author of Sharp Teeth and Babayaga
 
"Shovel Ready is an elegant, lean and clever noir. It's the best sci-fi thriller I've read since Snow Crash." —Roger Hobbs, author of Ghostman
 
"A terrific debut. It has the grimy neon feel of Warren Ellis's Transmetropolitan combined with a touch of Philip K. Dick's gonzo cyberpunk." —Austin Grossman, author of You and Soon I Will Be Invincible
 
"Compulsive!  Savage future noir that crackles with deadpan wit." —Nick Harkaway, author of The Gone-Away World and Angelmaker