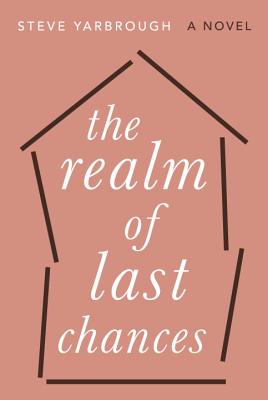 The Realm of Last Chances
Hardcover

* Individual store prices may vary.
Other Editions of This Title:
Digital Audiobook (5/8/2014)
Paperback (5/6/2014)
Description
In a captivating departure from the Deep South setting of his previous fiction, Steve Yarbrough now gives us a richly nuanced portrait of a marriage being reinvented in a small town in the Northeast, in his most surprising and compelling novel yet.

When Kristin Stevens loses her administrative job in California's university system, she and her husband, Cal, relocate to Massachusetts. Kristin takes a position at a smaller, less prestigious college outside Boston and promptly becomes entangled in its delicate, overheated politics. Cal, whose musical talent is nothing more than a consuming avocation, spends his days alone, fixing up their new home. And as they settle into their early fifties, the two seem to exist in separate spheres entirely. At the same time, their younger neighbor Matt Drinnan watches his ex-wife take up with another man in his hometown, with only himself to blame. He and Kristin, both facing an acute sense of isolation, gravitate toward each other, at first in hope of a platonic confidant but then, inevitably, of something more. The Realm of Last Chances provides us with a subtle, moving exploration of relationships, loneliness and our convoluted attempts to reach out to one another.
Praise For The Realm of Last Chances…
"What an exhilarating, intelligent, beautifully complicated novel. I love how richly peopled it is and I love the exact New England landscapes… But I think what made me read this book in a single sitting was the voice and the way in which it allowed me both to know and to not know Kristin, Matt and Cal. That combination makes The Realm of Last Chances wonderfully suspenseful. Every character has a secret sorrow." —Margot Livesey

"Steve Yarbrough stands among the first rank of contemporary novelists, and stands alone with the deep compassion and humanity he brings to his characters and their stories. The Realm of Last Chances is what all novels strive to be—boldly provocative, reflective, witty, and wise, and deeply insightful of the outer and inner workings of people, couples and communities, muddling along through life together. This novel is that rare achievement, a page-turner that also turns pages within the reader." —Jeffrey Lent

"Here's a riddle. What happens when you turn loose a world-class southern writer in an old New England town and tell him to have at it?  Answer: Steve Yarbrough's magnificent new novel is what happens. The Realm of Last Chances reveals how it's not just Faulkner territory where the past isn't past, as Yarbrough explores the way one's family and community can both condemn and redeem us all, wherever we live. This beautifully-written story is the most honest, insightful, and, ultimately, affirmative novel about love under great stress that I've read in years." —Howard Frank Mosher

"This beautifully wrought book [is] so keenly observed that its depiction of these three lost souls conveys outsize emotional force. . . . The brilliance of this quiet, subtle novel stems from how it turns a light on the kind of lives that so often go unremarked, suffusing them with compassion, empathy and rare beauty." —Michael Lindgren, Washington Post

"The passions and disappointments of these characters hit home. Why? Because Yarbrough allows the opening and closing of chasms between these individuals the proper space and time to develop, thus allowing them the chance to achieve maximum resonance. By the end, we feel as if we, like Yarbrough's soulful figures, have wandered into the titular, despairing realm of last chances, in which we push ourselves away aggressively from loss, and then return, somewhat wiser. For isn't this the way all of us move through our lives, when all is said and done, at one time or another?" —Max Winter, The Boston Globe

"Wonderfully resonant. . . Yarbrough is a great storyteller [and] a brilliant social observer [who] possesses a talent for detail that elevates The Realm of Last Chances to a novel that makes readers more observant about their own lives." —Elizabeth Taylor, Chicago Tribune

"In his latest novel, Yarbrough strikes out for territory beyond the South. . . What emerges is the portrait of a marriage tested to its breaking point. . . . The reader is left hoping that we all, as one character tells Kristin in Yarbrough's characteristically fine dialogue, 'add up to much more than the sum of our mistakes, no matter how many we may have made.' It is on such notes of universal longing and regret that Yarbrough stakes his claim to being much more than a regional writer. The Realm of Last Chances is a fine novel unbound by geography. . . and he shows us that the real territory of his fiction is not geographical at all, but the unmapped terrain of the heart." —Matthew Guinn, The Jackson Clarion-Ledger

"Yarbrough has written a deeply intelligent and wildly moving story about the many permutations of love, betrayal and redemption." —Kirkus Reviews (starred review)
Knopf Publishing Group, 9780385349505, 271pp.
Publication Date: August 6, 2013
About the Author
Born in Indianola, Mississippi, Steve Yarbrough is the author of five previous novels and three collections of stories. A PEN/Faulkner finalist, he has received the Mississippi Authors Award, the California Book Award, the Richard Wright Award, and another prize from the Mississippi Institute of Arts and Letters. He teaches at Emerson College and lives with his wife in Stoneham, Massachusetts.
or
Not Currently Available for Direct Purchase