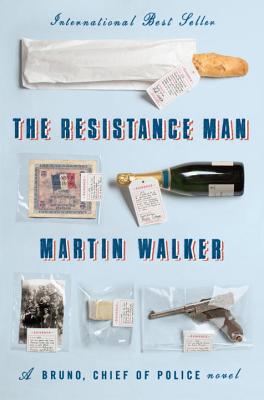 The Resistance Man (Hardcover)
Knopf Publishing Group, 9780385349543, 317pp.
Publication Date: February 25, 2014
* Individual store prices may vary.
or
Not Currently Available for Direct Purchase
Description
Bruno Courreges provincial French police chief extraordinaire is back in another delectable tale of mystery and suspense that unfolds in the gastronomically ravishing Dordogne.
A veteran of the Resistance dies, and among his possessions are documents that connect him to a notorious train robbery. A former British spymaster's estate is burglarized, the latest in a spree of expert thefts. An academic's home is broken into just as she is finishing a revelatory book on France's nuclear weapons program. An antiques dealer is found brutally murdered, and his former lover, the number one suspect, is on the run.
It's just another summer in St. Denis for Bruno, who must balance the constant barrage of demands on his time and expertise including the complex affections of two powerful women, town politics (the mayor is having romantic problems of his own), his irrepressible puppy, Balzac, and nights entertaining friends and visitors with ever-sumptuous repasts with a new focus on the mounting crime wave, whose seemingly unrelated events Bruno begins to suspect are linked. His search for clues to crimes old and new leads to stunning revelations about both his country's history and his own, and puts several more lives including Bruno's in deadly danger. In a thrilling denouement that proves the past is never really past, Bruno fights to secure the future of his beloved community and those he cares about most.
As charming and compelling as its hero, The Resistance Man offers fresh joys for loyal readers and newcomers alike.
About the Author
Martin Walker is a senior fellow of the Global Business Policy Council, a private think tank for CEOs of major corporations, based in Washington, D.C. He is also editor in chief emeritus and international affairs columnist at United Press International. His five previous novels in the Bruno series are Bruno, Chief of Police; The Dark Vineyard; Black Diamond; The Crowded Grave; and The Devil's Cave, all international best sellers. He lives in Washington, D.C., and the Dordogne.
Praise For The Resistance Man…
"Rides on horseback through the French countryside of the Dordogne. Elaborately prepared and explained meals. Wines. And, oh yes, a mystery blended into this heady mix. While most readers think the British have a line on cozies, Walker makes a great case for the French version…Much to admire and sigh over in this appetizing mystery."
            —Booklist 

"Endearing…Existing fans and newcomers alike will savor Walker's ability to smoothly fold suspense into his Périgordian soufflé."
            —Publishers Weekly

"As usual…[a] celebration of la belle France. But this time, Bruno, who's required to act as enforcer, sleuth, diplomat, comforter, impersonator, hostage negotiator and rescuer, reveals unexpected resources."
            —Kirkus

"An exemplary entry in the police procedural, with dogged and thorough investigation techniques coupled with experienced hunches and Bruno's usual local knowledge all contributing…A must for lovers of the series."
            —Bookgasm

"Of at least equal importance to the crimes and their resolutions…are the author's exquisite descriptions of the food and the meals, the quirky cantankerous residents and the evocative scents of fine cheeses and flowers that infuse all of these books…A perfect way to enjoy a wonderful imaginary vacation."
            —Read Me Deadly

"What's not to like? ...To those making Bruno's acquaintance for the first time: don't be surprised if you come away from this book with a hankering to read another six or seven novels in this series—and maybe even plan a trip to France really soon."
            —New York Journal of Books

"Rich in character, rich in culture and customs, and permeated with the most delightful sense of place…An armchair travelling sleuth's delight."
            —Kittling: Books

"The Resistance Man evokes all the history, culture, romance and fine food and drink you might expect of French village life, and yet there is still the opportunity for a heinous crime or two to spice things up…Endlessly charming, funny, warm, and clever, with a hero evocative of John Mortimer's Rumpole or Colin Cotterill's Dr. Siri, The Resistance Man is sure to satiate Walker's many fans and win him lots more in the bargain."
            —BookPage

"Engaging…Bruno the charming police chief of the Dordogne is transcended by Bruno the brilliant chef…This is not the first Bruno mystery, and it certainly should not be the last."
            —The Washington Times
Advertisement