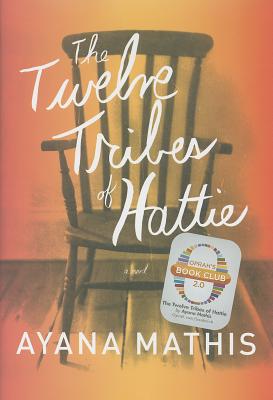 The Twelve Tribes of Hattie
Hardcover

* Individual store prices may vary.
Other Editions of This Title:
Digital Audiobook (12/5/2012)
Compact Disc (12/6/2012)
Paperback, Large Print (12/6/2012)
Description
The newest Oprah's Book Club 2.0 selection.
 
The arrival of a major new voice in contemporary fiction. 
 
A debut of extraordinary distinction: Ayana Mathis tells the story of the children of the Great Migration through the trials of one unforgettable family.

In 1923, fifteen-year-old Hattie Shepherd flees Georgia and settles in Philadelphia, hoping for a chance at a better life. Instead, she marries a man who will bring her nothing but disappointment and watches helplessly as her firstborn twins succumb to an illness a few pennies could have prevented.  Hattie gives birth to nine more children whom she raises with grit and mettle and not an ounce of the tenderness they crave.  She vows to prepare them for the calamitous difficulty they are sure to face in their later lives, to meet a world that will not love them, a world that will not be kind. Captured here in twelve luminous narrative threads, their lives tell the story of a mother's monumental courage and the journey of a nation. 

Beautiful and devastating, Ayana Mathis's The Twelve Tribes of Hattie is wondrous from first to last—glorious, harrowing, unexpectedly uplifting, and blazing with life. An emotionally transfixing page-turner, a searing portrait of striving in the face of insurmountable adversity, an indelible encounter with the resilience of the human spirit and the driving force of the American dream.
Praise For The Twelve Tribes of Hattie…
Praise for The Twelve Tribes of Hattie
  
"Piercing…Ms. Mathis writes with uncommon narrative authority in The Twelve Tribes of Hattie, conjuring the lives of the Shepherd family with extraordinary psychological precision…Ms. Mathis has a gift for imbuing her characters' stories with an epic dimension that recalls Toni Morrison's writing, and her sense of time and place and family will remind some of Louise Erdrich, but her elastic voice is thoroughly her own – both lyrical and unsparing, meditative and visceral, and capable of giving the reader nearly complete access to her characters' minds and hearts…Astonishingly powerful." 
            —Michiko Kakutani, The New York Times, "10 Favorite Books of 2012"
 
"The opening pages of Ayana's debut took my breath away. I can't remember when I read anything that moved me in quite this way, besides the work of Toni Morrison."
            —Oprah Winfrey
 
 "Lush yet deliberate…elegant and sure…a complex and deeply humane story of a mother's ferocious love and failures at loving…In the vivid specificity of Mathis's tale, she is telling a universal story, and it is profoundly consoling."
            —Laura Collins-Hughes, The Boston Globe
 
 "Mathis never loses touch with the geography and the changing national culture through which her characters move. The Twelve Tribes of Hattie is infused with African Americans' conflicted attitudes about the North and the South during the Great Migration…In the long family arc that Mathis describes, the painful life of one remarkably resilient woman is placed against the hopes and struggles of millions of African Americans who held this nation to its promise…One of the best [novels] of 2012."
            —Ron Charles, The Washington Post
 
"Raw and intimate…a brutal and poetic allegory of a family beset by tribulations…Mathis tempers the more operatic elements with tenderness and knowing glimpses into the human heart struggling to love…deeply felt."
            —Isabel Wilkerson, The New York Times Book Review
 
"Mathis renders her characters with vivid strokes, and, like her heroine, she is both compassionate and unsentimental about hardscrabble lives."
            —The New Yorker
 
"A triumph…a stone-cold stunner of a novel…magnificently structured, and a sentence-by-sentence treasure – lyric, direct, and true."
            —David Daley, Salon
 
"The influence of Toni Morrison will be evident in this remarkable page-turner of a novel that spans decades and covers dreams lost, found, and denied."
            —Elizabeth Taylor, Chicago Tribune, "Editor's Choice"
 
"This brutal, illuminating version of the twentieth century African-American experience belongs alongside those of Toni Morrison, Alice Walker, and Zora Neale Hurston."
            —Marion Winik, Newsday
 
"A poetic novel…that focuses less on American progress than on the small but powerful moments that are strung together, like beads on a necklace, to make one long strand of a family's history…Like Toni Morrison, the author has a gift for showing just how heavily history weighs on families, as a learned sense of hope or despair gets passed down from parents to children and dreams die little by little, generation after generation. But if the endless heartbreaks sound melodramatic, Mathis earns your sympathy by making the rare moments of happiness feel simple and true."
            —Entertainment Weekly, Grade: A-
 
"Visceral, heart-wrenching…Mathis brings considerable empathic gifts to the detailed realistic snapshots in Hattie's family album, and to the sense of displacement that has contributed to generations of troubles and travails."
            —Jane Ciabattari, San Francisco Chronicle
 
"Full of conflict and emotion…all of the chapters have moments of grace, despair, and hope and different characters will likely resonate with different readers. The range of emotion and experience demonstrates how a family can stretch out in every direction and then be pulled up by the taut cords of love, responsibility, hatred, hope, and support."
            —Sessily Watt, Bookslut
 
"An intimate, often lyrical daisy-chain of stories capturing the telling moments in the lives of people who have been harshly and irrevocably marked by the circumstances of their birth…Through them, we understand the way in which dreams and despair are passed between generations. We feel the exhilaration of starting over, the basic human need to belong, and the inexorable pull back to a place that, for better or worse, you call home."
            —Megan O'Grady, Vogue
 
 
"Brilliant…Mathis' first novel is an unvarnished look at the complexities of race, poverty, family, and motherhood that calls to mind the great works of authors like Toni Morrison and Alice Walker."
            —Baltimore Times

"Pulses with life and emotion…thrilling."
            —Parade
 
"From the first sentence on, Mathis writes vividly and sensitively of one family's journey and struggles over a lifetime, creating a stirring portrait of family, loss, and endurance in the twentieth century…a beautiful tapestry."
            —Courtney Allison, Everyday eBook
 
"A stirring, soulful novel that spans 60 years and is told in many rich and varied voices. It's the story of one formidable woman, and of her children—the 'tribes'—at different stages of their sprawling lives. It's the story of the Great Migration, and of its ripping, aching effects across the 20th century…The Twelve Tribes of Hattie wallops you from the first chapter, but the book's emotional power grows with the story as the decades pass and the scope of this family's life is revealed."
            —Shelf Awareness
 
"One of the finest-drawn portraits of a family…These are tales steeped in race, a mother's scarred heart, and a world where illness, both mental and physical, keeps threatening to steal souls away. The stories are emotional, sharp, poignant, and beautiful, made so by Mathis' compassionate and layered storytelling and truthful prose, which ultimately seals each member to their family fold…characters who courageously forge forward in their quest for identity, love, and the American dream."
            —The Dallas Morning News
 
"Masterfully written. Capturing a range of settings and time periods, from a Southern jazz club in the 1940s to a beach in Vietnam in the 1960s, each member of the family is rendered with subtlety and honesty…always authentic and alive."
            —Lambda Literary
 
"Loneliness and hard-won grace pervade Ayana Mathis' virtuoso debut novel…As her characters suffer and stray, she walks the fine line of treating them with compassion but never sentimentality…Mathis' novel is about human experiences that we all share, about love and loss, and about the tremendous distances and inextricable bonds that form our families."
            —Tampa Bay Times
 
"Hypnotic…evocative, ambitious…encompassing Dickinson, Morrison, and the poetry of Rita Dove…Mathis understands both heritage and craft."
            —The Cleveland Plain Dealer
 
"Mathis' writing is beautiful and confident; she moves from one voice and scene to the next with ease and creates rich characters and vivid settings. She gets to the heart of these people, gets their voices just right and gives each one a unique perspective and personality…Literary readers will enjoy the craftsmanship and emotional reach, and it's a natural choice for book clubs with lots to talk about…It's a beautiful work with more than a dash of heartbreak and hope."
            —Boston Bibliophile
 
"An exploration of race, gander, and struggle…Mathis writes with power and insight. Though less lyrical, she is a more accessible writer than Toni Morrison."
            —USA Today
 
"Beautiful…The Twelve Tribes of Hattie will break your heart, but give you hope—and illuminate the harsh realities of poverty, racism, and unmet expectations. It's not an easy read, but it's worth it."
            —Examiner.com
 
"The Twelve Tribes of Hattie is a vibrant and compassionate portrait of a family hardened and scattered by circumstance and yet deeply a family. Its language is elegant in its purity and rigor. The characters are full of life, mingled thing that it is, and dignified by the writer's judicious tenderness towards them. This first novel is a work of rare maturity."
            —Marilynne Robinson

"The Twelve Tribes of Hattie is beautiful and necessary from the very first sentence. The human lives it renders are on every page lowdown and glorious, fallen and redeemed, and all at the same time. They would be too heartbreaking to follow, in fact, were they not observed in such a generous and artful spirit of hope, in a spirit of mercy, in the spirit of love. Ayana Mathis has written a treasure of a novel."
            —Paul Harding
 
"Writing with stunning authority, clarity, and courage, debut novelist Mathis pivots forward in time, spotlighting intensely dramatic episodes in the lives of Hattie's nine subsequent children (and one grandchild to make the 'twelve tribes'), galvanizing crises that expose the crushed dreams and anguished legacy of the Great Migration….Mathis writes with blazing insight into the complexities of sexuality, marriage, family relationships, backbone, fraudulence, and racism in a molten novel of lives racked with suffering yet suffused with beauty."
            —Donna Seaman, Booklist (starred)
 
"Remarkable…Mathis weaves this story with confidence, proving herself a gifted and powerful writer."
            —Publishers Weekly (starred)
 
 "Cutting, emotional…pure heartbreak…though Mathis has inherited some of Toni Morrison's poetic intonation, her own prose is appealingly earthbound and plainspoken, and the book's structure is ingenious…an excellent debut."
            —Kirkus Reviews (starred)
Alfred A. Knopf, 9780385350280, 243pp.
Publication Date: December 6, 2012
About the Author
Ayana Mathis is a graduate of the Iowa Writers' Workshop and is a recipient of the Michener-Copernicus Fellowship. "The Twelve Tribes of Hattie" is her first novel.
Coverage from NPR
or
Not Currently Available for Direct Purchase