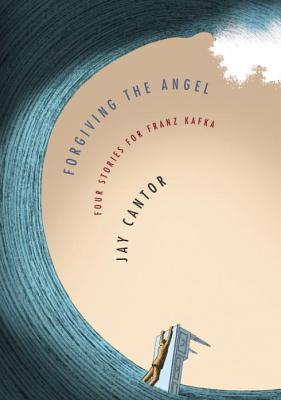 Forgiving the Angel
Four Stories for Franz Kafka
Hardcover

* Individual store prices may vary.
Other Editions of This Title:
Paperback (11/18/2014)
Compact Disc (1/14/2014)
Description
From one of our most thought-provoking and admired writers, a brilliant, beautiful, and sometimes heartbreaking group of stories based on a circle of real people who are held together by  love of their friend Franz Kafka.

The sequence opens with Max Brod, Kafka's friend and literary executor, telling us about Kafka and Dora Diamant, their love growing stronger even as Kafka is dying of tuberculosis. Kafka talks with Brod about forgiving the Angel of Death, but Brod wonders if Franz is really talking about Brod's forgiving Kafka for the predicament he's put him in, having instructed Max to prove his love for Franz by burning the work Brod most admires: Franz's unpublished stories.

Next there is a brief interlude—perhaps a lost Kafka story, or is it a story about a lost Kafka story which is perhaps itself masquerading as one of the things that in anger Brod neither burned nor published?

The story that follows tells of Dora's marriage to the militant German Communist Lusk Lask and his attempt to break the hold of the angelic Kafka on his wife's imagination by giving her a daughter. We watch this family in its move to the Soviet Union to escape Hitler, and as Dora and her daughter flee the Soviet Union to escape Stalin, leaving Lusk behind in the Gulag.  Later, when Lusk tries to connect with his daughter again, the Angel Kafka seems once again to stand in his way, a force in his daughter's life that seemingly destroys as it sustains.

In the last story we meet Milena Jasenska, another of Kafka's lovers, and Eva, the woman who, after surviving Stalin's camps, meets Milena in a Nazi concentration camp and is reborn in this hell through her love for her, though perhaps trapped there in memory because of that love as well.

By the end, these moving love stories with Kafka as their presiding ghost have told the calamitous story of Europe in the Century of the Camps. Imbued with a gravitas and dark irony that recall Kafka's own work, these stories nonetheless also bear the singular imaginary stamp and the keen psychological and emotional insight that have marked all of Jay Cantor's fiction.
Praise For Forgiving the Angel: Four Stories for Franz Kafka…
 
"Forgiving the Angel links disparate time, places and characters in an ingeniously unified and admirably purposeful fiction. [In its] formal circularity, ethical ambiguity and scrupulous undecidability, Cantor's fiction is a worthy homage to Kafka.   It is also an original work that pulls our mind through the kind of biographical and historical contraption that Kafka would probably never have put together, would probably not, as a Jew in Czechoslovakia, have survived to put together."—Tom LeClair, The New York Times Book Review
 
"[All Cantor's work] broods over how the twentieth century perverted its noblest aspirations. Marx promised brotherhood, Nietzsche and Freud a greater humanity—so what happened?  In this first book of stories the question flares up again, at times impossible to ignore."—John Domini, Book Forum

"Cantor has been delving into the paradoxes of radicalism ever since he debuted with The Death of Che Guevara (1983), a nervy meshing of biography and fiction. He deepened his investigation in the American epic Great Neck (2003) and in the graphic novel Aaron and Ahmed (2011). Cantor's newest fusion of biographical fact and intuited emotion is a commanding tribute to Franz Kafka, one of the twentieth century's most revolutionary voices. In four by-turns bayoneting and tender stories, Cantor imagines the profound impact Kafka had on those closest to him, including Max Brod, his trusted friend who famously refused to burn Kafka's papers, as the dying writer requested. Percussive moral dilemmas shape each tale, most extensively in "Lusk and Marianne," in which Kafka hovers like a dark angel over the cruelly hijacked lives of his last lover, the exiled Dora Diamont; her husband, German Communist zealot Lusk Lask, who is swept into the Soviet Gulag; and their frail daughter, Marianne. Cantor also brings us to Ravensbrück, the concentration camp, where another of Kafka's beloved, the invincible translator and journalist Milena Jasenká, uplifts her sister sufferers. These fluently empathic, mordantly ironic, and unflinching stories of love, torture, and sacrifice carry forward Kafka's eviscerating vision and affirm Cantor's standing as a virtuoso writer of conscience."—Donna Seaman, Booklist starred review
 
"Four evocative, ambitious, and highly varied tales aim to bring Kafka back to us by showing that he never left. Instead, he haunts everyone and everything he touches. . . Cantor creates gripping stories around innumerable epistolary and biographical artifacts. . . .Superb."—Rebecca Schuman, Slate
 
"One needs something akin to courage to read Kafka—as well as Cantor's homage. Both are dense, dangerous and difficult. Both resist interpretation, raising questions without any answers. But if we can't ever admit we're lost—something we rarely do, in the way we read or live—how can we even begin to find our way toward what's true?"—Mike Fischer, Milwaukee Journal/Sentinel
 
"Shot through with black comedy, unsparing honesty and robust intellect—in short, a fitting Kafka tribute."—Kirkus
 
"This fictional tribute to the life and work of Franz Kafka follows in the vein of Cantor's previous works of fiction … all of which use familiar figures and true events as a springboard for offbeat and psychologically incisive storytelling. The four stories here center on real figures in Kafka's life....The writer himself is a distant but powerful force in the stories, a Kafkaesque presence haunting his own legacy."—The New Yorker
 
"A fascinating blend of fact and fiction in which Cantor . . . explores how Kafka continues to haunt people, ghostlike, after his death. . . . Kafka's lingering presence has a hugely positive impact on the book itself, which Cantor has written in a voice that, like Kafka's, melds apparent objectivity and even dispassionately scientific observation with dark humor and deeply felt sentiments."—Doug Childers, Richmond Times/Dispatch

 
 
Knopf Publishing Group, 9780385350341, 209pp.
Publication Date: January 14, 2014
About the Author
Jay Cantor is the author of three novels, " The Death of Che Guevara, Krazy Kat, " and" Great Neck, "and two books of essays, "The Space Between" and "On Giving Birth to One's Own Mother." A MacArthur Fellow, Cantor teaches at Tufts University and lives in Cambridge, Massachusetts, with his wife and daughter.
Coverage from NPR
or
Not Currently Available for Direct Purchase